Prabal Gurung Takes You Inside His Hometown of Kathmandu
The longtime sustainable-fashion advocate goes back to where it all started.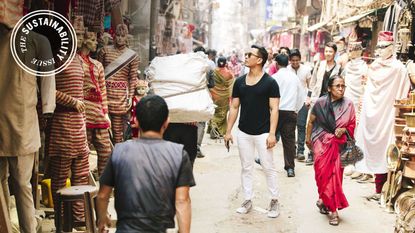 (Image credit: Courtesy Prabal Gurung)
In honor of our first-ever sustainability issue, designer Prabal Gurung—who sustainably produces part of his collections in his homeland of Nepal—shows you his favorite spots to eat, shop, and play in capital city Kathmandu.
High Drama
"Kathmandu city has a big trekking culture (you can see the breathtaking Himalayas from almost anywhere), but most people get around on safa tempos—three-wheeled vehicles. My favorite hike is Lakuri Bhanjyang, but the best view of Kathmandu is from Swayambhu or Nagarkot if you're lucky enough to have an unfoggy day.
Diwali, the festival of lights, makes October a great time to visit. The people are the best part of the city. Everyone is genuinely interested in you. When I'm back in New York, that's what I miss the most—along with homemade masala tea!"
On the Go
"For breakfast, I love the sunny-side-up eggs and fresh juice at Café Soma Jhamsikhel. Nepal's trademark hospitality can be found at Tukche Thakali Kitchen and Lhakpa's Chulo. Stroll along the streets of Patan for authentic metal and silver souvenirs.
Shop home decor at One Tree Stop at Durbar Marg, the Art Market at the Yellow House, and Mahaguthi. Live music is easy to find in Thamel, a former hippie haven. For drinks, head to Dalai-La, Mezze, Level 3, Attic Bar, or Roadhouse Café, Boudha. I recommend staying at Dwarika's Hotel, the Dalai-La Boutique Hotel in Thamel, or The Inn in Patan Durbar Square."
Home Front
"I go back often to see family and work with my foundation, Shikshya Foundation Nepal, which, over the past six years, has educated more than 300 children. People think of Kathmandu as impoverished, but there is beauty all around. The Buddhist White Monastery in Boudha is where I go to meditate and get aligned. Don't leave without getting an Instagram shot at Boudhanath Stupa, a dome-shaped Buddhist shrine a few miles from the art- lined streets of Jhamsikhel."
Shop Prabal's Picks:
1. Temple St. Clair Bracelet, price upon request
BUY IT: templestclair.com (opens in new tab).
2. Tabitha Simmons shoes, $695
BUY IT: modaoperandi.com (opens in new tab) for similar styles.
3. BAG $1,550, Chloé bag $1,550
BUY IT: Chloe.com (opens in new tab).
4. SUNGLASSES $300, Max Mara sunglasses, $300;
BUY IT: solsticesunglasses.com (opens in new tab).
5. DRESS $1,995, Prabal Gurung dress, $1995
BUY IT: modaoperandi.com (opens in new tab) for similar styles.
This article appears in the August 2017 issue of Marie Claire, on newsstands now.