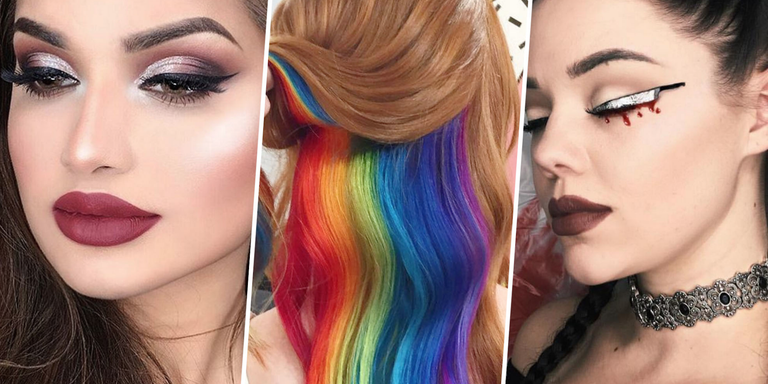 In the age of Instagram, there's quite literally a new trend everyday. While some are built to last, others are more, um, fleeting. Here, find a quick and dirty guide to the hair and makeup looks that should stay in 2016...
1
Contouring—for Real This Time
I know, I know, you've heard it before. But 2016 really is when we reached peak contour. Next year, it will be nontour or bust. 
"Instead of a heavy contoured look, non-touring is very soft," explains celebrity makeup artist Renee Sanganoo, adding that Gigi Hadid and Kendall Jenner have mastered the look. "It's about dewy and glowy skin—you don't want the skin to look super matte or dry. It's kind of like Spanx for the skin. You know you're wearing it, but no one's supposed to see it. In the summer, people are outside more and they tend to wear lighter foundation. It just looks more natural."
The truth is, we were really digging all the crazy nail designs up until things got out of hand. Or rather, when the "temporary green thumb" became a thing. As creative as attaching baby succulents to fake nails is, it's just a little too extra...and creepy.
2016 is the year highlighter gave prisms a run for they money in the shine department. But while the heavy-handed, frosted finish may look great in your Instagram feed, IRL it's a different story. The jig is up. Going forward, highlighter will still be a staple, just applied more sparingly with less sparkle. FYI, Glossier's Haloscope stick is a great place to start.
If any makeup artists appreciates a 50-step makeup application, it's Mario Dedivanovic. But one area where he thinks we need to pair back is our brows. "Instagram brows are so masculine," he explains during a recent masterclass. "It's just too much. It gives you a mean, witchy look."
If you're going to fill in your brows, concentrate on the outer corners of your arches, which lifts and elongates the face. Another must-do? Brushing through the product so that there are no harsh lines.
5
Holiday-Themed Eyeliner
Over the past few years, we've seen virtually every colorful dye job rise the Instagram ranks. But we're calling it, the hidden rainbow hair was the swan song of this era.
Now let us preface this by saying: This is not an attack on glitter. For the second year in a row, it's beauty's best accessory. However, one place you should refrain from dusting it on is the roots. Extra points if you take out the raver buns, too.