OMG, What's Your Sign? 12 Jewelry Must-Haves for Every Zodiac Sign
The stars aligned.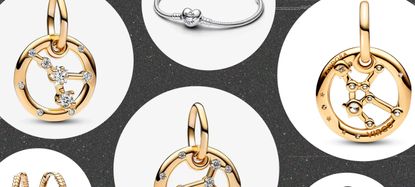 (Image credit: Original Illustration by Makena Frederick)
Marie Claire Newsletter
Celebrity news, beauty, fashion advice, and fascinating features, delivered straight to your inbox!
Thank you for signing up to Marie Claire. You will receive a verification email shortly.
There was a problem. Please refresh the page and try again.
I'm no stranger to astrology. I mean, I was reading about my monthly horoscope before I even knew what it meant to be a Libra. But recently, there's been a bigger emphasis on knowing your birth time, big three (moon, sun, and rising), and how your sign is impacted by Mercury retrograde. I happen to know all of the above and then some, but I'm certainly not a zodiac expert. In fact, I'm most knowledgeable about the signs as they relate to fashion. I've been shopping for jewelry that feels reminiscent of the signs in my birth chart and matches all of the zodiac-inspired items I already own. And there's one brand that knows the zodiac better than any tarot-card reader out there: Pandora. Maybe you're envisioning the brand's iconic charm bracelets, but it has so much more than that. The Moments collection, in particular, features dainty necklaces, studded chains, sparkly rings, and sentimental charms that will last a lifetime. While I was browsing the site, I couldn't help but think about which styles match each zodiac sign, so I did what any other Libra would do and provided some products for you below. Keep scrolling for the iconic jewelry pieces that I think you should wear based on your zodiac sign.
People with Aries placements are natural-born trailblazers, so expect to see them in statement pieces like bright hues, head-turning outerwear, and bold accessories. Statement jewelry has been trending all summer (if you're an Aries, you saw this coming months ago), so these go-getters are rocking charm bracelets and necklaces with charms that represent their fiery personalities
This earth sign loves to tap into the lap of luxury, which includes fine dining and beautiful art. When they're not indulging, you can find them resting and relaxing. If we're talking about fashion, Tauruses often opt for earthy tones, practical pieces, and comfort above all else. An everyday gold hoop and a simple pendant necklace to match the casual and luxurious elements of a Taurus are perfect.
I consider Geminis the most curious of the signs, and they never fail to share their curiosity with the people around them. Spontaneous, quick-witted, and busy are just some of the words used to describe this sign, and with their event-filled calendars come endless outfits. Their looks are just as extroverted as their personalities, never shying away from sequins, patterns, and unique pairings. For jewelry, Geminis would thrive in stacked rings and bracelets to complete their looks.
Cancers are ruled by the moon (the ring below is meant for them) and known to be nurturing, family oriented, and sensitive. This caring demeanor is present even when they're adding new items to their wardrobe. Consider Cancers intentional shoppers who only want to purchase clothing and accessories that they can wear for years to come. Expect their jewelry to have sentimental value and be passed down for generations.
No other sign radiates main-character energy quite like a Leo. Where there's a camera, there's a Leo waiting to have their photo taken. The color trends we're seeing on the runway and city streets for fall (cherry red, glacial blue, and caramel brown) are already in a Leo's closet waiting to be debuted. To go with these showstopping looks, they'll need a bit of sparkle dangling from their wrists. Whether they're wearing gold, silver, or rose gold, Leos never skip the accessories
Known for being perfectionists, Virgos bring precision, practicality, and passion to almost every task. And when fashion is involved, their methodical nature is most certainly at the forefront. (They're the kind of people who plan outfits weeks in advance.) Virgos love structure, and the proof is hanging in their closets: structured trousers, outerwear, and blouses. With timelessness a key element of their style, they opt for simplistic jewelry pieces meant to last.
Ruled by Venus, Libras are the ultimate social butterflies with a deep love of romance and the arts. The art of fashion is no exception. Libras dress to impress for every single occasion by styling ultra-feminine pieces like fitted maxi dresses with contrasting silhouettes like oversize blazers and colorful heels. Think quiet luxury with a fun pop. Whether they're wearing a bracelet with a heart-shaped clasp or a stack of rings, Libras always make a big splash with the layers of jewelry that they add to every look.
The award for most mysterious and alluring sign goes to Scorpio. They command the room with their fearless leadership and captivating looks, of course. Scorpios thrive in all-black ensembles (even down to the sunglasses), which adds to their natural mystique. A black power suit with a rosette applique or a black maxi dress with cutout detailing both pair perfectly with a charm bracelet that will have people asking about each charm and how they can re-create the entire look.
Making travel plans for the year? Ask a Sagittarius, the certified globe-trotters of the zodiac. It's hard to keep this free-spirited, risk-taking sign in one place, and they're fashion preferences match this energy. Unafraid to enter a room with an outfit as big and unfiltered as their personalities, Sagittarius placements thrive in bold hues, bright prints, and unconventional fabrics. They always leave room for spontaneity, so you can never truly predict the statement their ensemble will make.
If there's one sign that pretty much always means business, it's Capricorn. They're super serious about their goals, but don't confuse that with an inability to have fun or be playful. When it comes to style, Capricorns err on the functional yet fashionable side. Think monochromatic matching sets and everyday neutrals. They're the kind of people to have everyday jewelry that they never take off, and this bracelet is perfect.
The wheels are always turning for an Aquarius. This sign has absolutely no fear when it comes to presenting an innovative thought or idea, and this quality translates to their eclectic everyday looks. They will gladly sport the most daring fashion trends like sheer bodices, metallic accents, and bold appliques and top it all off with even more daring jewelry. (Peep the mixed-metal charm.)
Pisces are the dreamers of the zodiac, straddling the line between fantasy and reality at all times. Their imagination lends itself well to the outfits they put together and the garments they gravitate toward. Prepare to see them sporting flowy fabrics as an ode to their whimsical side or simply showing up in full glam for rather casual events. It's hard to pinpoint one specific jewelry preference—just know that no matter which finishing touches a Pisces decides on, their look will have some significance or story behind it.
Celebrity news, beauty, fashion advice, and fascinating features, delivered straight to your inbox!