We Tried The Glossier Products, Here's The Low Down
The musings of a beauty-obsessed editor blithely trying products created by other beauty-obsessed editors. And now there's a pop-up shop to do it in.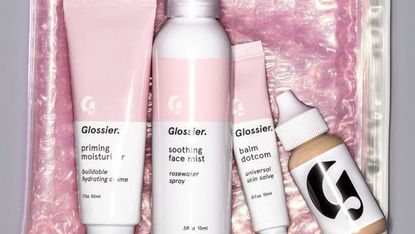 (Image credit: Archives)
Marie Claire Newsletter
Celebrity news, beauty, fashion advice, and fascinating features, delivered straight to your inbox!
Thank you for signing up to Marie Claire. You will receive a verification email shortly.
There was a problem. Please refresh the page and try again.
It's easy to become jaded when it comes to beauty products in this industry. Every day there is a new launch, a new elixir, a new seemingly life-changing product that will vanish your skincare woes in one quick swipe. So, I was surprised at how genuinely excited I was that Into The Gloss's own Emily Weiss (along with a slew of other beauty geniuses) developed her own skincare set.
Into The Gloss has done an exceptional job at leveraging it's undeniable cool factor to set itself apart from the rest of the beauty crowd. The posts are witty, beautifully curated, and at the heart, completely relatable. Enter: Glossier. Creator Emily Weiss' digital beauty brand that seeks to "encourage girls to feel free and happy and OK with themselves, wherever they're at in life." The launch started with Phase 1, four beauty essentials dubbed "skincare as makeup." A true quality over quantity endeavor. Because I already felt like a Glossier girl, I painstakingly switched out some of my tried-and-true favorites in my morning routine to focus on the new products. See below for the official breakdown:
1. The stickers are brilliant. Along with the products, each box comes with cutesy-cool stickers to decorate your tubes (AKA Instagram gold). It's like the personalized touch that you never knew you wanted, but are so psyched to receive. I'm partial to the lipstick and emoji-inpsired eyeballs. You never know when you'll need a well-timed side eye.
2. The soothing face mist feels divine, and smells just as good. I'm obsessed with rose water. It's good for your skin and it smells like a dream, but often products include a scent that veers off into way-too-sweet land. Not this one. It's subtle and natural — right up my alley.
3. The moisturizer actually is buildable. My skin tends to be dry, so I usually need a heavy-duty moisturizer to keep it satiated (especially during a season change). I was pleasantly surprised at how hydrating the lightweight priming moisturizer was. I layered it on a few times to give my face an extra plumping boost. Not greasy, but dewy—that maybe I just had sex but you'll never know optimal dew factor. Not to mention, a co-worker with oily skin tried it and it was a hit with her as well, no clogged pores here.
4. The tint makes you look like Beyoncé. Well, not exactly like Beyoncé, but it makes you look really good in that Je ne said quoi, I woke up like this sort of way. I admit, I rarely wear makeup to work. The Internet never sleeps and as such, I have to wake up before the sun and get out the door shortly after. Unfortunately for my co-workers who have to look at me, applying a full face tends to fall by the wayside. This tint is exactly what I've been looking for. A little touch of coverage that I can apply sans brush just after my moisturizer. This is not foundation, so those who seek more coverage should keep a concealer around for problem areas.
5. The balm dotcom is hands down the best lip balm I've ever used. And everyone in our office agrees. It's not glossy or sticky, but it lingers on your lips for hours. Don't tell anyone, but I also used it on my elbows. This is the real deal, people.
6. I want a face wash. I picture it smelling like clean laundry and fresh-cut flowers.
What to do with all this exciting information? Glossier has opened the doors to its first pop-up shop in NYC (123 Lafayette, to be exact). There, you can sample and purchase the Glossier Phase 1 Set and mingle with the other beauty-obsessed gals inside. The brick-and-mortar is truly a testament to the brand's "beauty you want to be friends with" mantra. You'll leave with a personalized parcel of goodies and a smile, guaranteed.
Related:

16 Reasons to Give Your Skin a Break


How I Got Cara Delevingne Eyebrows, in GIFs


My Morning Routine: From The Girl Who Takes Skincare Very, Very Seriously

Photos/GIF via Glossier
Celebrity news, beauty, fashion advice, and fascinating features, delivered straight to your inbox!
Hallie has worked in beauty editorial for ten years and has been editorial director at Byrdie since 2021. Previously, she was a senior editor at Byrdie since 2016. During her time at Byrdie, she's written hundreds of high-performing stories on skincare, wellness (including fitness, diet, mental health, body image, et al) makeup, and hair. She's a regular on set, helping to source inspiration for makeup and hair looks, as well as interviewing celebrities, models, and other notable women and men in the beauty space.
Before that, Hallie ran Marie Claire's social media and wrote beauty and culture stories for the site, and helped launch Time Inc.'s digital-only beauty brand, MIMI. After college, she contributed to Time Out New York's Shopping & Style section before landing her first beauty editor gig at Hearst's Real Beauty. Hallie's writing has also appeared in ELLE, Cosmopolitan, and InStyle. Hallie graduated with a BA in Communication Arts from the University of Wisconsin-Madison.