We Can't Stop Watching These Insanely Mesmerizing and Emotional Makeup Transformations
Literally the only thing making us happy right now.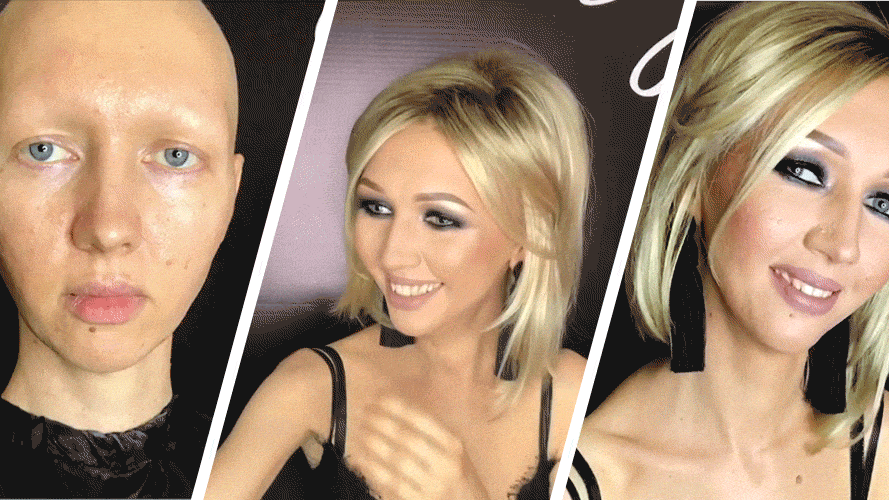 (Image credit: Design by American Artist)
1. We'll start your emotions off with a softball: this woman with alopecia:2. But brace yourself for this woman with a facial birthmark:3. And take a deep breath before you watch this burn survivor's transformation:4. Then get ready to cry for this woman undergoing chemotherapy:5. And sorry, but you'll completely lose it with this woman fighting cancer:
If Hollywood rom-coms have taught us anything over the decades, it's that everyone loves (and also sort of hates) a good makeover moment. Like, ignoring the vain materialism and inherent suggestion that a person's worth is based on appearance, I'll watch Sandy turn into a leather-wearing, chang-chang-changity greaser, or Laney Boggs transform into a "popular" high school kid in a red dress and a short haircut over and over again with absolute delight.
So when you combine a drastic makeover with real human beings who are also going through a difficult time in their lives, you're effectively creating a big ol' emotion bomb just waiting to go off. And Russian makeup artist Goar Avetisyan has about 9,000 of them on her Instagram feed, each one more holy-wow worthy than the next, like this acne-coverage video:
Usually, Avetisyan's volunteers tend to have acne-prone skin that makes them feel less-than confident about their looks, which means the makeover almost always ends with an emotional reveal that tugs all of our heart strings.
RELATED STORIES
RELATED STORIES
But recently, Avetisyan has been upping her good-Samaritan ante by giving makeovers (which, based on my terrible Google translating skills, seem to be totally free of charge) to women with birthmarks and skin conditions, women fighting cancer, and burn survivors. According to her captions, Avetisyan got so inspired by these women that, three months ago, she quit her day-to-day life in Moscow and went on tour to help "inspire and encourage" women to feel as beautiful and as confident as they are inside.
Basically, Avetisyan makes already beautiful women feel even better about themselves, which is the type of makeover we can get behind. And to make you feel a bit happier during this bleak, bleak week, we rounded up the most heartwarming (there's literally no better word for what these are) of her makeovers that will make you loudly cry, "oh, my GOSH!" in the middle of the office, like one of our editors just did.
1. We'll start your emotions off with a softball: this woman with alopecia:
2. But brace yourself for this woman with a facial birthmark:
3. And take a deep breath before you watch this burn survivor's transformation:
4. Then get ready to cry for this woman undergoing chemotherapy:
5. And sorry, but you'll completely lose it with this woman fighting cancer: