This Woman Got Rid of Her Stretch Marks in 2 Weeks, and Wow
The side-by-side photos are insane.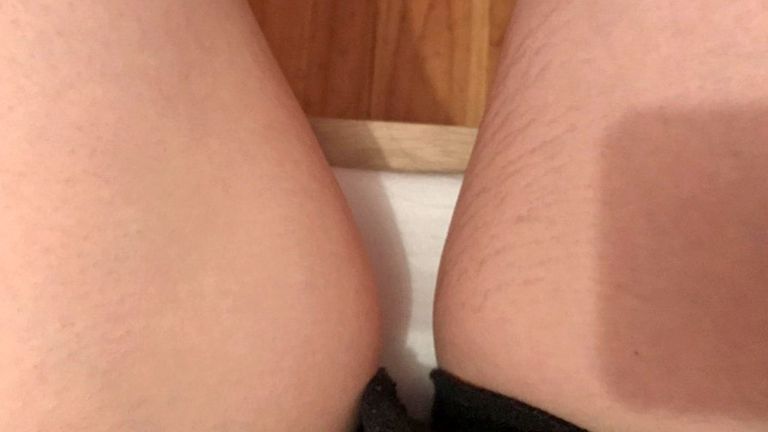 (Image credit: Reddit/@nct1234)
Here's a super-true statistic that I definitely didn't just make up: 100-percent of adults have some form of stretch marks somewhere on their body. In an ideal world, all 100-percent of people would also be totally cool with their marks, but we live in reality, where zillions of products exist for the sole purpose of "fixing" every bump, scar, dark mark, and blemish—most of which are complete bullshit.
RELATED STORIES
So when one woman on Reddit claimed to have faded the stretch marks on her thighs with just one little device—and posted the pics to prove it—the internet naturally freaked out. "Before&After – Only used dermaroller on left thigh," reads the post, next to a photo of the woman's thighs, one with purple-ish stretchmarks, and the other without.
As a recap, a dermaroller (opens in new tab) (AKA microneedler) is a needle-covered roller used to poke tiny holes in your skin to amp up collagen production, which, in turns, smooths wrinkles, scars, and stretch marks. And though microneedling results are almost always shockingly good, it's rare to see such a drastic improvement with just two treatments after only a few weeks, which is what the user experienced.
"I've only done two sessions with a 1.5mm roller and thought I couldn't see any improvement until I saw this angle," she wrote, adding later that she waited only two weeks before dermarolling a second time—which, heads up, is a bit too soon; you should wait at least six weeks between rolls to prevent damage—and that she used a dermaroller and hyaluronic acid kit (opens in new tab) she found on Ebay. The results are, as you can see, pretty insane.

Before you buy a microneedler and go to town, though, please do some research (or read our handy guide!). Not only do you need to make sure your device and skin are always properly sterilized before use, but you need to choose the correct needle size, pay attention to your skin's reaction, and be patient. Still, if you're not in love with your stretch marks or scars, dermarolling could be a good option to try—just don't expect two-week results, kay? Or, just cover your stretch marks in glitter (opens in new tab) and turn them into a beautiful work of art, instead.
RELATED STORY
Chloe Metzger is the deputy beauty director at Cosmopolitan, obsessively writing about new makeup launches, the best hair products (curly girl here; whattup), and the skincare formulas that really work for every skin type (follow her on Instagram to see behind-the-scenes pics of that magazine life). She also has an unhealthy adoration for Tom Hanks and would like to please meet him one day, if you could arrange that. Thanks.