I Used Nothing but Men's Beauty Products for a Week and Here's What Happened
Trust me, it's harder than it seems.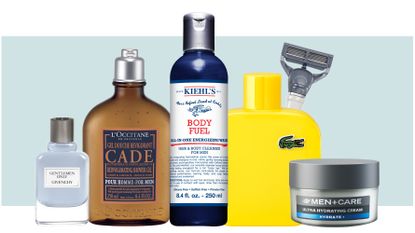 (Image credit: Design by Katja Cho)
Let me start by saying that I'm a total beauty product junkie. Makeup (you should see my stash), nail polish (I do my own gels), hair styling products (I admit to going overboard), perfumes (and the weird places to spray them)—I'm obsessed. For the past three years, it's been my job to bring home and test the latest and greatest beauty products, and I've loved every second of it.
There is one downside though: I live with my boyfriend, who TBQH resents me for all the products I have stuffed into the corners of our tiny NYC studio apartment, and I can't blame him—we barely have enough room for our clothes (mostly mine, #letsbereal), let alone the boxes full of products I've tried maybe a few times at most.
I've always been envious of my boyfriend's simple routine, and the fact that he can wake up and be en route to work in 15 minutes tops—a quick shower, a spritz of cologne, and he's basically out the door. His "beauty product" arsenal consists of: a 3-in-1 shampoo/conditioner/body wash, a few colognes, and a beard trimmer—it's almost comical, really.
Another valid reason to go on this "purge"? Men's products tend to be significantly cheaper than women's equivalents. (Thanks a lot, sexism.) So, in an effort to simplify my life and save a little $$$, I've decided to use only men's beauty products for seven days. Here goes nothing.
Day one:
I counted, and on a typical work day I use 26 beauty products. (Yes, you read that right, 26!) I'll spare you the breakdown, but I quickly realize that this is going to be harder than I thought.
I wake up and jump in the shower, only to find two products: a Kiehl's Body Fuel Hair and Body Cleanser for Men, and a Harry's razor. I use the Kiehl's as my shampoo, conditioner, body wash, and shaving "cream." Not gonna lie, my bathroom looks like the minimalist Swedish design of my dreams without the clutter of 10+ items.
I get out, towel off, and use some Giorgio Armani After Shave Lotion on my legs, which is oddly refreshing and soothing. My hair, which usually needs a handful of conditioner to stay tame, feels super dry and I can tell it's going to need some major TLC after this is all over.
I can't wear any makeup, so all I use is some Axe White Label Night Antiperspirant and a spritz of Lacoste Jaune. I officially smell like a frat boy at Yacht Week.
I stroll into work 30 minutes early, thanks to my quick and easy routine. Throughout the day, a few people ask if I'm sick, but all in all, no one seemed to care. My hair air-dried into what I'd call a hot mess so I put it in a top-knot because, you know, #manbun.
Day two:
The second day is tough because I have a work event in the morning, so I justified using more products than yesterday. I invest in some Dove for Men Face Lotion and Tom Ford for Men Concealer. I'm pleasantly surprised by the concealer—the coverage is good, but doesn't look cakey or heavy. I feel a lot more confident now that my dark circles are covered up.
To avoid the frizzy mess of yesterday, I apply a few drops of Tom Ford's beard oil in my damp hair, concentrating on my dry ends. It makes my hair super shiny and smooth and I sort of have that cool-girl model wave going on. I'm not mad at it.
Day three:
Before starting this challenge, my staple had become a bright orange/red lip, kind of like Kendall Jenner's signature shade, and it has taken everything in me to not give in to my new new favorite —a YSL lipstick from their new holiday LIPS collection. I keep eyeing my collection of red/orange shades like it's candy, but I stay strong, and continue my short routine.
Day four:
Every day without makeup is another day I can sleep in an extra hour, and it's starting to feel pretty great. I'm happier and more rested at work, I feel more energetic, and my skin is noticeably clearer. I haven't had a breakout in four days, which is basically a miracle for me. I think I could get used to this.
Day five:
It's Friday, so I decide to grab happy hour drinks with a friend after a long day at the office. I've gotten so used to wearing cologne that I don't really notice it anymore, but when I see my friend she blatantly states that I smell like her ex (oops). I head to the bar, but I feel really out of my element with next to no makeup on and my air-dried hair. Everyone says I look naturally beautiful, but I still feel naked.
Day six:
Saturdays are for sleeping in and brunch as far as I'm concerned. A few girlfriends and I head to hotspot Gallow Green for some mimosas and I thankfully have huge sunnies to hide behind.
Day seven:
I made it to the final day!! I usually don't wear much makeup on Sundays, so this will be a piece of cake. Netflix binge-watching, takeout, and a bath using L'Occitane's Cade Shower Gel as makeshift "bubble-bath" are all that's on the agenda. I'm surprisingly kind of into the Cade fragrance. It's manly, but in a chic musky firewood kind of way.
All in all, my skin is clearer, smoother, and happier without loads of makeup and creams clogging my pores. But honestly, I miss my bright red lipstick and the confidence that a pop of color gave me. I think in the future I'll try my hardest to cut out extra beauty products (because who really needs a six-step skincare routine), but you'll be hard-pressed to find me giving up my stand-alone conditioner and YSL lipstick anytime soon.
Follow Marie Claire on Instagram for the latest celeb news, pretty pics, funny stuff, and an insider POV.