This Stamp Eyeliner Is The Coolest, Least-Gimmicky Thing I've Ever Tried
Perfect winged liner every damn time.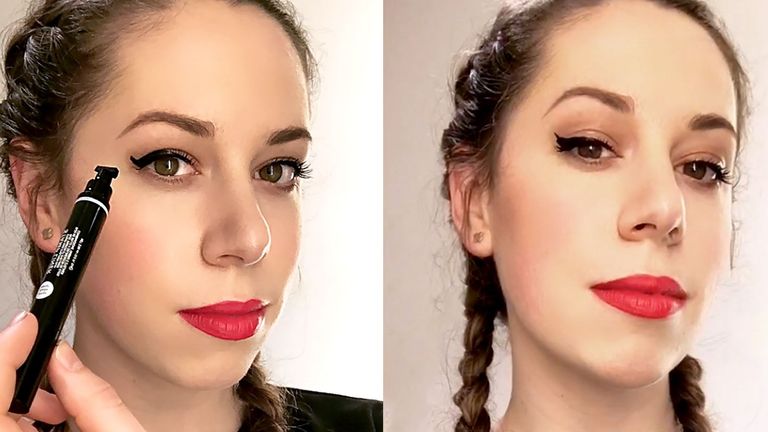 (Image credit: Chloe Metzger)
As a beauty editor, I get a ton of stuff sent to me on a daily basis (this isn't a brag, even though, like, it's really freaking awesome). Any product or gadget that even slightly relates to beauty will inevitably end up on my desk, which means I also encounter my fair share of weird, crazy, gimmick-y, eye-roll-inducing stuff.
So when a Lottie London Stamp Wing Liner pen landed on my desk and claimed to create the perfect winged eyeliner with zero hassle even if you're a total newbie all thanks to a tiny triangle stamp on one end, I was hella skeptical. I mean, gimmick central, right? But then I tried it.
And holy hell—this liner is actually freaking brilliant. As someone who has worn a thick cat-eye for the better part of my 20s, I'm incredibly picky about my liquid liners. The formula needs to be a rich, opaque, velvet-y black—none of that watery, sheer, shiny nonsense–and the pen itself should have a flexible tip that doesn't skip, drag, or tug. And, for the love of god, the ink better not bleed or smudge until the end of the day.
Yes, I am high-liner-maintenance. But despite my highest, most insurmountable standards, this newfangled liner ticked off every one of my boxes. On one end of the dual-sided pen is a narrow, triangular stamp, and on the other end is a pointed felt tip. Just press the stamp onto the outer edge of your eye to create a wing, then use the pointed tip to trace your lash line and connect it.
It worked flawlessly the first time I tried it—no trial and error, no "getting the hang of it." If you're like, "sure, but you're a beauty editor. How will I, girl who only uses Chapstick, know where to put it?!," try this: Imagine there's a straight line from the outer corner of your eye to the tail end of your brow, then just press the stamp along that imaginary line.
Still, to make sure I didn't have a beauty-editor edge (I do test makeup for a living), I gave the liner to two of my non-liner-wearing co-workers, who assured me they would, "definitely f*ck it up." They came back the next day completely converted (and with amazing looking eye-makeup). It's honestly just that easy.
The only downside to this liner, though, is that it's not at all water-resistant. So if you're planning to have a good cry in a thunderstorm today, maybe opt for your apocalypse-proof makeup instead. But for everyday use? Perfectly excellent. To get one of your very own, you can pop by an Ulta store (they're sadly not sold on Ulta.com), or you can get one on Riley Rose for the low, low price of $7.50. Happy lining, friends.
RELATED STORY
Chloe Metzger is the deputy beauty director at Cosmopolitan, overseeing the editorial content and growth strategy of the hair, makeup, and skin space on digital, while also obsessively writing about the best hair products for every hair type (curly girl here; whattup), and the skincare routines that really, truly work (follow her on Instagram to see behind-the-scenes pics of that magazine life). She brings nearly a decade of writing and editing expertise, and her work has appeared in Allure, Health, Fitness, Marie Claire, StyleCaster, and Parents. She also has an unhealthy adoration for Tom Hanks and would like to please meet him one day, if you could arrange that. Thanks.