Burberry's Lip Velvet Crush Is the Perfect Lipstick for Lipstick Haters
It's like a moisturizing balm mixed with a long-lasting stain.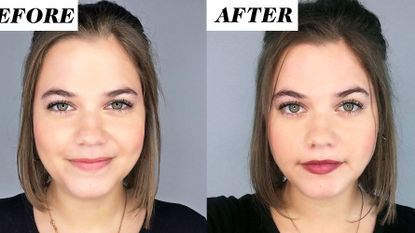 (Image credit: Marie Claire)
Disclaimer: Despite the title of this article, I actually do like wearing lipstick. My makeup routine is generally low-maintenance, but there's rarely a day I leave the house without some color on my lips. What I don't like is wearing lipstick during the hot, humid hell known as summer (opens in new tab).
For the last month, I've foregone my usual matte lipsticks and thick bullets in favor of tinted balms and, more often than not, bare lips. So when Burberry's new Lip Velvet Crush Sheer-Matte Stain (opens in new tab) landed on my desk last week, I planned to give it a quick try before stashing it away for a later, cooler day. Thank god I ended up trying it, because this little tube of color is the best thing I've swiped on my lips in a long, long time. No exaggeration.
At first, I wasn't feeling the packaging—the formula is housed in a twist tube that requires you to turn it a dozen times before the pigment seeps into the cushion-tip applicator, and I've always found that click, click, click sound highly annoying. But that stopped mattering once I realized how rich and creamy the color looked when I ran it over my lips.

The formula is unique—think: an oil-lipstick hybrid—and although it looks semi-shiny after you apply it, it dries down to a matte finish that fades evenly into a long-lasting stain. The best part? Unlike the majority of matte lipsticks that leave your lips dry and tight, this formula felt like virtually nothing, to the point where I forgot I was wearing anything at all. It's a lipstick that doesn't feel like lipstick.
After a week of experimenting with the formula, I'm even more in love with its versatility. Blot it across your lips with your finger, and you're left with the prettiest wash of color; layer it on straight out of the tube, and you've got yourself a bold, fully opaque look. The stain comes in eight hues (including the perfect brick red and a true berry); I've fallen hard for Oxblood No. 94—a rich, deep burgundy that fits my '90s aesthetic to a T.
It's also worth noting that I've proudly given this lipstick my messy-eater seal of approval: It lasted through my morning cup(s) of coffee, and also my lunch (and my second lunch). By the end of the day, my lips look faintly colored, rather than patchy, faded, or smudged.
And thus, I declare this formula to be the ultimate lipstick for lipstick haters. Seriously, between the easy-as-hell application and the comfortable wear, there's not a whole lot to dislike about this stain (other than the aforementioned "clicking" sound—which you'll definitely get over).
RELATED STORY
Ruby was the beauty editor at Cosmopolitan, where she covered beauty across print and digital. Her work has appeared on The Zoe Report, Fashionista, and StyleCaster. Follow her on Instagram.