Hailey Baldwin Had to Bleach and Dye Her Eyebrows Multiple Times in One Day Because ~Fashun~
Fashion Week is no friend to the brows.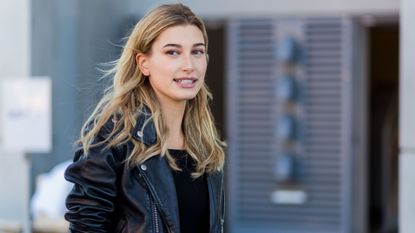 (Image credit: Getty Images)
There are a lot of things we do in the name of beauty and style, and Fashion Week only intensifies the demands and expectations. No one understands this better than the models, whose job requires them to go to extremes, from walking in precariously high heels to altering their appearance to suit the designer's vision.
Last season, Kendall Jenner experienced every woman's worst nightmare when her eyebrows fell out after she had a few too many bleach jobs for her many gigs. Now, her friend and fellow model Hailey Baldwin is getting a sense for this struggle.
The 19-year-old has been making the rounds on the Spring 2017 runways—currently across the pond for London Fashion Week. On Saturday, she walked the wild, colorful catwalk at Matty Bovan's show. But even wilder than the clothes was the makeup.
Models' faces were painted in bold, splashy hues, with cartoonish eyebrows drawn over their own arches, which makeup artist Miranda Joyce first bleached into oblivion.
Baldwin grinned and bore it, and documented the whole thing on Snapchat:
Mere hours later, her brows were back in place, re-dyed to their natural brunette hue.
Just in time to make their appearance on the runway for Julien MacDonald.
Fingers crossed they don't fall out.
Follow Marie Claire on Facebook for the latest celeb news, beauty tips, fascinating reads, livestream video, and more.
I am an experienced editor, writer, and creative strategist, specializing in fashion, beauty, and lifestyle content for digital media outlets, as well as video and social platforms. While I currently operate as a freelance contributor/consultant, with such clients as The Zoe Report, my 10+-year background in the industry was cultivated at the dot-coms of elite publications, including Harper's BAZAAR, ELLE, and Marie Claire.