Top 10 Secrets from the Skin Experts
The difference between pretty and knockout sexy? The feel-good factor. Skin experts spill their top 10 body-smoothing secrets — for every inch of you.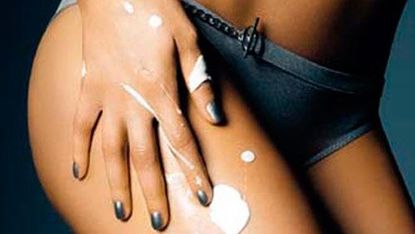 (Image credit: Greg Delves)
Marie Claire Newsletter
Celebrity news, beauty, fashion advice, and fascinating features, delivered straight to your inbox!
Thank you for signing up to Marie Claire. You will receive a verification email shortly.
There was a problem. Please refresh the page and try again.
1. SEXY BACK

Just because you can't see them — your back, your backside, the backs of your arms — doesn't mean others can't. They deserve TLC, too. Sudsing up with an antibacterial cleanser prevents breakouts on your back and bottom, while using an alpha- or beta-hydroxy lotion on the undersides of arms can nix keratosis pilaris (a.k.a. the little bumps below your biceps). Tempting as it may be, don't overscrub, cautions dermatologist David Bank, M.D., author of Beautiful Skin, as it will only aggravate the situation.
2. SAVE YOUR NECK

So close, and yet so far! The sad truth is, treating your neck like your face doesn't work. "Your neck ages in its own way and so has special needs," explains Adrienne Denese, M.D., Ph.D., of the eponymous skin-care line. "Neck tendons shrink through the years and become more visible, and unfortunately, the thin, easy-to-scar skin in this area doesn't respond to lasers and peels as well as your face does." Some remedies your grandmother told you about: "If your posture is excellent, your neck will age well," says Denese. Stretching your neck also helps. Denese suggests this stretch: Tilt your head back and stretch your lower lip over the upper one; hold for a few seconds. Repeat 10 times. There are several effective neck-specific products containing retinol, peptides, and glycolic acid, but if you're thinking serious measures, talk to your dermatologist about Botox (the injections — about $2000 per session — are good for about five months) or a neck-lift (from $3000 to $5000).
3. TREASURED CHEST

"For a really nice décolleté, I believe in moisturizing constantly and dusting on a bit of shimmer," says Rebecca Apsan, owner of Manhattan lingerie shop La Petite Coquette — where beautiful busts are her business. And while each season brings an abundance of boudoir-worthy bras, there are now just as many bust gels and creams, with ingredients specifically formulated to give a temporary lift and impart a smoother texture.
4. HAND-TO-HAND COMBAT

Water, paper, chemicals: all enemies of soft hands. "You have to fight back every day," says Jan Arnold, founder of Creative Nail Design, whose posh polishes are now a runway favorite. "First, exfoliate to slough off the dead cells. Then, while skin is moist, slather on a cream rich enough to compensate for how few oil glands your hands have." (Most body or face creams don't cut it here.) "Treat your hands to a paraffin-wax dip next time you're getting a salon manicure," adds Arnold. "Wax enables hydrating ingredients to penetrate deeper."
5. VEIN ATTEMPTS

Always hard to fight: heredity and hormones, the chief causes of dilated "spider" veins. But not impossible. "Lasers, which are so effective in other cosmetic procedures, don't work on big veins and often bring about bruising," explains Steven Victor, M.D., director of Victor Dermatology & Rejuvenation in New York City. "Injections are faster, easier, and cheaper." Some dermatologists, including Victor, prefer polidocanol injections over the more painful saline, which causes veins to collapse and disappear. Two to six rounds are usually necessary, at $375 per session.
6. RAZOR'S EDGE

Nothing beats a razor for quick hair removal. Invest in a sturdy one to ensure a shave that's close but not treacherous. Let your skin soak up some water for a few minutes (this is why shower time is ideal), so that hair is literally standing at attention, which makes it easier to lop off. Prepping skin with a protective shaving gel with hydrating vitamin E is best, although your hair conditioner will work in a pinch. New to the market: razors with built-in creams and gels. Love 'em.
7. HAPPY FEET

Celebrity podiatrist Suzanne Levine, DPM, treats the non-glam side of glamorous people: yellowed toenails, fungi, calluses, and fissures. "I can tell someone's age the moment they take off their shoes," she says. Prevent dead-skin pileup by using a pumice stone in the shower — and don't be tempted into using a razor."That will only cause more skin to grow back," says Levine. Pamper your feet with occasional moisturizing facial masks, and take a pedicure holiday on occasion: Let nails go lacquerless once in a while, and brighten up the natural nail by swabbing on hydrogen peroxide.
8. GET JIGGLY WITH IT

Ninety percent of women — including supermodels — have cellulite. Few, after all, are immune to its underlying causes, such as hormones, fat, and heredity. Remedies run from Mesotherapy — the red-hot treatment from France that injects plant extracts and other herbal substances into your fat pockets — to the recently FDA-approved Smartlipo, a fat-melting laser that's inserted just below the skin's surface ($4000 to $5000 per area). And while some women still lie down and let the skin-kneading rollers of Endermologie do their stuff, others find a firming moisturizer will plump up the area and make cellulite less noticeable (a sensible choice, since no cellulite "fix" has been proven to be permanent).
9. SMOOTH MOVES

A new FDA-OK'd light therapy called Titan is producing respectable results in firming saggy stomachs and breasts. There's no downtime, and the cost is a plus: $750 to $2500 a session for up to three visits, compared with up to $30,000 (the price of a tummy tuck and boob job). In search of a more polished skin surface, women are also opting for skin-doc developed moisturizers rich in vitamins and hyaluronic acid, which combat signs of aging — sagging, lost luster, dryness — as effectively below the neck as they do above. Winter tip: Choose one of the new moisturizing shower gels that cleanse and leave behind a layer of hydration.
10. GLOW TIME!

Linda Hay, the makeup wizard behind the bronzed goddesses in Victoria's Secret ads and fashion shows, knows from fabulous faux tans: "Whether you're using body makeup or a self-tanner, exfoliate first so you get an even finish," she says. Self-tanning mousses are simplest to slather on and quickest to dry; if you go the makeup route, choose a luminous lotion, which is easy to apply all over. Shimmer powders, swears Hay, slim the silhouette.
Celebrity news, beauty, fashion advice, and fascinating features, delivered straight to your inbox!