Olympian and Pro Soccer Player Julie Ertz Shares the Beauty Products She Wears on the Field
"I love being a badass on the field, but I also love getting all dolled-up."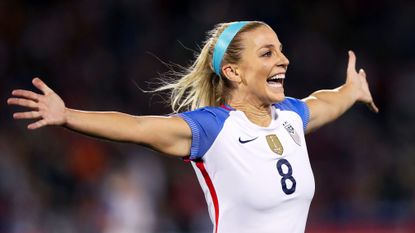 (Image credit: Getty Images)
When you watch Olympian, World Cup winner, and professional soccer player Julie Ertz on the field, there's no denying you see her strength. What's less obvious, yet equally fascinating, about the 2017 U.S. Soccer Female Player of the Year is that she always wears mascara when she's working out, she loves getting her hair and makeup done, and she's a big proponent of self-care. The sports star says she feels the most beautiful when she embraces her athleticism and her femininity, and is adamant women shouldn't feel pressured to pick one or the other.

Thanks to Secret Deodorant's partnership with the U.S. Women's National Soccer Team, I got the chance to speak with Ertz during the SheBelieves Cup in Tampa, Florida, where the incredibly fit and gorgeous players spilled all their beauty and wellness secrets. Ertz told me the beauty product she trades with her hubby (Philadelphia Eagles football player Zach Ertz), the makeup she wears on the field, and everything she eats in a typical day to stay in championship shape.
Her Training-Day Diet
Her Training-Day Diet
"I'm an early riser every morning. I like to train in the mornings so I can get it out of the way. I eat a really small breakfast. Usually it's a breakfast bar or oatmeal, along with my vitamins. When I'm training, I know it's going to be really hard on my body so I always have healthy snacks near me, like a bag of almonds or a banana. Lunch is my biggest meal. I love salads, because I can throw everything in at once. Usually I'm making dinner for my husband, too. I always make sure we have healthy grains, vegetables, and protein. More power to meal-preppers, but I have a hard time eating the same thing every day. I enjoy cooking and love to mix things up in the kitchen."
Her Go-To Smoothie Recipe
Her Go-To Smoothie Recipe
"Every time I drink a green smoothie I feel so healthy. I love using spinach, kale, cucumbers, orange juice, almonds, and a protein powder. To make them sweet, I like throwing in fruit, like apples and lemon juice. They always make me feel so much better and cleansed."
Why She Loves Working Out With Makeup On
"I'm a huge mascara girl. I think it's so crazy how much of a difference it makes. Even when I go work out with my husband, I put mascara on just because I love to feel cute when I'm lifting weights. My favorites are L'Oreal Voluminous Lash Paradise Mascara, Too Faced Better Than Sex Mascara, and sometimes when I need something last-minute I'll pick up Maybelline Great Lash Mascara—it's the first mascara my mom ever gave me."
Why CC Creams Work Better For Her Skin
"With my skin, I have good days and bad days. It's all about finding out what works best for me. If I wear heavy makeup throughout the day when I sweat, I notice that it clogs my pores. So, I've been really into CC creams lately instead. When I wear them I feel like my skin reacts a lot better throughout the day. I love using CC creams full of really good ingredients, like SPF, so that it's also helping my skin. I'm super into It Cosmetics CC Cream and Jane Iredale BB Cream—I get so many compliments. Even when I'm going for a light workout and know I'm going to sweat, or if I'm in humid clients, it still looks good."
What a Pro Soccer Player Keeps in Her Makeup Bag
The Beauty Product She Trades With Her Husband
"Even though he has such great skin because of his genes, I give him cleansing wipes all the time. When he's playing their days are crazy busy—so, he'll put them in his locker and wipe his face, just for my sake. I always joke with him about how I'm doing all the work on my skin now because when he's 60, I'm going to look like I'm 35. When I told him that, he started to change his routine a little bit. Sometimes, he'll let me rub some toner on his face, but not really all the time."
How Prioritizing Self-Care Helps Her Stay Focused on the Field
"Balance is really key. I prioritize nutrition for my body. And for me, it's all about perspective—I have to keep a really focused mind. Listening to music and my faith in God helps with that, which is really important to me. Throughout my career, I've learned the importance of taking care of myself. I always check-in and ask myself where I'm at mentally and physically."
How Empowering It Feels to Embrace the Duality of Beauty and Sports
"What I love about being a woman is you can totally mix sports, fashion, and beauty—it's all encompassing. I feel the most me when I'm wearing a tracksuit with my hair and makeup done. I love the aspect of being strong on the field physically and mentally—but I also love being a female, and that part of me is feminine and girly. The moment in my life when I felt like I could be both, is when I finally felt most myself. For so long, I felt like I had to choose, but why do I have to do either/or? I love being a badass on the field, but I also love getting all dolled-up."
For more stories like this, including celebrity news, beauty and fashion advice, savvy political commentary, and fascinating features, sign up for the Marie Claire newsletter.
RELATED STORY
Celebrity news, beauty, fashion advice, and fascinating features, delivered straight to your inbox!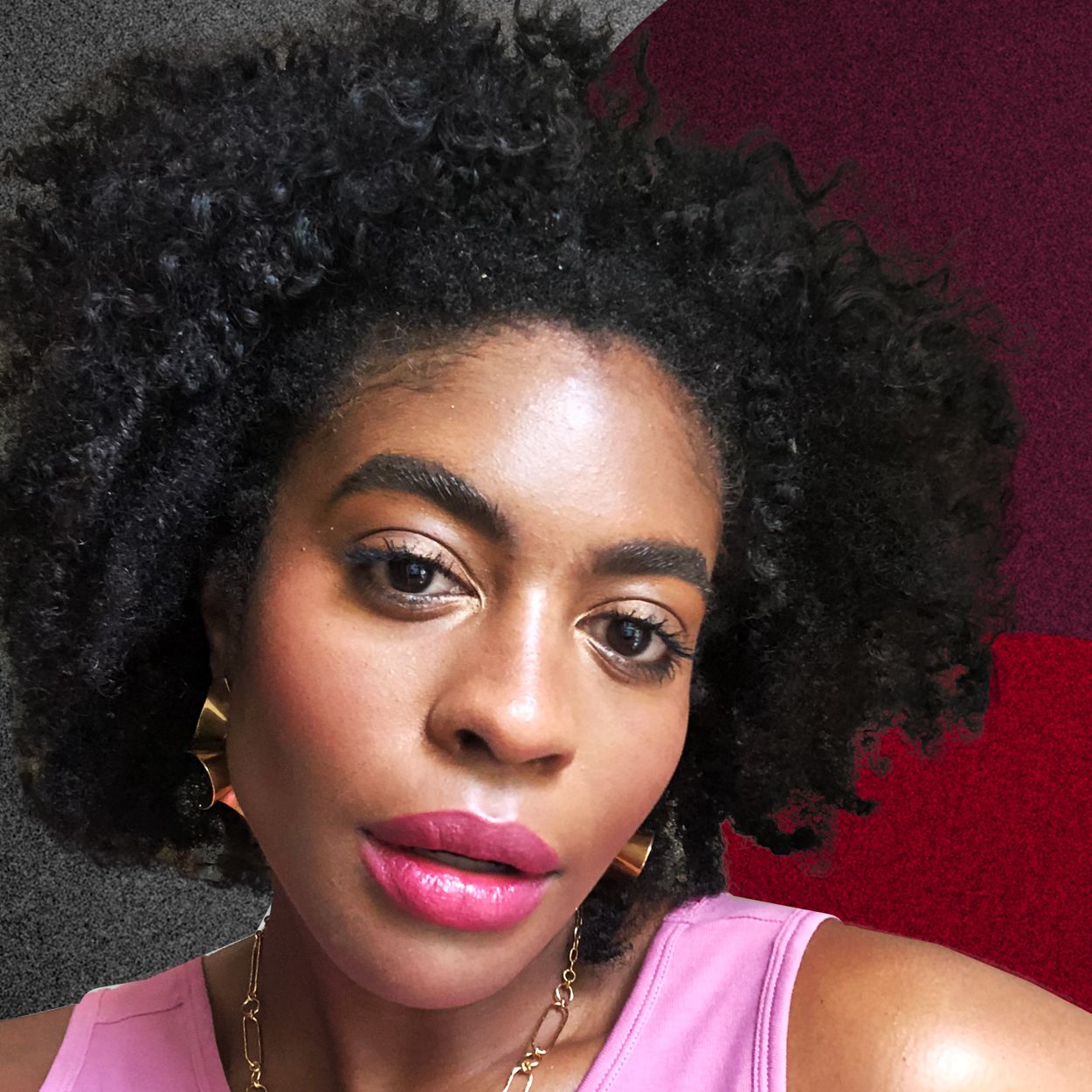 Maya Allen is the former Digital Beauty Editor at MarieClaire.com where she covered makeup, skincare, haircare, wellness, you name it! She has a 15-step skincare routine, owns over 200 red lipsticks, and enjoys testing the latest and greatest in beauty. On most weekends, you can find her at her happy place, which is her makeup vanity. There, she's usually blasting her speakers while singing along to lyrics at the top of her lungs, and making sure her highlighter is on point.