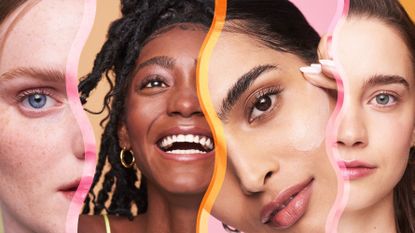 (Image credit: Mary Fix)
You can pop countless pricey masks and peels into your shopping cart in the hopes of solving—and preventing—nearly any complexion issue, but according to experts, the biggest game-changer is surprisingly simple.
"Your daily skincare routine is the most important thing you can do for preventative care," says Claire Chang (opens in new tab), a dermatologist at Union Square Laser Dermatology in New York City. "Yes, you can do Botox, you can do fillers, and you can do lasers, but what you do every single day is what is going to affect your skin the most."
We've all fallen for pricy products and treatments promising instant miracles. But as you probably know already, a high price tag doesn't guarantee success. What really matters? That your products contain active ingredients that your skin specifically needs.
Experts agree the one product in your daily routine that could be the X factor to amazing skin is your face cream. Here's why: Face moisturizer doesn't just hydrate; it can also make your skin look and feel softer, smoother, and more glowy—if you choose the right formula. "Using a face cream that contains active ingredients your skin truly needs is so important," Chang notes.
The one we're crazy about? Olay Regenerist (opens in new tab). First, it has an under-$40 price tag that won't make you freak out about actually using it every day. Second, it delivers results that are as good as—and often better than—other treatments that cost way more. Plus, there are different textures and formulas with extra benefits to target your skin concerns and complexion type.
Read on to find out which of these four Olay Regenerist formulas (opens in new tab) can help prevent and remedy the most common skin issues you're facing day in and day out. Use it daily for 28 days (which is the average time it takes for your skin to go through a full cycle of renewal), and you're guaranteed to see results.
---
Which of These Skincare Problems Are You the Most Concerned About?
When it comes to the products Marie Claire recommends, we take your faith in us seriously. Every product that we feature comes recommended by a MC writer or editor, or by an expert we've spoken to. Learn more about how we review products.
Do you feel like the skin on your face has a dual personality, because parts of it are super dry but others are always greasy and shiny? Then you likely already know what skincare category you fall into. "'Combination skin' means that some areas are lacking oil, lipids, or water, while others have overactive oil glands," explains Sejal Shah (opens in new tab), founder of Smarter Skin Dermatology in New York City.
As for why, exactly, you have to deal with multiple skin issues? "Some people are simply predisposed to dry skin, and then on top of it, their skin barrier doesn't function properly," says Shah. If your barrier isn't working at 100 percent, your skin is prone to even more water loss. That means that skin will be dry no matter how many mega moisturizers you slather on. On the other hand, areas of your skin that have more pores (and thus, more oil glands) can be prone to looking super shiny. Typically, you'll find this on your cheeks, nose, and chin.
What you do—and don't—use on combination skin really matters. Overdo it with harsh ingredients and you'll strip your skin of its natural oils and make dry spots even drier. Slather on oily products, and greasy zones will go into overdrive.
To avoid all that, watch labels for niacinamide, a powerhouse skincare ingredient that's a derivative of the water-soluble vitamin B3 and an active ingredient in all of the variations of Olay Regenerist creams, including Olay Regenerist Whip (opens in new tab).
"It has a lot of different skin benefits, but one of the most interesting things it's been shown to strengthen is the skin barrier," Shah says. By reinforcing the superficial layer of skin, you're helping to cure your dryness long-term and from the inside out.
Also look for water-boosting ingredients like hyaluronic acid or glycerin—also found in all Olay Regenerist creams, including Olay Regenerist Whip (opens in new tab)—which attract and hold onto water within your skin. "Just because your skin is on the oily side doesn't mean it doesn't need water," says Joshua Zeichner (opens in new tab), a dermatologist at Mount Sinai Medical Center in NYC.
When it comes to hydrating oily-prone skin, texture also matters. "The Whip technology is unique because it contains an active-rush polymer delivery system," says Olay Principal Scientist Dr. Frauke Neuser. The result: a hydrated and flawlessly matte complexion. Yes, please.
---
If you deal with uneven skin tone because of brown spots that pop up and never go away, you probably already know that you need to double up on UV protection. However, you might hate the way all that sunscreen feels on your skin.
But not applying SPF daily is simply not an option—even incidental exposure adds up. Ultraviolet radiation can cause skin cancer—"which is obviously the worst result," says Shah—but it can have other effects, too. Shah says that in addition to breaking down collagen and elastin, UV light "accelerates the aging process and leads to pigmentation processes that cause freckles and brown spots."
It also exacerbates pre-existing hyperpigmentation conditions, such as melasma and post-inflammatory hyperpigmentation, which includes marks left from a pimple.
For Shah, daily sunscreen layering is a no-brainer. "I always have patients who say 'I don't wear sunscreen because I have sunscreen in my makeup'," she says. "But the reality is that the amount of makeup that you would have to put on to achieve the SPF that your makeup says it has—nobody does. That's why layering is extremely important." The combination we like: Olay Regenerist Whip SPF 25 (opens in new tab) followed by your face makeup (such as a foundation, CC cream or tinted moisturizer) that also has some sun protection, too.

And remember, this golden rule rings true for everyone. "Ultraviolet radiation does not discriminate. Everyone is susceptible to some form or level of sun damage, regardless of your skin tone," she says.
Zeichner adds that simply seeing the term "SPF" on a label isn't enough, and that you should seek out advanced formulas that also contain skin-protecting and renewing ingredients such as the vitamin B3 derivative, niacinamide, which can help repair damage and lessen pigment issues (a win-win).
"Niacinamide has been shown to brighten and renew skin," Shah says. Another reason to reach for Olay Regenerist Whip SPF 25 (opens in new tab), which has broad-spectrum sun protection along with niacinamide.
---
If your skin feels parched no matter how many "moisture-boosting" concoctions you apply on the daily, your skin just might have boundary issues. "The outer skin layer serves as a barrier between the skin and the outside world, so when it's disrupted, your skin loses hydration, leading to dryness and inflammation," Zeichner explains. "Some people genetically suffer from dry skin even from a young age, while for other people, [the skin barrier's] function declines, especially after the age of 30."
Couple that with environmental factors like low humidity, ultraviolet light exposure, and lifestyle factors—stress, lack of sleep, and a poor diet—and your skin can become chronically dry.
And that can lead to other skin concerns you may not even realize are related. For example, ever notice that the drier your skin is, the more pronounced those teeny tiny lines around your eyes, across your forehead, and near your mouth are? When the lipid, oil, and water content of your skin gets low, your skin appears more textured in places—and lines are way more noticeable.
When you're facing down dryness, you need a cream that deeply hydrates and plumps up your skin's superficial skin layer—which in turn helps erase fine lines related to dehydration. "If you have dry skin and splash some water on top of it, that's not going to hydrate it," Shah says. "You need to look for a formula that's going to not only boost the oil, lipid, and water content in your skin, but also keep them there." To the rescue: glycerin, hyaluronic acid, and ceramides.
In addition to looking for proven moisturizers, Zeichner suggests opting for complex formulas that also help strengthen your skin's infrastructure and combat lines. "As collagen and elastic fibers become hard and damaged, they no longer can give adequate support to the skin," he notes. "Without structure, the skin wrinkles, giving the appearance of fine lines."
That's why your skin can also benefit from peptides. "Peptides are messengers that are particularly useful at signaling to your skin to rev up collagen production, which helps strengthen your skin, improve the appearance of lines that have already formed, and prevent new ones from developing," says Zeichner. Where you can find this combo: Olay Regenerist Micro-Sculpting Cream (opens in new tab).
The product is also laced with niacinamide, hyaluronic acid, and carob seed extract. "In lab tests, carob seed extract was shown to help increase cell regeneration in skin and complement the results of peptides," Neuser says.
---
If your skin is sensitive, you might be afraid to try a new product out of fear that your face might turn red or start to itch. But one of the most common causes of these types of reactions may surprise you: It could all be tied to fragrance-related additives. "If you're prone to irritation and allergic reactions, it's probably a wise idea to stay away from fragrance," Shah says. Going fragrance-free doesn't just help you avoid potential outbreaks—it can also have long-term effects.
Over time, consistent inflammation can accelerate the aging process and other not-so-pretty skin issues. "When it comes to your health and your skin, inflammation is not our friend," explains Zeichner. "Even low-grade inflammation over and over can lead to collagen damage that translates into wrinkles and crepey skin over time." Keeping your complexion calm and dialing down the inflammation will help your skin now and later.
If you're prone to irritation or sensitivity, developing a strong skin barrier is extra crucial. "Besides maintaining proper hydration, a healthy skin barrier helps prevent skin infections and neutralize free radical damage from the environment," says Zeichner.
All the more reason to shore up your protection against potential irritants with a product like Olay Regenerist Whip Fragrance-Free (opens in new tab), which is not only sans fragrance chemicals but is also laced with the same vitamin B3 content as all the other Whip formulations; over time, it can strengthen your skin's shield to the outside world.
"Niacinamide actually helps to repair the skin barrier, which is important not just when we think about aging, but also when it comes to the environmental insults your skin is faced with on a daily basis and the damage they cause," says Shah. "Niacinamide will actually help repair those signs of damage."
Fashion Credits: (on Rashika) Mounser earring; Pamela Love earring; (on Lily) Still House Jewelry and IO Collection rings; (on Daisy) Mounser earrings; Lady Grey and Via Saviene rings; (on Luiza) And Other Stories top; Mounser earrings; Nora Kogan and IO Collective rings
Nicole Catanese is a beauty and wellness editor.