Sakara Co-Founder Danielle DuBoise Thinks Wellness Shouldn't Be A Luxury
The entrepreneur talks family, business, and holding herself accountable.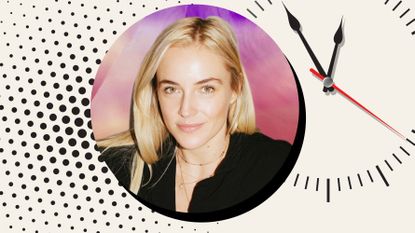 (Image credit: Hana Varady)
Welcome to Beauty Around the Clock, Marie Claire's weekly peek into the daily lives of some of the most game-changing women in their industries. Ever wonder how they get it all done in a day? Here's your answer.

After a wake-up call with her health and eating habits, Danielle DuBoise co-founded plant-based meal program and wellness company Sakara Life with childhood friend Whitney Tingle in 2012. Nearly ten years later, the brand has emerged as a major voice in wellness and an editor favorite for much-needed resets. Here, DuBoise talks family, her morning routine, and the importance of self-care.
Rise and Shine
The first thing I do when I open my eyes is kiss my child and my husband. My little one usually wakes us up with a smile, and it's changed my entire being waking up to that face. It makes it really hard to have a bad day.
Morning Meal
On a perfect morning, I'll share breakfast with my husband and daughter. I wake up so early with the little one that I'm often not hungry for a few hours. Right now, I'm really into making my own latte with Sakara's Metabolism Powder. I make my own almond and coconut milk, use a frother to combine the milk and the powder, then pour that over a cup of Canyon Coffee. I still have Sakara meals delivered every week, so I eat one of our breakfasts once I get hungry. Then, I take The Foundation, the new supplement pack Sakara just launched. I've been taking them for two weeks now, and I've notice a huge difference in my skin, less under eye circles, less bloat, and more energy. It's a perfect little pre-workout pick me up.
Sweat Session
Recently I've been rope jumping with my husband, but I also love online classes from Megan Roup's The Sculpt Society, Melissa Wood Health, and Ballet Beautiful.
Skincare Routine
I typically spend three minutes on skincare in the morning. I always exfoliate with Dr. Goldfaden's Scrub, then use Dr. Barbara Sturm Anti-aging Serum, and Vintner's Daughter oil. Sometimes if I have an extra 10 minutes, I'll steam my face over hot water with two or three bags of Sakara Detox Tea. It's very high in antioxidants, and steaming always helps my pores. I also drink 20 oz of water first thing in the morning, and always add Sakara Beauty Water Drops. We often forget that skincare starts with what we put into our bodies.
Shop Danielle's Morning Favorites:
Signature Look
I haven't been wearing any makeup at all recently. I just brush my brows into place and give my hair a quick comb through. Sometimes, I'll put more Vintner's Daughter serum on mid-afternoon to stay extra hydrated. My skin has never been better.
Zoom Beauty Hack
There's a button in settings that says "clean up my appearance" and it's basically a light filter so you always look fresh! And good lighting is key, so I sit by my windows.
Signature Scent
Heretic Parfum's Flower Porn.
Worth It Treatment
A facial with my facialist Lisa Shannon!
Cheap-but-Chic Product
Blue light blocking glasses by Flower (Drew Barrymore's brand). They're amazing, so chic, and affordable.
Wellness Practice
I breathe every morning—check out Ziva Meditation, they have amazing online services!—and I work with a life coach via The Handel Group. It's been life changing. She holds me accountable for everything. It kicks my butt, but it has helped me grow in so many ways. I love to be challenged like that.
On Pandemic Self-Care
More than ever, I hope everyone now understands that wellness is not a luxury and is not selfish. In fact, it's the most selfless thing you can do.
Hidden Talent
I took acting classes for years, and I loved improv!
Business Beginnings
Sakara wasn't just an idea, it was a 'you-have-to-change-your-life-or-you-might-not-make-it' kind of thing. I'd spent a lifetime yo-yo dieting and was very sick from it. It wasn't until I studied nutrition and created this program that my body and health changed. I decided that my mission would be to share that way of eating and living with the world.
Entrepreneurial Icon
I mean, Oprah's done well! We had the honor of meeting her a few years ago when she made us one of her Super Soul 100—100 people she believes are carrying forward the light of this generation. It was one of the best weekends of my life! And she herself did not disappoint. She was just as lovely, grand and impressive in person.
Founder Highs and Lows
They both happen all the time. People often think that once you've made it, things get easy. It's the reverse; it gets harder. Now, I have almost 200 employees to take care of! Stakes are high with every decision. But, I love my job and my highest points are always hearing how our products have changed lives. Nothing better.
Friday Night Uniform
I don't even remember going out! Ha. I'm a simple girl. I can be ready in five or ten minutes. I usually reach for a vintage slip, cropped fringe suede jacket and simple black boots.
Nighttime Routine
Same as the morning, but I use our Detox Water Drops instead of the Beauty Water Drops. They contain very potent levels of chlorophyll which is incredibly healing and alkalizing, so helps to speed recovery while you sleep.
Bedside Beauty Essentials
A glass of water, hand cream, and Marianne Williamson's book, A Return To Love. I usually try and read that, even if it's just half of a page. It's so peaceful and reassuring.
Lights Out
There's not a lot of 'typical' going on in my household, but right now, we're putting Baby Star down at 7:30 pm and I try and go to bed by 9:45 pm. She wakes up at 4:30 am (then goes back to bed for two or three hours) and I can rarely fall back to sleep once she wakes up, so going to bed early is essential. Sometimes I forgo that for extra shut-eye for a movie with my husband. But sleep is so important for physical and mental health.
For more stories like this, including celebrity news, beauty and fashion advice, savvy political commentary, and fascinating features, sign up for the Marie Claire newsletter.
RELATED STORIES
Celebrity news, beauty, fashion advice, and fascinating features, delivered straight to your inbox!
Taylore Glynn is the Beauty and Health Editor at Marie Claire, covering skincare, makeup, fragrance, wellness, and more. If you need her, she's probably roasting a chicken, flying solo at the movies, or drinking a bad Negroni at JFK.