Editors handpick every product that we feature. We may earn commission from the links on this page.
30 Outfits From 'Friends' We'll Never Forget
I'd wear any of these looks today.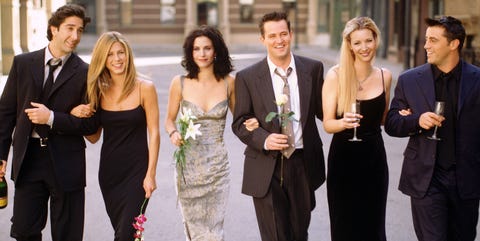 If you grew up on '90s sitcoms like I did, then you started watching Friends before you could really understand what "WE WERE ON A BREAK!" meant. (If this means nothing to you, I recommend watching some episodes, STAT.) Aside from blessing viewers with some of the funniest jokes in TV history, Friends has also given us countless memorable fashion moments—some of which have never seemed more relevant than in 2020, like slip dresses and normcore denim. The six friends living in New York City (the epicenter of fashion!) in unusually large apartments can still inspire our wardrobe choices to this day.

So, take a stroll through memory lane with me as I reminisce about all the times Rachel wore a mini skirt and leather boots or that time Monica rocked a red slip dress. Maybe this will inspire you to dig out those forgotten '90s and early-aughts pieces in your closet for a rewear, or at least make you recall the mom jeans and scrunchie you wore circa 1998. Ahead, the most iconic outfits from Friends.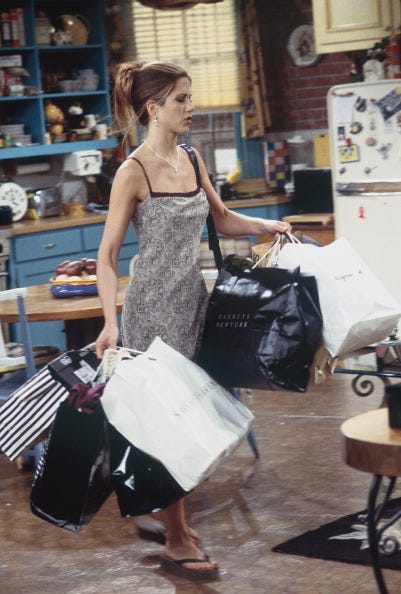 "The One With Ross' Wedding"
I call this: "The One Where You NEED Rachel's Slip Dress" (and whatever else is in her bags). She was the show's true fashionista and had a penchant for shopping.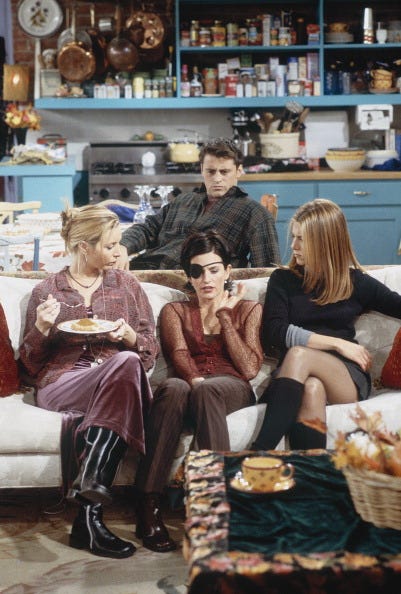 "The One With Chandler In a Box"
If you can get past Monica's eyepatch, notice how good all the girls' boots are! Rachel's miniskirt-and-boots-combo was one of her go-to looks throughout the show.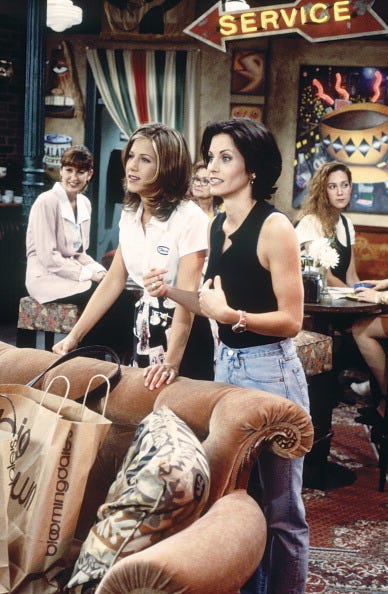 "The One With the Breast Milk"
Throughout the series, Moncia's style is "less is more, keep it simple and sexy," but the only thing better in this scene than her outfit is her hair cut. Wait, do I need a bob?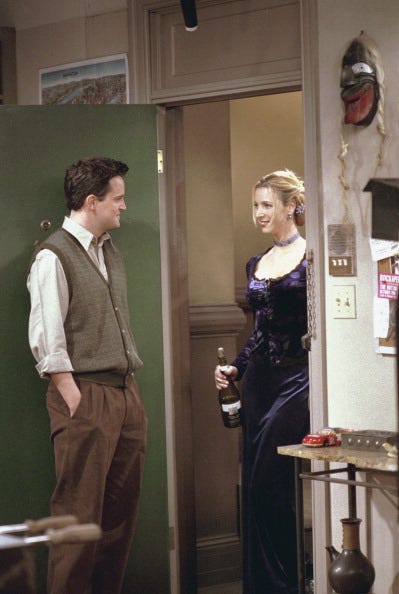 "The One Where Everybody Finds Out"
Who knew head-to-toe purple velvet could actually work in your favor? Let's give a round of applause for Phoebe and the tattoo choker.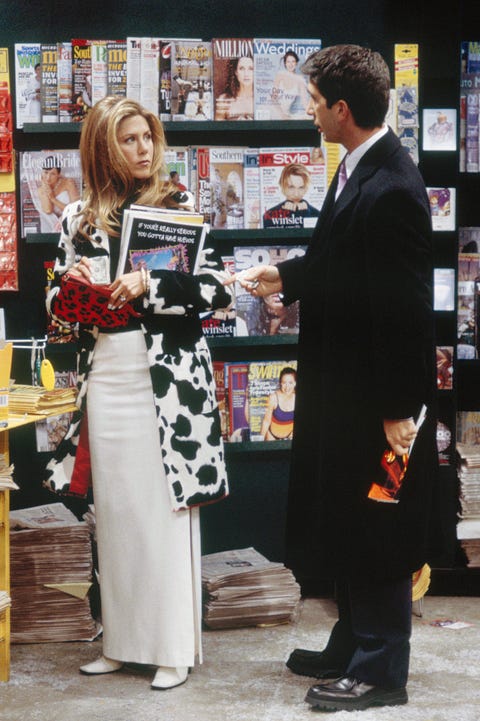 "The One That Could Have Been"
Oh, the things I would do to get a peak into Rachel's closet. I am udderly adoring this cow print coat! Be right back, going on the hunt for a similarly printed coat.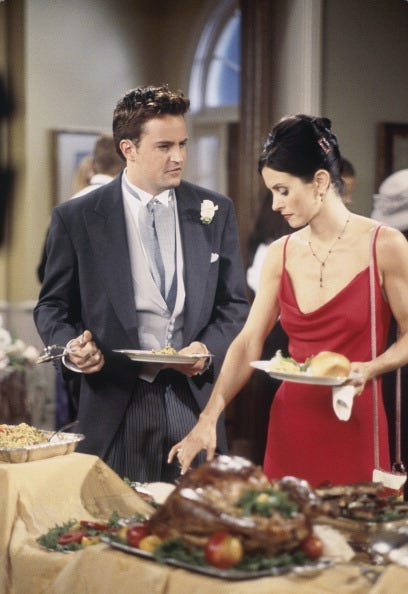 "The One With Ross's Wedding, Part 2"
Monica looks stunning in her cowl neck slip dress, which she wore to be a bridesmaid in brother Ross's second wedding. (We tracked down a similar dress to shop right now; you're welcome.) Also, in the words of Joey, when people see you in this look: How you doin'??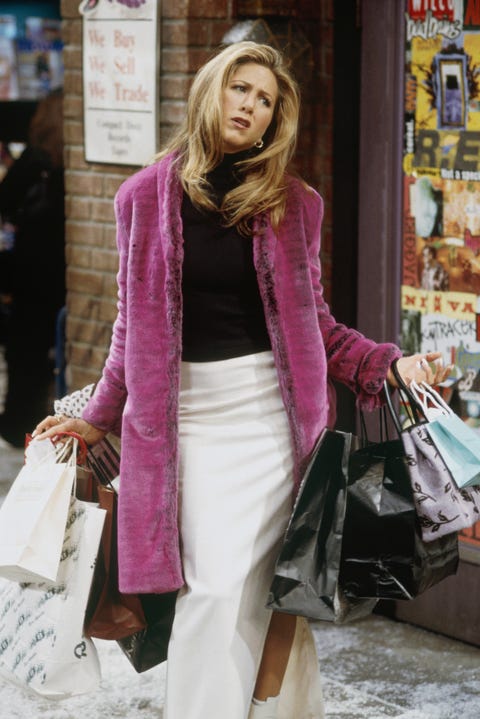 "The One That Could Have Been"
Rachel wore the plush teddy bear coat before any of us knew we had to have it.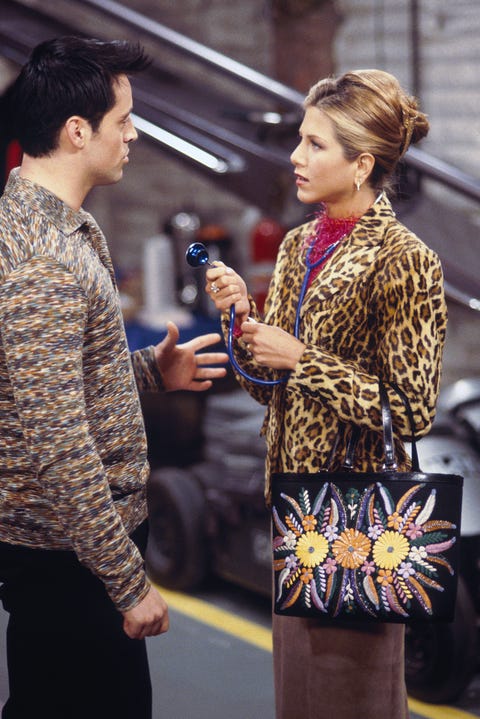 "The One That Could Have Been"
Rachel proves animal print is totally wearable with this jacket of hers and also showed us how to use....a stethoscope?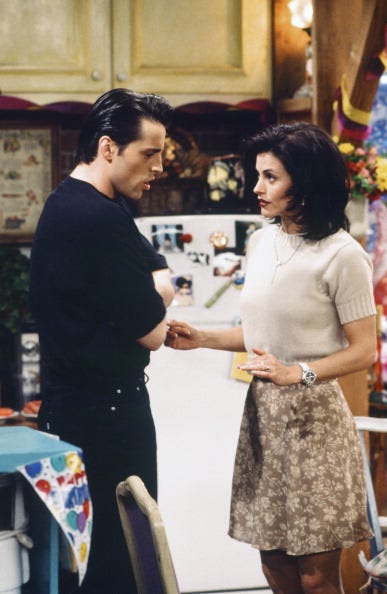 "The One Where Rachel Finds Out"
Monica gives off ultimate girl-next-door vibes with her miniskirt and cropped beige sweater.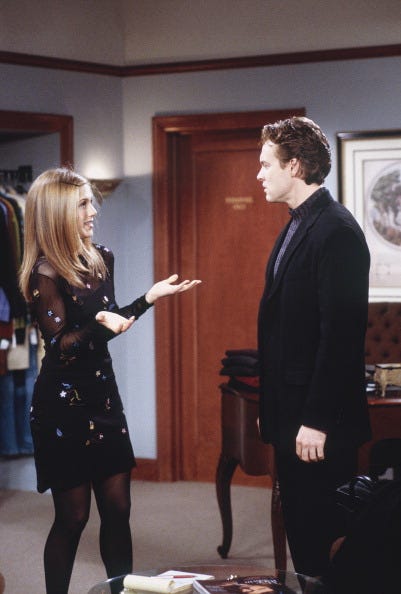 "The One with Rachel's Crush"
This embroidered LBD-and-tights outfit makes me want to go dumpster diving and look for all the tights I've thrown out.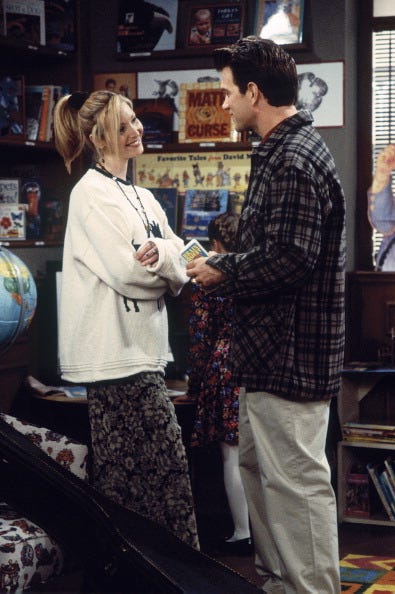 "The One After The Superbowl"
Phoebe proved to us that you really can wear an oversized sweatshirt or sweater with anything and make it look cool.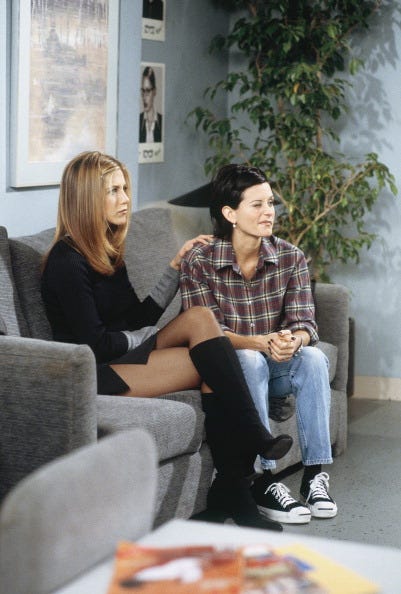 "The One with Chandler in a Box"
Monica's outfit of a pair of Chuck Taylors, jeans, and a flannel is an ensemble we'd still wear today. The shoes will always be in style and so is working a little grunge into your 2020 outfits.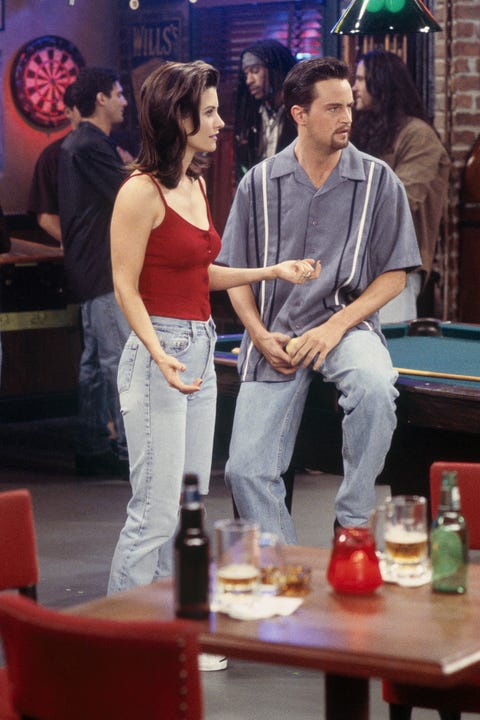 "The One with the Flashback"
Monica reminded us that all we really need is a good pair of Levi's and a red tank to complete your "game on" outfit and beat your man at pool.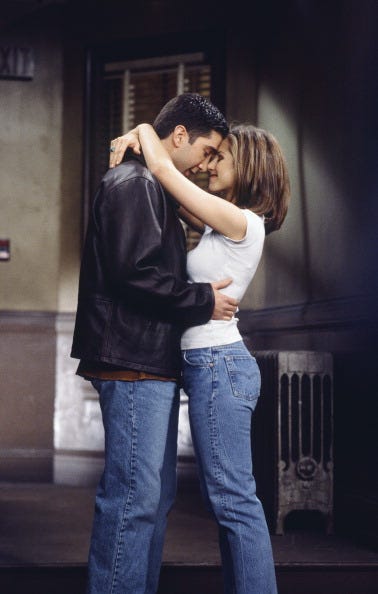 "The One Where Ross and Rachel ... You Know"
When in doubt, go with the classics, no matter the decade. I can guarantee you a white t-shirt and a good pair of denim will never do you wrong.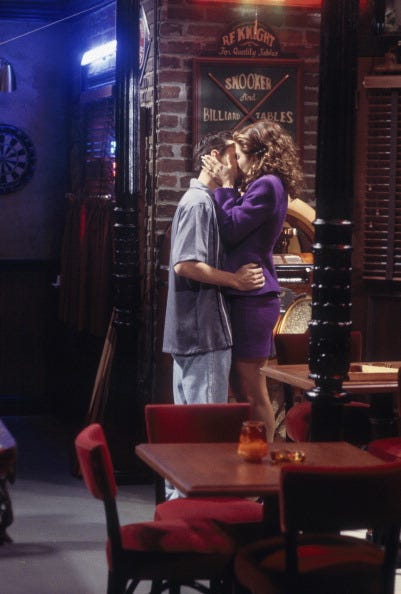 "The One With the Flashback"
Am I more confused by this Chandler-Rachel kiss, or by how much I'm loving this purple skirt suit?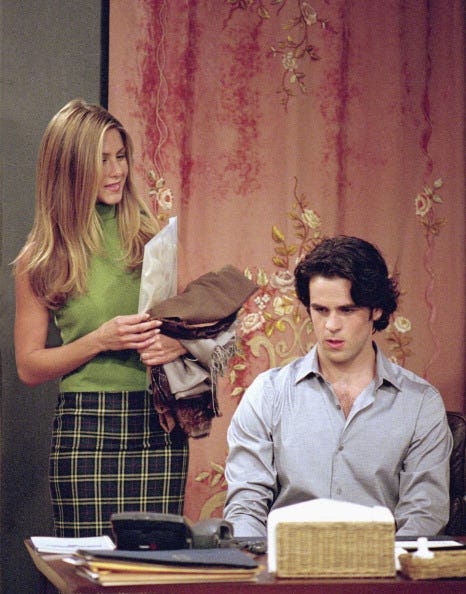 "The One with Rachel's Assistant"
Rachel reminds us all that plaid skirts aren't just for the school yard. Here, she wore it with a green sleeveless turtleneck top while flirting with her assistant, Tag, at work.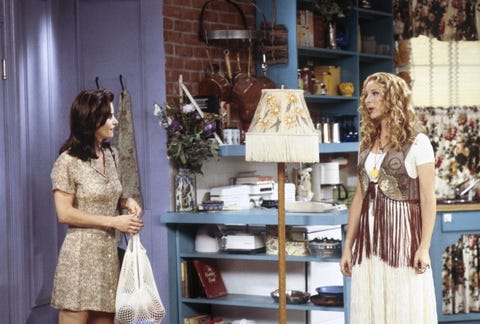 "The One with the Flashback"
Let's call this "When Phoebe Found Out that Coachella Was Postponed." Can't you just picture all the music festivals filled with fringed crop tops? Thanks for the inspo, Phoebe!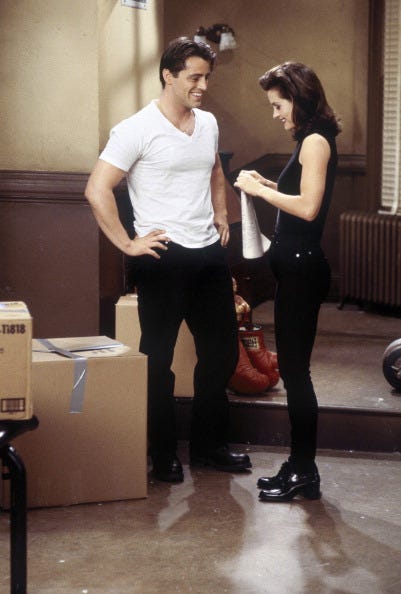 "The One With the Flashback"
Monica and Joey look like they just stepped out of Grease. I approve of their outfits.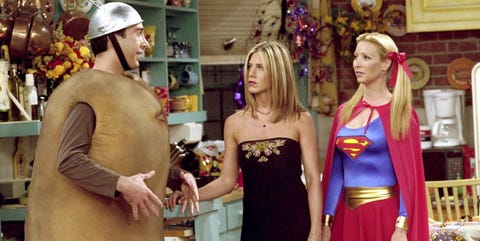 "The One With the Halloween Party"
When you're not in the mood to dress up in a ridiculous Halloween costume: Slip on a strapless black dress and say you're channeling Rachel Green from Friends.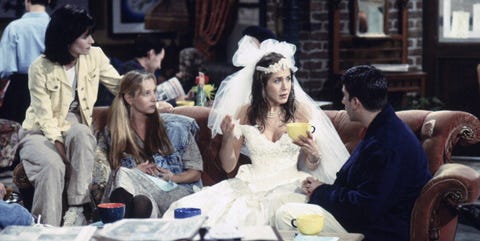 "The One Where Monica Gets a Roommate"
This Runaway Bride look should be on display in a fashion exhibition. Rachel's wedding dress—which is a whole lot of extra-ness—embodies precisely the gowns that were in style at the time.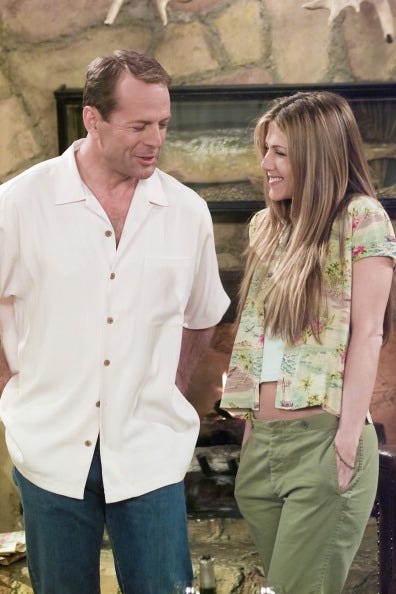 "The One Where Paul's The Man"
Hawaiian shirts aren't reserved for dads drinking beers on vacation. Take a fashion tip from Rachel and style yours unbuttoned with a white tank and cargo pants.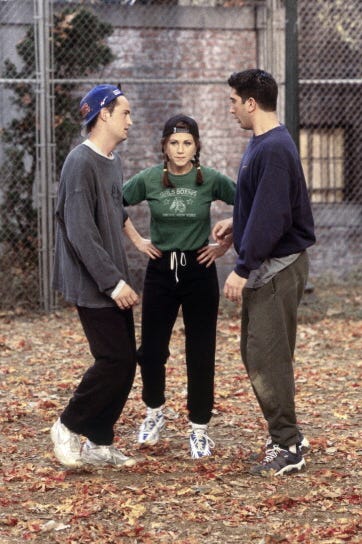 "The One With All the Football"
The icons of athleisure themselves. Chandler, Rachel, and Ross look like they're ready to film a TikTok dance video.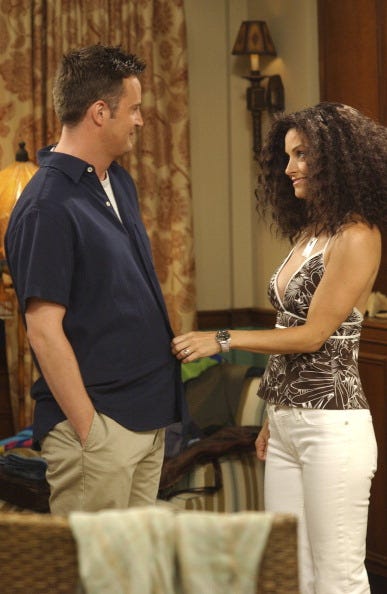 "The One After Joey and Rachel Kiss"
White jeans and a halter neck top was all I wore in the early 2000s...and all I want to be wearing again this summer.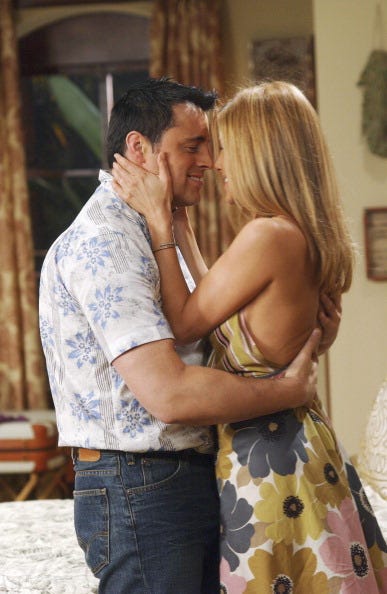 "The One After Joey and Rachel Kiss"
Alternate title: "The One When Things Were Obviously Blooming for Joey and Rachel." The two matched in florals while sharing a romantic scene—coincidence? I think not.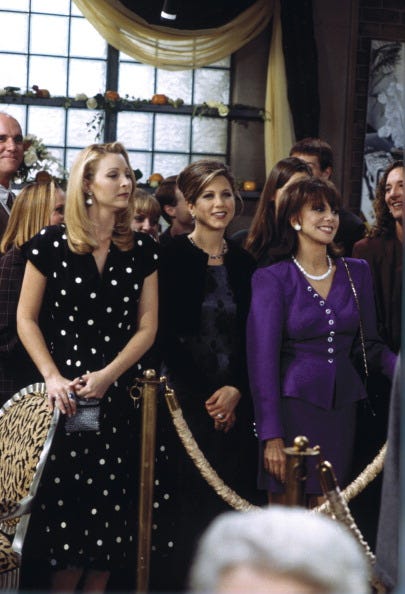 "The One with the Lesbian Wedding"
From the '50s to the '90s to today, polka dots for a wedding will never go be a faux pas.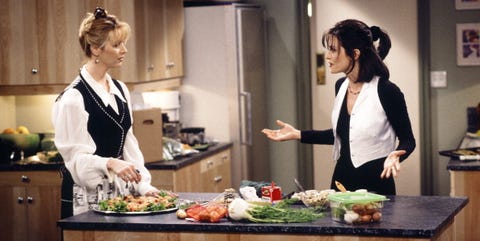 "The One Where Ross and Rachel...You Know"
I can't decide what I love more in this shot: the scrunchie, the hair clip, or Phoebes pirate sleeves.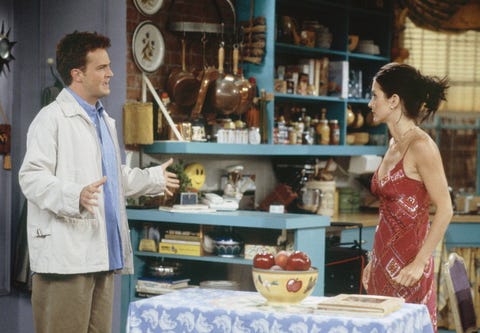 "The One After Ross Says Rachel"
The slip dress ruled the '90s and are still reigning supreme decades later. I hope Monica held onto this gem when she moved to the 'burbs.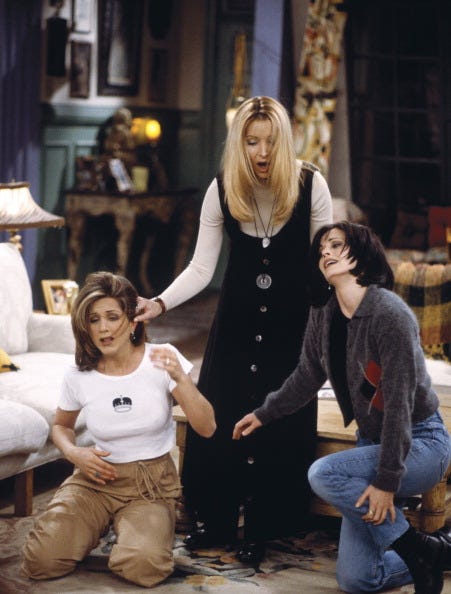 "The One After the Super Bowl Part 2"
How to layer your turtle neck according to Phoebe: wear underneath a black maxi dress and top with multiple long necklaces.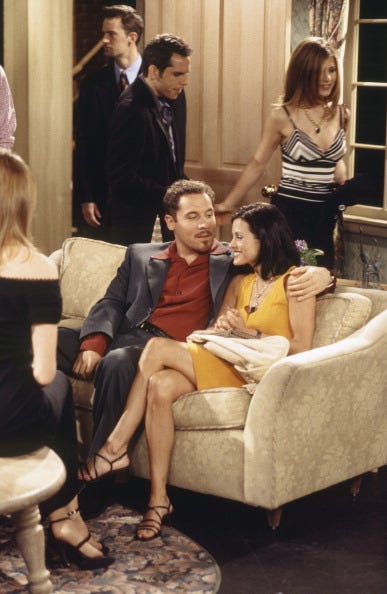 "The One With The Screamer"
A.k.a. "The One When Monica Predicted The Color of Fall 2020." Primary colors like this yellow hue popped on the runway this past season and will be one of the hottest colors come fall 2020.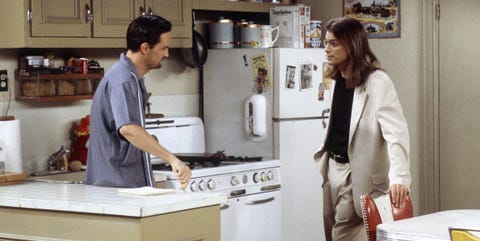 "The One With the Flashback"
Flashback to the early '90s when the oversized blazer (seen here on a pre-Joey roommate) was a hot trend. You can practically shop the same oversized-suit today!
•••
For more stories like this, including celebrity news, beauty and fashion advice, savvy political commentary, and fascinating features, sign up for the Marie Claire newsletter.
This content is created and maintained by a third party, and imported onto this page to help users provide their email addresses. You may be able to find more information about this and similar content at piano.io