Drunk Elephant Founder Tiffany Masterson Has Worn the Same Fragrance Since 8th Grade
24 hours with the entrepreneur.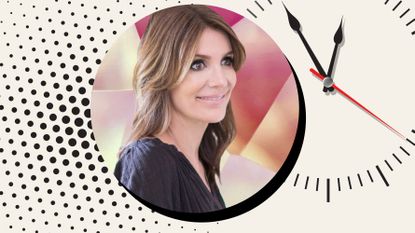 (Image credit: Morgan McMullen)
Marie Claire Newsletter
Celebrity news, beauty, fashion advice, and fascinating features, delivered straight to your inbox!
Thank you for signing up to Marie Claire. You will receive a verification email shortly.
There was a problem. Please refresh the page and try again.
Welcome to Beauty Around the Clock, Marie Claire's weekly peek into the daily lives of some of the most game-changing women in their industries. Ever wonder how they get it all done in a day? Here's your answer.
The Drunk Elephant founder made headlines last year when she sold her company to Shiseido for a cool $845 million. She still runs the show, working mostly from her home in Houston when she's not on the road popularizing her clean beauty products. Here, 24 hours in her world.
Rise and Shine
I'm up at 6 a.m. The first thing I do is kiss my husband or take a sip of the coffee he's put beside my head. If my four kids don't have to get to school, I'll wake up closer to 7 or 8.
Morning Rituals
I work from home, so unless there's a meeting, I don't spend time on beauty. I usually put my hair in a bun, and I don't cleanse my skin. I'm all about the acid mantle being the most protective thing your skin can have, so I put Drunk Elephant marula oil or F-Balm on my face. Then I answer e-mails, which can go on for hours. I also drink a glass of celery juice for digestion and the immune system.
Shop Masterson's Routine:
Power Start
A Ka'Chava superfood smoothie, blended with ground flaxseed, nut milk, a handful of spinach or kale, and avocado, even though I hate avocado.
Beauty Signatures
If I'm seeing people, I'll do light eye makeup and nude lips. I'm a little stuck in the '50s and '60s. And I wear my hair in a ponytail—it looks nice and neat and clean—which works with my curtain bangs. Chris McMillan [Jennifer Aniston's hairstylist] and I are childhood friends. He started cutting my hair in seventh grade and has worked on Drunk Elephant's hair products. It's always a great haircut, and I might not have to go back for nine months. I've been wearing Must de Cartier since eighth grade and still spray it on my clothes.
Mental Health Move
I've always felt like being in the middle of the action is the best way to maintain balance. I've never separated home from the office; I love the idea of doing laundry on a conference call.
Self-Care Solution
I have an infrared sauna at home. It relieves my stress and is good for getting toxins out. If I have time, I'll walk around the park or go on the elliptical in my garage, then spend 20 to 30 minutes in the sauna with a huge bottle of electrolyte water boosted with a Nuun tablet. A bite-size portion of exercise almost every day gets me moving.
Career Advice
Know what you're good at, and wear that hat all the way through.
Hidden Talent
I'm a great cook, and that translates into product formulation.
Beauty Find
Hard coconut oil. I like to have it around and use it on the ends of my hair and cuticles. I cook with it too.
Shop Masterson's Favorite Supplements:
Evening Wind-Down
I brush my teeth, deal with my Invisalign, cleanse, and mix up Drunk Elephant TLC serum, marula oil, and F-Balm in the palm of my hands and slather it on. Then I gather and take all my supplements—roughly a dozen of them, including Kinoko Platinum AHCC for immunity, vitamin D3, and active enzymes for digestion. I also take a swig of an Inner-Eco probiotic drink. Then I put on my PJs and drink hot water with lemon or ginger tea and go over our Instagram account. I also love, love, love Four Sigmatic mushroom-cacao mix, made with reishi and cinnamon. It tastes like hot chocolate.
Last Thing Before Bed
I kiss my husband.
Lights Out
I'm usually in bed between 10 and 11, but I cannot turn my lamp off unless everyone's home.
For more stories like this, including celebrity news, beauty and fashion advice, savvy political commentary, and fascinating features, sign up for the Marie Claire newsletter.
RELATED STORIES
Celebrity news, beauty, fashion advice, and fascinating features, delivered straight to your inbox!