Rosie Huntington-Whiteley Loves Her "Me" Time
The supermodel, mother, and founder of Rose Inc. talks makeup tricks and her savior for acne-prone skin.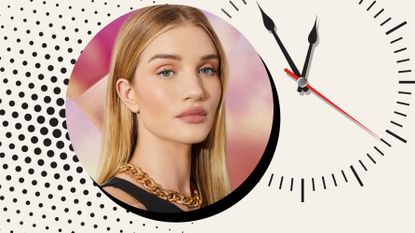 (Image credit: Designed by Hanna Varady)
Rise and Shine
I wake up about 6:30 a.m. when my alarm goes off. I'm a dozer, so I usually sort of like to lie in bed for a little bit, wake up. I'm not a good morning person at all. My other half opens his eyes, and ping—he's up and out. I like to spend a little bit of time on my own. I usually will check my emails and read the news in bed.
Morning Maintenance
I get washed, get dressed, and then my son wakes up at 8:00 and then it's just pure chaos. We get him breakfast and out the door, and if I'm not going to be with him that day, I will head to the gym, work out, come home.
Normally, I'll wash my face in the morning, I'll cleanse and tone and serum. I use iS Clinical's Cleansing Complex to cleanse, and then follow with either their Poly-Vitamin serum or their Super Serum and then I finish up with Hydra-Cool Serum, and then I apply a moisturizer from Biba and SPF if I'm going outside.
Signature Look
It's all about glowy, luminous skin and a good brow. I always wear mascara, so I've been really excited to try the new unlocked Instant Extension Mascara from Hourglass. When I don't wear mascara, I usually have eyelash extensions on. They always kind of give you a finished look, but because we have been in quarantine over the last few months, I haven't had them done. And Hourglass is so for are their powders. The Ambient Lighting blushes are some of my favorites—you can just see the sheen and the luminosity it gives the skin. I always like to brush a little bit over my nose, into the sockets of my eyes.

I love doing my makeup. I love the transformative nature of it and the confidence that it gives me to sort of face my day.
Shop Rosie's Makeup Musts
Fitness Routine
I've been doing Body by Simone workout for about six years now, and I go to her West Hollywood location here. Since we've been in quarantine, I've been using her app in the garage—our makeshift at-home gym.
Self-Care Ritual
Since having a very busy family life myself, I really relish those moments of just being able to be on my own. At the end of the day, once [my son's] down to sleep, I might go and lock myself in my bathroom for an hour or two and have a bath and call a friend or read a book, listen to a podcast, just be on my own. I call it pottering around. Jason's like, "What are you doing?" I'm like, "Just pottering around." Maybe I'm going through my drawers, I'm redoing my closet, whatever; is it just time to think, digest, process things, and reflect internally.
I invest in regular facials, because I've struggled on and off throughout my entire adult life with acne and breakouts and congestion on my skin. I've been seeing Biba De Souza in Los Angeles now for a little over a year. She is a specialist with acne and congested skin. She really educated me on non-comedogenic and pore clogging ingredients and removing products from my routine that were pore clogging, and I just immediately saw such a difference.
Drugstore Find
Bioderma Sensibio H2O makeup remover. I always buy that, again and again.
Career Advice
I think collaboration is really important, surrounding yourself with the best that you can surround yourself with. I truly believe who you surround yourself with is a reflection of who you are. Surround yourself with the best team that you can find and collaborate.
P.M. Routine
I shower every night; that's how I wind down. I like to go to bed feeling clean and relaxed. Before I had a kid, I would wash and blow dry my hair every night. I don't know how I had time to do that, but now, if I get around to it, like twice, three times a week. Really, for me, it's like I want my hair to last several days so I can avoid washing it, which is obviously better for my hair. On a really bad hair day, I just throw a hat on and hope no one sees me. I usually do a double cleanse in the evening because I've had makeup on.
I use the Environ dermaroller and then I use, then I do the Nu Face tool, and then I use these salicylic pads from Zo Skin Health. They're incredible for breakouts. Then, after that, I'll usually rotate between iS Clinicals Active Serum or I'll use a retinol. There's a retinol I really love called Retin-8. Then, I'll follow that up with Biba Creme Barrier moisturizer, which is a really, really thick, bulky moisturizer. Oh, and iS Clinical eye cream. I've just started using eye cream. At 33, I figured it was time to give the old eye a go.
Shop Rosie's Skincare Picks