Rihanna on Skin Insecurities, Sunscreen Myths, and Inclusivity With Fenty Skin
I asked the mogul for some advice on skin struggles.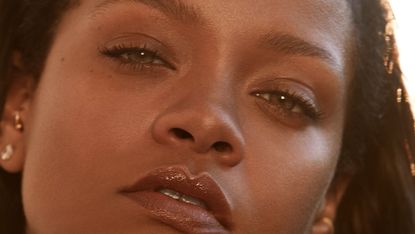 (Image credit: Fenty Skin)
Suddenly, Zoom fatigue isn't a thing once Rihanna's on the screen. In celebration of Fenty Skin, a line of essentials already making a scene in the world of skincare, the musical superstar virtually gathered a group of beauty editors together to tell us more about her latest launch. When you're graced with Bad Gal Riri's presence, it's almost impossible not to be blinded by her beauty and awestruck by her aura, which is equally as effervescent even through a laptop.
If you've never felt like you could relate to the singer/designer/entrepreneur, you will now. Rihanna shares the same skin struggles as many women, and is so real about it. "In quarantine, it was rough at first," she said. "I don't know what the changes were that my skin was going through. [My skin] wasn't used to being at home for that long, I guess, not being on planes. ... After being consistent [with] my skincare routine every day, my skin has improved tremendously. I feel pretty confident about my skin right now. I don't wear makeup as much. I like to flex my skin." She's been sticking to just moisturizer before Zoom calls.
Simplicity, effectiveness, and accessibility were her main goals when creating this collection. "I hate it when I get to the counter and I'm like, 'What does the platinum one mean? Does that mean it's better or for older people?'" she said. "It's so confusing, and there's so much out there. My goal is to keep this really effective." Below, more on Rihanna's no-BS approach to sunscreen and growing up in Barbados. Then, keep reading to find out how Fenty Skin has worked for me (so far).
She views skin struggles as human struggles.
"Oh my gosh, we've all been there. It just means you're a woman, girl! It means you're human, both women and men. I've had different issues with skincare at different points in my life. ... All of my skin insecurities come throughout my journey of my skin and skincare, starting with acne as teenager and acne treatments that led me to really blotchy skin and stripped it of 'good stuff' that I already had in it. It was a tough journey to get it back here. I've been really skeptical of products and how they perform, because I have sensitive skin. That's been a big part of what we've implemented with Fenty Skin. All of my sensitivities, all of my skincare issues—whether it's hyperpigmentation, blotchiness, acne, dry areas, oily areas are a challenge, and you have to address all of those in a simple and nourishing way."
Growing up, she thought of wearing sunscreen as a "tourist thing."
"Growing up on an island, you're exposed to the sun every day. So [I] always thought that SPF was a tourist thing—and especially not for Black people. I have learned the hard way, because over time, the sun wasn't that kind to my skin and my skin was not that resilient. I started to have hyperpigmentation in certain areas. I think the biggest misconception with SPF, in particular, is that Black people don't need it. And as a woman of color, I am here to say that's a lie. We need it and we need it every day."
She began learning the benefits of specific skincare ingredients in Barbados.
"As an island girl, fortunately, I had lots of access to key ingredients that work really well for your skin. ... I tried to keep that a huge part of the process with ingredients. My mom's cousin had a Bajan cherry tree in her backyard. We used to run past the dogs to get to them...I just loved them. I started to find out the benefits [as] I got older. When I had a cold—the first thing you do when you have a cold is drink a Bajan cherry juice, because it has so much vitamin C in it, even more than an orange."
Her mom is her biggest beauty inspiration.
"[As a kid,] my mom was my beauty ad. Literally, everything she did was so monumental to me and beautiful. I wanted to do it just like her. I was so obsessed with everything she did, from makeup to hair to skincare. She's been my inspiration for everything. The message that I put out to the world without even noticing is that same sense of inclusivity, because it started with my household. Even when we put out foundation as our first beauty product, it was something that I didn't realize would impact the industry the way that it did, because it was so natural for me to go with that. It hasn't changed with anything that I do. Whether it's clothing, lingerie, or skincare, my goal is always to include all women"
My First Impressions of Fenty Skin
Disclaimer: I have a regimented skincare routine that I rarely change. (Anything for Riri, right?) Below is my mini review of three new products after trying them for two days. Emphasis on mini, as it takes time to see enough skin improvements to form a solid opinion. But here are my initial thoughts.
The cleanser: Let me just preface this by saying that cleansers and I have a complicated relationship. With cleanser, I have ultra-high skin standards and am admittedly a stickler, due to the sensitivity level of my reactive, acneic skin. I've been eating mostly vegan during quarantine and naturally want my skincare to fall in line, so I love the fact that these ingredients are all vegan, clean, and gluten-free.
I started with a full face of makeup on to test its true makeup-removing powers. After splashing my skin with water, I squeezed out a medium-sized dollop and was delighted by the baby pink color. Upon contact with my damp skin, the texture transformed into a luxuriously thick and creamy lather. It almost felt like a mask—that's how thick and rich the consistency is. If you prefer lightweight cleansers, this may not be your vibe. It's very sensorial and does have a fruity scent because of the Barbados cherry and coconut ingredients. After about two minutes of massaging it on my skin I used my Eve Lom Muslin Cloth ($22) to remove the remnants of makeup sitting on my face. In one glide, every trace of makeup was gone. Even my mascara was completely cleaned off without having to rough up my lashes. Does it live up to the makeup-erasing hype? Hell yes.
The sunscreen: Sunscreen usually brings up bad childhood memories for me. I share the same woes as many women of color: the ghostly white caste, chalky finish, and non-absorbant texture that just sits on top of your skin and starts to flake. Good times, man.
This little lavender gem is here to elevate the saturated SPF market, and I love that comes in refillable packaging that dispenses out product easily. Don't be fooled by the pink color of the cream; once applied it offers a sheer finish that leaves behind a glowy sheen. It's oil-free, which my finicky pores love, and has a feather-light feel that absorbs into the skin quickly. It is really, really fragrant—a little much for my liking, so I only used a little bit. My skin's been dry lately, so I layered a bit of my go-to moisturizer for more hydration.
The toner-serum hybrid: Excuse my profanity, but this stuff is my shit. Fat Water is my favorite product in the line. In addition to the pretty packaging, it actually works really well. I twisted the cap and then squeezed the bottle to dispense the product onto my fingers. I didn't use a cotton pad because I really wanted to feel the texture on my hands. It has a glorious gel-like texture with very minimal fragrance—it almost seems like there's no scent at all. In seconds, the silky texture melted into the skin and immediately shrank my pores' appearance and gave my skin this luminous lift. Hyperpigmentation is my biggest skin ailment, so I'm excited to continue using this to see what it does for my dark spots.
Shop the entire Fenty Skin line here.
RELATED STORY
Maya Allen is the former Digital Beauty Editor at MarieClaire.com where she covered makeup, skincare, haircare, wellness, you name it! She has a 15-step skincare routine, owns over 200 red lipsticks, and enjoys testing the latest and greatest in beauty. On most weekends, you can find her at her happy place, which is her makeup vanity. There, she's usually blasting her speakers while singing along to lyrics at the top of her lungs, and making sure her highlighter is on point.