Designer Fragrances: Message in a Bottle
How do you bottle a sense of style? Designer perfumes are staging a comeback, showcasing a renewed synergy between fashion and fragrance.CHECK OUT THE NEWEST DESIGNER AND CELEBRITY FRAGRANCES OR FIND YOUR SIGNATURE SCENT WITH OUR FRAGRANCE FINDER QUIZ.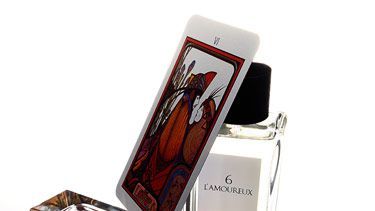 (Image credit: Richard Pierce)
Back in the boom years, fashion darling Marc Jacobs departed from his subversive club-kid roots and made millions with pastel tweed coats and high-ply cashmeres. These safe, ladylike fashions went well with his 2007 fragrance, Daisy, which appealed to the masses and launched a dynasty of designer scent spin-offs. But to true fashionistas, the sweet floral lacked the edginess that had drawn cool girls like actress Winona Ryder and artist Cindy Sherman to the brand in the first place. Now, just as customers are asking for more authenticity, Jacobs introduces Lola, a vampy musk and tonka-bean-inflected peony mix that captures the real essence of the designer and his muses.
Celebrity scents have crowded shelves for the past few years, but now, designer fragrances are back. And instead of the random bottles that often seemed at odds with the style and taste level of the house brand (a result of bottom-line-driven licenses), these debuts show a more thoughtful link between fashion and fragrance.
Inspirations for runway shows and signature scents have become one and the same. "When I am creating a fragrance, I feel that it's very important to remain true to the Armani signature," says designer Giorgio Armani. His sentiment is brought to life in the 1930s-inspired rippling glass rings along the sides of the Idole d'Armani bottle, which mirror the striations on a Deco-style gold clutch from his current collection. For the new D&G set of scents, Domenico Dolce and Stefano Gabbana went back and forth with the perfumers for two years, tailoring each note to perfection, like they would with one of their corseted dresses. Miuccia Prada's latest, a warm amber blend, echoes her equally cozy fall woolens, while the opulent black-and-gold glass bottle evokes her classic handbags with chunky gold hardware.
In a sense, perfume has finally caught up to the fashion world, with designers taking risks to set themselves apart. Selling out just doesn't sell anymore—and cheers to that.