Beauty Inside and Out: Taryn Toomey
She takes and teaches The Class every single day—and finds balance and joy in meditation and DIY cryotherapy.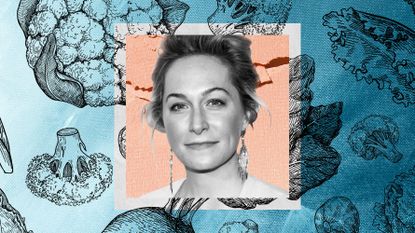 (Image credit: Hanna Varady)
In the ultimate quest for inner beauty and outer glow, Marie Claire asks our favorite trailblazers to share intel on finding balance in their busy lives. Read it all here, in Beauty Inside & Out.
Since leaving her fashion industry day job and launching fitness phenomenon The Class in 2011, founder and CEO Taryn Toomey hasn't missed a beat. She's opened two studios for her mat-based program—which combines elements of Pilates, yoga, meditation, and cardio with emotional release—and has gained devotees and friends in Gwyneth Paltrow, Jennifer Aniston, and Gisele Bündchen along with a ton of buzz. In some very good timing, the mother of two also launched her digital arm, streaming remote classes and retreats, in 2019, just months before COVID-19 shut down gyms everywhere. Teaching and taking The Class is still a staple in Toomey's daily routine. Here, her feel-good wellness rotation and her favorite energizing recipe.
Inner Beauty
LivOn Labs Vitamin C and Glutathione:
"I take them for immune and liver health. It's the best quality and potency I've found and I truly feel the effects in my body after taking it."
Isle de Nature Pagua Bay Candle:
"Since quarantine, it has been very important for me to create a cozy and sacred space in my apartment. I have been filling my home with plants to add life and nature, and have been using incense and candles to create a warm ambiance. I'm loving this one; it's non-toxic and the scent comes from local bay leaf combined with native spices, florals, and woods—providing a complete sensory journey of nature."
Harmonium:
"Since the beginning of The Class Retreatments, Kevin Courtney has played his harmonium in the mornings and evenings, with long rounds of rolling Aums. I have wanted a harmonium since those early days, and I finally got one. It has become a daily ritual for me to open and close my meditation and prayer. It can completely shift your energy and recalibrate the system."
Cryotherapy:
"I love utilizing my own resources whenever possible. I conduct my own cryotherapy in my shower at home, switching between three minutes of ice-cold water and three minutes of hot water, then repeat. If I'm feeling the need for more, I will fill the bathtub with cold water and ice and rotate between a cold bath plunge and hot shower."
Outer Glow
Joanna Vargas Exfoliating Mask:
"This exfoliating mask is a staple in my skincare routine. It provides the perfect gentle exfoliation."
The London Grant Body Polish:
"I use this to exfoliate my entire body. I believe it's important to provide a means for the body to detox. This body polish contains several natural oils that provide deep moisture and leave my skin so smooth and soft.

Face Gym Brazilian Pink Clay Training Stick:
"I apply this Brazilian Pink Clay Training Stick on my cheeks before I teach and I love the natural glow it gives. The ingredients actually activate as you sweat, and provide a nutritional boost to revitalize the skin."
Agent Nateur Hyaluronic Pearl and Rose Toner, Youth Body Serum, and Youth Skin:
"Agent Nateur's Hyaluronic Pearl and Rose Toner, Youth Body Serum, and Youth Skin is my favorite glow-inducing combo. I blend equal amounts of each product and apply to my face every morning for plumping, tightening, and glowing skin."
Recipe for Success: Toomey's Spaghetti Squash with Hemp Herb Sauce
Cook Spaghetti Squash
Preheat the oven to 375°F. Cut 1 large (or 2 smaller) spaghetti squash (need 6 cups cooked) in half and remove seeds, rub each side with 4 tsp. avocado oil and, if desired, salt and pepper. Place face down onto a parchment-lined baking sheet then put into the oven. Check at 20 minutes, and leave in for another 5–10 or until the skin can be pierced through with a fork and the flesh is tender. Let cool.
Make the Hemp Herb Sauce
Put 1 cup cilantro, 2/3 cup fresh basil, 1/2 cup hemp hearts, 1 tbsp. fresh pressed garlic (about 3–4 large cloves), 1/4 cup+2 tbsp. water, 2 tbsp. apple cider vinegar (or lemon juice), 1 tbsp. whole capers, 1 tbsp. dijon, 2 tbsp. olive oil, and 1 tsp. sea salt into a mini food processor or a high powered blender and blend well until creamy and smooth. Add more salt to taste, if needed.
Plate and Serve
Serve 1/4 cup of sauce over 1 1/2 cups spaghetti squash. Garnish with pepper, lemon zest, and fresh herbs if desired.
Recipe by Chef Mikaela Rueben for The Class.
RELATED STORY
Marie Claire email subscribers get intel on fashion and beauty trends, hot-off-the-press celebrity news, and more. Sign up here.