Hailey Bieber Is Unrecognizable With Bleached Brows
The supermodel stepped out with a brand new look.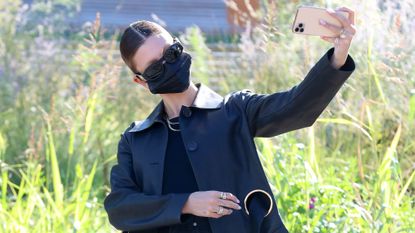 (Image credit: Robino Salvatore / Getty Images)
Supermodel and wife to Justin Bieber recently revealed a new bleached-brow look.
The model, known for her blonde hair and dark eyebrows, was spotted in Milan sporting this new look.
Bieber paired her blonde brows with a slicked-back dark bun, some sunnies, and a face mask.
---
Hailey Bieber (opens in new tab), also known as the girl who launched a thousand beauty trends, just gave us some new material to drool over. We're used to seeing Bieber rock her signature strawberry blonde waves and dark brows, but she shocked us all after being spotted in Milan with a whole new look. The supermodel was attending a fashion event in full incognito mode, complete with sunglasses and her face mask–we love a girl who follows CDC guidelines! But it was her bleached brows that made her the most unrecognizable. Well, the bleached brows and the dark hair.
Models are often asked to bleach their eyebrows for shoots and shows, and we're not yet sure what caused Bieber to take this plunge. Bieber has not posted an image of her new look to her 29.3 million Instagram followers, and she has instead been using her platform to encourage voter registration. Whether these brows are here to stay or they're a temporary look, we can all live vicariously through the model's beauty transformation–and copy her style by wearing a mask!
Tatjana Freund is a Beauty Commerce Writer, covering makeup, skincare, and haircare products and trends. She's a fan of vodka tonics and creepy Wikipedia pages.