Gigi Gorgeous Shares Her Skincare Routine and Tips for Self-Love
The YouTube sensation also reveals what makes her feel the most beautiful.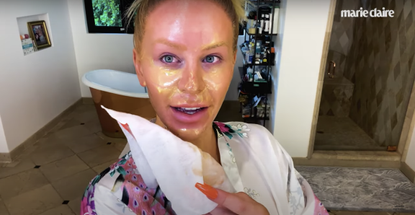 (Image credit: Marie Claire)
Gigi Gorgeous is a force to be reckoned with. From her candid YouTube videos, which give her 2.85 million subscribers an inside look into her beauty routine and friend group, to her passionate advocacy for transgender people and the LGBTQ+ community, there's nothing Miss Gorgeous does half-assed. In the latest episode of Masked and Answered, Gigi delves into her history with beauty and the advice she would give her younger self.
After removing her makeup, Gigi reaches for a mask that is totally on-brand: The Majestic Pure 24K Gold Facial Mask. "I feel like I'm either like this–nothing, or full glam," Gigi says in the video. "I'd rather no makeup or full beat." For Gigi, beauty was something she was enamored with at a young age, after watching her mom get ready. "I remember the smell of her Chanel perfume. It was always very fascinating to me. I was always like, 'I want to get ready! I want to look beautiful; I want to smell cute!'"
After Gigi removes the mask, she applies the Fresh Lotus Anti-Aging Night Moisturizer. "I love this stuff," she comments. The advice she would give her younger self is perfectly in line with what her audience has come to expect from the candid star: "I would tell myself to own up to wearing makeup," Gigi says. In high school, when asked if she was donning some products, Gigi would deny it. "Owning up to it is so much more fierce. Wear more and be more proud of yourself. There's no shame in wearing makeup."
All that said? Gigi doesn't need makeup to feel like her most gorgeous self. "I'd say day to day, I feel most beautiful when I'm most comfortable," she shares.
Watch Gigi's video above and don't forget to subscribe to Marie Claire's YouTube channel to catch up on the latest episodes of Masked and Answered and share your favorite mask in the comments. Stay gorgeous!
Shop Gigi Gorgeous' Favorite Skincare Products
Celebrity news, beauty, fashion advice, and fascinating features, delivered straight to your inbox!
Tatjana Freund is a Beauty Commerce Writer, covering makeup, skincare, and haircare products and trends. She's a fan of vodka tonics and creepy Wikipedia pages.