Beauty Inside and Out: Ovenly's Agatha Kulaga
Feel-good ingredients for wellness and glow from the co-founder and CEO of the cult-favorite Brooklyn bakery.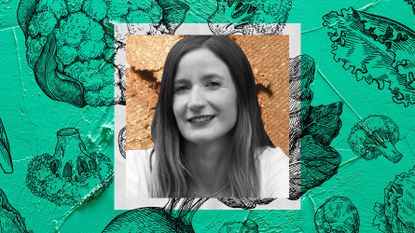 (Image credit: Erica Schroeder/Hanna Varady)
Marie Claire Newsletter
Celebrity news, beauty, fashion advice, and fascinating features, delivered straight to your inbox!
Thank you for signing up to Marie Claire. You will receive a verification email shortly.
There was a problem. Please refresh the page and try again.
In the ultimate quest for inner beauty and outer glow, Marie Claire asks our favorite trailblazers to share intel on finding balance in their busy lives. Read it all here, in Beauty Inside & Out.
When Agatha Kulaga—co-founder and CEO of Ovenly, the cult-favorite Brooklyn-based bakery synonymous with the salty-sweet baked goods movement—left her day job in mental health and addiction research at NYU to pursue her culinary dreams, she never imagined the success she would find. Or the sudden, crippling challenges 2020 would bring. Ten years and 10,000 Brooklyn Blackout cakes later, here she is, re-imaging her business in the wake of COVID-19, while trying to maintain her well-being and personal strength in the process. She's taking a judicious approach: "As much as I love to eat clean and exercise daily," says the entrepreneur, who has been practicing Pilates for 20 years, "I also indulge in the things that bring me great joy, like making homemade pasta and cooking up decadent meals, eating plenty of Ovenly treats, and baking sourdough bread that I devour with salted French butter and a glass of red wine." Here, Kulaga's recipe for balance—and her favorite vegan lemon raspberry loaf.
Inner Beauty
Pineapple Collaborative Apple Cider Vinegar:
"I make a morning detox elixir by mixing this potent apple cider vinegar with filtered water, lemon juice, cayenne pepper, and raw honey. It's the first thing I ingest every morning. ACV is full of probiotics, promotes a healthy immune system and digestion, removes toxins, and keeps skin bright."
Yamuna Foot Wakers:
"New Yorkers walk a lot, yet our feet are totally neglected. These foot wakers are like body rollers for the feet. They help stretch and stimulate them and improve circulation in your legs, while also increasing flexibility, range of motion, and posture. Any foot pain I experience disappears after using these."
Mater Flori Liquid Soap:
"Made with 100-percent organic, sustainably-harvested plant-based ingredients, this soap is a dream during a time when hand washing is a frequent activity. It keeps my skin feeling super moisturized and the geranium and bergamot scent is magical."
House of Waris Love Conquers All:
"When I first smelled and tasted House of Waris teas, I felt like I was experiencing real tea for the first time. The functional blends have such beautiful, distinct flavors like this one, which has floral and citrus notes and makes me feel so good."
Outer Glow
Adipeau Cream Mask:
"This mask stimulates healthy fat cells while toning unhealthy fat and has become a staple in my nightly skincare routine. It plumps and contours in all the right places, and my skin looks and feels more toned, taught, and balanced."
Victoria Beckham Beauty Cherie Bitten Lip Tint:
"My go-to daily lip color. I often put this on and skip all other makeup. I love how effortless and hydrating it is. It gives a warm, flushed color that lasts for hours. The best part is I don't need a mirror to put it on."
Westman Atelier Baby Cheeks Blush Stick in Petal:
"My search for a clean blush in the perfect shade is finally over. It gives my cheeks a warm and natural rosy glow that makes me feel radiant and ready to face the world. It is also great on lids and lips!"
Tammy Fender Cleansing Milk:
"I have sensitive skin so I'm very careful with what I use on my face. This organic botanical cleansing milk is soothing, super gentle, but rich enough to clean and nourish my skin. It has a soft lavender scent and leaves my face feeling silky smooth."

Recipe for Success: Vegan Lemon Raspberry Loaf
Prep and Bake the Loaf
1. Preheat the oven to 350°F. Grease a 9 x 5-inch loaf pan with canola oil. Using a piece of parchment paper that is the length of the loaf pan and about three times its width, press in the parchment so that there is overhang on the two long sides. Lightly grease the parchment with canola oil.
2. In a large bowl, whisk together ½ cup + 2 tbsp. canola oil and 1 cup sugar until well blended. Add the zest of 2 lemons, 2 tbsp. lemon juice, and 1¼ teaspoons vanilla extract and whisk to emulsify until light and fluffy.
3. In a separate large bowl, whisk together 2¼ cups of all purpose flour, 1½ tsp. baking powder, ½ tsp. salt and 3 tbsp. poppy seeds.
4. Add half of the flour mixture to the sugar mixture. Mix with a wooden spoon or a rubber spatula until just combined. Then add ⅔ cup plain almond milk and mix until fully incorporated. The mixture will be wet.
5. Add the other half of the flour mixture into the wet ingredients and mix until just combined.
6. In a small bowl, gently mix 2 tbsp. of flour with 1 cup fresh or frozen raspberries to coat (if using fresh raspberries, freeze for at least 30 minutes before using).
7. Gently fold raspberries into the wet ingredients until just coated. Move slowly in this step to keep the raspberries intact.
8. Pour the batter into the prepared loaf pan and bake for 75 to 80 minutes, or until a toothpick inserted in the center of the loaf comes out clean. The top of the loaf will be a light golden-brown color when done. Place on a wire rack to cool completely before glazing.
Make the Raspberry Glaze
1. While the loaf is baking, prepare the glaze. In a small bowl, use a small rubber spatula or the back of a spoon to smash 4 fresh or thawed raspberries down to create a puree.
2. Add 1tbsp. lemon juice and ¾ cup + 1 tbsp. confectioners' sugar to the raspberries. Whisk until the mixture becomes smooth and is bright pink in color. The consistency should be thick (similar to cake batter) and spreadable, but not hard. If needed, add more confectioners' sugar, one tablespoon at a time, to reach desired consistency.
3. Using a small offset spatula (or butter knife), place a few large dollops of the Raspberry Lemon Glaze over the top of the cooled loaf and smooth over in a back-and-forth motion from the center to the outer edges to cover entirely.
This recipe has been edited and excerpted from Ovenly (2021) by Agatha Kulaga and Erin Patinkin, used with permission by Park Row Books/Harlequin.
RELATED STORY
Celebrity news, beauty, fashion advice, and fascinating features, delivered straight to your inbox!