Billy Porter Wants You to Mask and Have a Drink With Him
The Emmy-winning Pose actor is all for decadent skincare, binge TV, and a good cocktail during lockdown.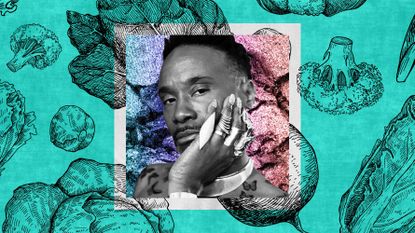 (Image credit: Getty Images, Hanna Varady)
In the ultimate quest for inner beauty and outer glow, Marie Claire asks our favorite trailblazers to share intel on finding balance in their busy lives. Read it all here, in Beauty Inside & Out.
---
"I have been taking lots of bike rides, sitting at the beach, meditating, working out. My husband and I just bought a house on Long Island so I'm getting in touch with my nature side," says Billy Porter over the phone, on a break from shooting the highly anticipated third season of Pose. "I'm a city boy—I've never owned any property before—so all this has been really healing." Porter has spent much of his lockdown in self-reflection mode, quietly writing a memoir and loudly advocating for LGBTQ+ rights and voting. "The difference that I'm feeling and how I move through life is profound." He's also been known to enjoy a good cocktail, as evidenced in his latest partnership with LG Homestyle, alongside 2 Chainz, Alex Rodriguez, and Baddie Winkle. Now, back on his demanding shoot schedule, the Tony-, Grammy-, and Emmy-winning actor and singer shares a few feel-good insights.
Inner Beauty
Power Start:
"First of all, I eat well. I'm diabetic. My diet is a lot of vegetables. But I pretty much eat a bowl of oatmeal with some fruit and cinnamon and sweetened with agave every day. And have my Nespresso coffee. I do drink a lot of coffee. It's not the cheapest coffee, but it's really good."
Molton Brown Bath & Shower Gels:
"The Molton Brown soaps are the ones that my husband and I love the most. They have beautiful, wonderful scents. You are so lucky that I am sitting right here in my house so I can tell you these flavors! I like the Coastal Cypress & Sea Fennel, the Tobacco Absolute, the Fiery Pink Pepper. And there's a Russian Leather."
Baxter of California Ash Candles:
"There's this candle series that Baxter of California does with ash—three or four different smells of ash. It's smoky and spicy and earthy and woody. It doesn't smell like food or cinnamon. It smells really masculine and expensive. And I don't really care about masculinity, but sometimes I'll want to try to act like I'm masculine. Sometimes. Some of our other favorites are the Michael Aram candles."
Tara Brach Meditation:
"Tara Brach is who I've landed on based on recommendations and stuff through therapy. Whenever I have a free moment—morning or afternoon—is when I do it."
Binge TV:
"Because I'm an artist, because I work in film and television, and because I am becoming a content creator and trying to move into that side of things, I really calm myself at night by watching television. I'm not a big, huge reality television show person, but sometimes I land on Chef's Table or a good documentary and I'll binge watch. I found this new series called Woke on Hulu that was really pleasant and really powerful. It's nice to be able to have time to just investigate, see what's out there."
Outer Glow
Everything Kiehl's:
"Kiehl's has been my product for 30 years. My favorite [body] lotion is the Crème de Corps. I love the thickness of that. I always do my face regime in the morning and sometimes I will give myself a mask at night, especially when I'm shooting, just so my skin looks good on screen. The Ginger Leaf and Hibiscus mask is great. The Vital Skin-Strengthening Serum is great. And I like the Midnight Recovery Concentrate. [The glam teams] like me because they're always like, 'You come prepared!' Well, yeah, I'm going to wash my face before I come here, so I might as well do it right."
Glossier Priming Moisturizer:
"It's really rich. That's also why I like the Créme de Corps too. Black people, we moisturize. A lot of white friends asked me, how does your face look like that at 51? Because I have moisturized since the day I was born. You can't start doing it at 45. You have to start doing it at birth. And then your skin remains soft and supple, darlings. Starting young keeps it tight."
La Prairie Cellular Radiance Cream:
"It's just really nice. It's from Switzerland, and it looks high class. Expensive. I use that under eye cream, too. And it smells good."
Recipe for Success: Craft Ice Texas Martini
Prep Your Glass
Swipe a lowball glass with a wedge of lime then rim with Tajin seasoning. Add a large craft ice ball to your glass and set aside.
Mix, Shake, and Pour
Fill a martini shaker with ice cubes and add 2 oz of tequila, 1 oz of freshly squeezed lime juice, ¾ oz of Cointreau (as a diabetic, Porter skips the Cointreau), and ½ to ¾ oz of jalapeño agave (which "does not make my blood rise," he says), adjusting for your sweetness preference. Cap and shake well then pour it over the ice ball. Garnish with a twist of lime rind and enjoy.
Related Story