24 Hours With Huda Beauty Founder Huda Kattan
The founder talks detoxing, sleeping with wet hair, and her first-ever brow product.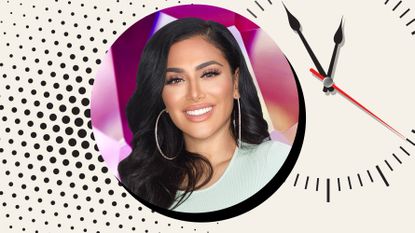 (Image credit: Design by Morgan McMullen)
Marie Claire Newsletter
Celebrity news, beauty, fashion advice, and fascinating features, delivered straight to your inbox!
Thank you for signing up to Marie Claire. You will receive a verification email shortly.
There was a problem. Please refresh the page and try again.
Welcome to Beauty Around the Clock, Marie Claire's weekly peek into the daily lives of some of the most game-changing women in their industries. Ever wonder how they get it all done in a day? Here's your answer.
Huda Kattan has been busy. Along with running a company and bestowing her millions of Instagram followers and YouTube subscribers with swoon-worthy beauty tutorials, Kattan has been creating products at a nonstop pace. The most recent launch to join Kattan's stable of cult-favorites is her first-ever brow pencil, aptly named #BombBrows. Below, the Dubai-based entrepreneur reveals her beauty icon, how she keeps up with her packed schedule, along with a few choice behind-the-scenes moments of her glamorous life.
Rise and Shine
On a good day, most days of the week, I try to wake up at 6:30 a.m. I always start the day with a nice glass of hot water. I am a big fan of detoxing. Your body goes through so many processes while you sleep. I also pray in the morning—I like to manifest. I've been a little bit naughty with that lately. I haven't been doing it as much as I would like to.
Morning Maintenance
I used to just splash my face with water in the morning. But my skin has matured and it's become drier as I've gotten older, and I've realized that hydrating constantly is really great for me.
Power Start
I eat the same thing every morning: 40 grams of oatmeal with coconut milk and some cinnamon because I like to get superfoods in. And then I have berries. I love berries. I'm a big fruit person. I would actually totally be a fruitarian. I think it's a thing. I would just live off fruit if I could.
Signature Look
I love a glam look. I love a good beat. It's funny because I go from one area where I'm like boss bitch on a mission to rule the world. And then I go from like, "Okay, it's time to play makeup." And for me to be playful Huda. And then I go super glam and I love that. So that side of me is much more glamorous and it's always inside of me, even when I'm doing other stuff. But I would definitely say, the liner, the #BombBrows, foundation. I like a good, nice lip too. I'm all into a sexy lip. Lip liner for me is really important. I don't spend time every single day on beauty every single morning. It really depends on what's going on. I would like to, but I don't.
Shop Huda's Beauty Favorites
Self-Care Solution
I love to multitask. So when I'm on the treadmill or I'm walking, I'm either listening to an audiobook or podcast, or sending voice notes. That moment where I'm on the treadmill and I'm moving and I have movement within my body and I feel like I'm nourishing my mind or spreading motivation or positivity to my team...it's a really important point for me.
Daily Playlist
Depends on my mood. Anything from Beyoncé to Mozart.
Cheap-But-Chic
Maybelline Instant Age Rewind Eraser Concealer
Signature Scent
I am obsessed with Déjà Vu. [My sister] Mona created it and at first I didn't want to like it. And then... It's the only perfume I've actually gone through bottles of. And I get so many compliments when I wear it. It smells delicious.
Worth It
Guerlain Orchidée Impériale Sleeping Serum
Beauty Icon
Sophia Loren
Lights Out
I can't go to bed without taking a nice hot bath or a nice hot shower. And many nights, I'll sleep with my hair wet. I love it because my hair just gets really cold. I'm not freezing all night, but it helps put me to sleep. And I've done a lot of reading about sleep and I just know that [going to bed with my cold hair] knocks me out, so I love doing that. Yeah, I'm not as glamorous as people probably think.
Shop Huda's Skincare Favorites
Celebrity news, beauty, fashion advice, and fascinating features, delivered straight to your inbox!
Tatjana Freund is a Beauty Commerce Writer, covering makeup, skincare, and haircare products and trends. She's a fan of vodka tonics and creepy Wikipedia pages.