My Struggle with Scalp Psoriasis Jumpstarted My Career in Beauty
Yalon Hutchinson, founder and CEO of Lavish Curls Beauty, used her battle with the skin condition to inspire her hair care empire.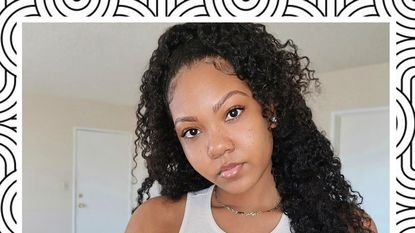 (Image credit: Courtesy)
I was 12 years old when I noticed something was off with my scalp. Out of nowhere, it became dry, flaky, and itchy. I was constantly scratching, and when my mom would try to wash my hair, she noticed I had these flakes there that were sticking to my scalp and hard to remove. We also noticed that I had flaky patches that were coming down behind my ears. This wasn't normal dandruff—it was something different, and it was really bad.
My parents took me to see a dermatologist, who diagnosed me with scalp psoriasis. Psoriasis is a condition that happens when the body makes skin cells too quickly, according to the American Academy of Dermatology (AAD). That causes skin cells to pile up and form obvious patches or spots on the skin.
Psoriasis can appear anywhere you have skin, including the scalp. And, unfortunately, scalp psoriasis doesn't just stay on the scalp—it can also extend to the back of the neck or behind the ears, like mine does. I even developed patches around my mouth and on my chest. Scalp psoriasis is also notoriously hard to treat because hair can get in the way. My doctor prescribed an oil that you apply directly to your scalp, but it didn't work. Then, they recommended I try an over-the-counter shampoo that's often used to treat dandruff, but that didn't work either—it even caused some of my hair to break off. I was a teenager struggling with a health issue that most other people my age hadn't even heard about, and it was really frustrating.
Over the years I cycled through a range of oils to help treat my scalp, like Jamaican black castor oil and coconut oil, but it honestly didn't do much. So, I learned to live with my psoriasis—and to hide it. Black clothing was off-limits since the flakes would be highlighted on my shirts. But, even though I was really good at disguising most of the flakes, people would inevitably notice flare-ups and ask me about them.
I would deflect questions, acting like it wasn't a big deal, but it was—I just knew that if I shrugged it off, other people would too. So I got through most of my teenage years living with an itchy scalp and dry flakes and pretending it was okay. It wasn't ideal, but it had become my new normal.
Even though I'd resigned myself to my skin's fate, after seeing the toll it was taking on me, my dad started researching my condition to try to help. After doing a little digging, he found some information that suggested neem oil may help remove flakes from psoriasis and potentially even support hair regrowth. I started trying it and noticed a huge difference. Six years after my diagnosis, I had finally found something that worked for me.
I started using neem oil once a week, rubbing oil into my scalp to prevent flaking. And, if I have a flare-up, I go to my neem oil and do a treatment. I liked the results so much that I started talking about neem oil and other beauty treatments on YouTube. I was candid about my psoriasis upfront, and it attracted other people who were just like me.
People were really supportive in the comments, and it made me feel good knowing that I could help people going through my same struggle. I started earning a solid following—some of my videos have been viewed more than 250,000 times—and I also began to build up an audience on Instagram (opens in new tab).
Since I was able to reduce flare-ups and regrow my hair, I wanted to help this audience that I was becoming so closely connected with to do the same, so I decided to take the plunge and turn what I do at home to treat my psoriasis into a hair product and natural hair care line.
It took a year of development and hard work, but I launched Lavish Curls Beauty more than a year ago. My company focuses on handmade hair care products made with all-natural ingredients that are designed to help people working toward longer, thicker hair. While the product line is not specifically for people with psoriasis, I did create a scalp treatment with neem oil with others dealing with psoriasis in mind.
Right now I've got my routine down to a science. If I see a flare coming up, I know what to do. I also don't use any heat styling on my hair like blow drying or using a flat iron—that causes my scalp to dry out and leads to more flakes. But, unfortunately, psoriasis is an unpredictable disease. I recently woke up one morning and saw that I had a flare on my T-zone, something that's completely new for me. While I sometimes get flares around my mouth, I've never had it across my entire face. I'm not sure why—it could be because the weather had been extremely hot where I live in California—but my face is now dry and patchy-looking.
I applied some over-the-counter steroid cream to the area and am hoping for the best, but it's frustrating and confusing. This doesn't usually happen to me, but it's a reminder that my psoriasis is never going away.
At least my scalp psoriasis is under control. I don't stress about flakes and I wear black clothes regularly—even during photo shoots for my channels. After 14 years of living with psoriasis, I finally have the tools to help me fight flare-ups—including the confidence I need to face each day.
While Hutchinson has found neem oil to be an effective remedy for her, consult with your doctor before trying any new treatments for psoriasis or skin conditions of any kind.
Korin Miller is a freelance writer specializing in general wellness, sexual health and relationships, and lifestyle trends, with work appearing in Men's Health, Women's Health, Self, Glamour, and more. She has a master's degree from American University, lives by the beach, and hopes to own a teacup pig and taco truck one day.