How Actress and Founder Jessica Alba Does Self-Care
The founder of The Honest Company talks CBD drinks and matcha smoothies.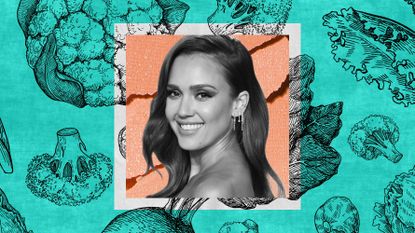 (Image credit: Design by Hanna Varady)
In the ultimate quest for inner beauty and outer glow, Marie Claire asks our favorite trailblazers to share intel on finding balance in their busy lives. Read it all here, in Beauty Inside & Out.
---
Investing only in high-quality, non-toxic products is a must for actress and entrepreneur Jessica Alba. After all, that is one of the main tenants of her brand, The Honest Company. Health and wellness practices are essential to the mother of three. "It's been a little more difficult during COVID to indulge in those things, but I'm all about a sound bath, a massage, any energy work, things like that," says Alba. Ahead, the founder shares her feel-good products, as well as a smoothie recipe that does it all.
Inner Beauty
Honest Beauty Prime And Perfect Mask
(opens in new tab)"I love to wake up and do this mask—literally before I can even see straight. It just wakes my face up for the day and forces me to do self-care no matter what. I'll brush my teeth, have coffee, and then when I take it off, it forces me to do just those other skincare steps and just get ready for the day. I love doing that."
Soulcycle At-Home Bike (opens in new tab)
"I try to incorporate some movement. I downloaded a few apps and I'll watch YouTube videos of different fitness folks. So I signed up to [the Equinox+] app and they do meditation, they do yoga, strength training. They have all those things and you can keep track of your health."
Oura Ring
(opens in new tab)"The ring tracks your sleep. Every morning I'm like, 'Okay, how good was my REM sleep? What was my deep sleep?' And before I was like, 'I feel like I didn't get enough sleep last night. I was tossing and turning.' To have confirmation that you've either had good sleep or didn't have good sleep—it just validates how you're feeling for the day: I needed that extra shot of espresso and I needed that concealer today. And it also tells you how much you should exert for the day. You got this sleep so this is the best time for you to do your fitness and then you can really go for it or take it easy. It guides you."
Sweet Reason Plum Blush CBD Drink
(opens in new tab)"When I do my self-care and I am not on social media and I do not have the TV on, I have this CBD drink. It's just a way to wind down."
Outer Glow
Honest Beauty Calm & Heal Melting Balm
(opens in new tab)"This makes you look so young and so hydrated. I think it's amazing for night. It just feels like a luxurious treatment that you would get. Your face is just glowing and dewy instantly. The combination of all these things just really helps with skin that could be irritated, which is me all the time."
Honest Beauty Honestly Bright Eyes Tinted Eye Cream
(opens in new tab)"Under my eyes, I like to do this tinted, hydrating cream. It's a hydro-gel that's tinted and just cancels out the blue."
Honest Beauty Tinted Lip Balm
(opens in new tab)"I love when my lips are not dry and cracked. This lip treatment is also a gloss. It also has Vitamin C. So it's a lip treatment and tint in one. I just dab that on my lips."
Honest Beauty Crème Cheek Blush Buildable Blendable Blush
(opens in new tab)"It's my go-to that I just need to live."
Recipe for Success: Jessica Alba's Matcha Smoothie
1. Combine 12 oz. coconut water, 1 tbsp. Wild Friends Almond Macadamia Be Well Blend (opens in new tab), 1 tsp. matcha powder, 1 whole peeled banana, 1 scoop Be Well Vanilla Grass-Fed Beef Protein Powder (opens in new tab).
2. Blend together with 1 cup of ice and enjoy.
RELATED STORIES
Tatjana Freund is a Beauty Commerce Writer, covering makeup, skincare, and haircare products and trends. She's a fan of vodka tonics and creepy Wikipedia pages.