Beauty Inside and Out: Kavi Moltz
The fragrance founder talks tongue scraping, eating well, and the scent she holds dearest.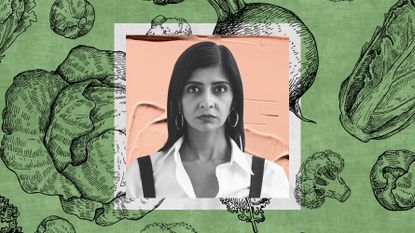 (Image credit: Courtesy of brand)
In the ultimate quest for inner beauty and outer glow, Marie Claire asks our favorite trailblazers to share intel on finding balance in their busy lives. Read it all here, in Beauty Inside & Out.
Kavi Moltz, co-founder of D.S. and Durga, is a master at making things beautiful. Since launching the Brooklyn-based, cult-favorite fragrance brand with her husband David in 2008, Moltz has used her experience as a former architect to help design and curate some of the perfume biz' most gorgeous scents. Here, here go-to products for self-care and the healthy meal that keeps her strong.
Inner Beauty
Solluna by Kimberly Snyder Feel Good SBO Probiotics+:
"Beauty starts inside, of course, and gut health is the base of it all."
"Scraping your tongue is part of Ayurvedic care, and it is believed that it removes built-up toxicity in the body."
"I lost my sense of smell a year ago, which is a whole unfortunate story, but DURGA is strong enough that I can get the faintest whiff up close. It's still my favorite."
Outer Glow
Lumify Redness Reliever Eye Drops:
"I thought it was so strange when I saw the ads years ago, but then I started having very red and dry eyes, and I tried the drops. I think it really makes eye makeup pop, so now I'm hooked."
Anastasia Beverly Hills Micro-Stroking Detailing Brow Pen:
"It's great for drawing in the thinnest hairline strokes."
May Lindstrom The Blue Cocoon Face Balm:
"It smells SO good, like a spa, and it's supremely hydrating. I love feeling all greased up and balmed, and my skin drinks this up."
Recipe for Success: Moltz' "3-Veg"
"We often make what we call a "4 veg"— usually some greens, beans, and potatoes or a little pasta, all cooked super-simply with garlic, olive oil, and herbs. It's a healthy dinner our whole family can agree on, and it pleases everyone because it's customizable. Pictured here is a 3-veg version: roasted baby potatoes, a raw kale salad with lemon, garlic and vegan parmesan—a mixture of seeds, nuts, nutritional yeast and onion and garlic powder—and Rancho Gordo heirloom beans, which are consumed daily in our house, cooked with garlic, onion, olive oil, and shiitake powder. I pretty much always have a raw chili pepper with my meals."
Make the Beans
Soak some dried beans for a few hours in the morning, or even overnight. Once soaked, add beans, a halved onion and halved head of garlic. a lemon peel, some kosher salt, and water to a pot. Simmer for a few hours until the beans are cooked, replenishing water as needed. Finish with some good olive oil. I'll often add a pinch of shiitake powder for extra depth.
Prep the Vegan Parmesan
Add a handful of raw cashews, a handful of raw almonds, a handful of pumpkin seeds, a few pine nuts, a handful of nutritional yeast, 1 tsp. salt, 1 tsp. onion powder and 1 tsp. garlic powder to a blender. Blend it a little, but not so much that it becomes mush. It's a really great seasoning for so many things!
Prep the Kale Salad
Slice some kale into ribbons. In a bowl, make the dressing with half a clove of garlic minced into a paste with salt, a squeezed lemon, some toasted breadcrumbs, 3-4 tsp. olive oil, and black pepper. Toss it all together, then add vegan parmesan.
Plate kale salad, beans, and some roasted potatoes with a raw chili and serve.
RELATED STORIES
Marie Claire email subscribers get intel on fashion and beauty trends, hot-off-the-press celebrity news, and more. Sign up here.
Taylore Glynn is the Beauty and Health Editor at Marie Claire, covering skincare, makeup, fragrance, wellness, and more. If you need her, she's probably roasting a chicken, flying solo at the movies, or drinking a bad Negroni at JFK.