Your New Favorite Retinol Is Made From Caviar
La Prairie's new nighttime oil has a luxe Swiss twist.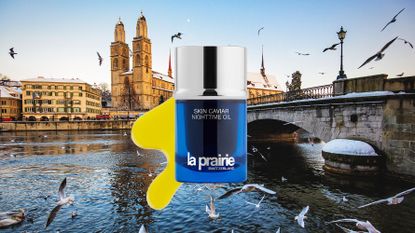 (Image credit: Getty / Courtesy)
As a kid, I wasn't a fan of the dark. Despite being a night owl—partially because I loved to read under the covers, and partially because my insomnia runs deep—the blackest part of the day made me skittish. I'd keep my comforter tucked over my head, no matter how sweaty or claustrophobic I felt, out of fear that the shadows in my room were more sinister than a chair or a fallen book. But I still cherished the solitude and extra hours of possibility that nighttime held, and felt a curious kind of peace when the moon would start to sink behind the horizon again.

When I trekked across the Atlantic to Zurich, Switzerland, with luxury skincare brand La Prairie last month, I discovered that they hold a similar passion for different phases of the evening. Good things can come after dark, after all. This year at Art Basel, the brand even created an art installation with the help of digital artist Maotik that submerges viewers in a 360 experience of nightfall, deep night, and twilight—all vastly different in their beauty. But La Prairie's biggest moonlit accomplishment comes in the form of a new innovation that works in the wee hours to transform skin: Skin Caviar Nighttime Oil.
The facial treatment, housed in an elegant cobalt bottle, was designed to work in conjunction with the body's natural circadian rhythm to improve skin's functionality—enhancing elasticity, lifting fine lines, preventing water loss, and strengthening the skin's barrier. The not-so-secret anti-ager here is sturgeon caviar—aptly, 2 A.M.-levels of onyx in its natural form—which is the hero of La Prairie's entire line. While the star ingredient is tried and true, with this product the brand has accomplished something that's never been achieved in skincare before: scientists developed a special extraction process to harness caviar-derived retinol. Retinol is known for its wrinkle fighting and texture-improving efficacy, but it's a masterful Swiss advancement that makes this oil revolutionary.

"In the Swiss Alps, a limited number of the best quality sturgeon are raised in pools containing water sourced from alpine springs. The spring water spends months seeping through rocks, and therefore undergoes a process of natural filtration, bringing with it the rich minerality of this ancient landscape," says Dr. Jacqueline Hill, La Prairie's Global Director of Strategic Innovation and Science. "The close monitoring of the conditions means these pools are a perfectly balanced environment, ideal for producing the best possible caviar. Due to the cool water, the sturgeons grow more slowly, which increases the quality of the caviar." Once it's ready to be harvested, the caviar is brought only a small distance to the manufacturer, which ensures an optimal quality.
A couple days into my Swiss excursion, I got to experience the new oil in conditions in as controlled and exquisite as I imagine those sturgeon pools are. That meant lying nude under toasty woven blankets during a firming facial at the Dolder Grand Spa. After applying the full Skin Caviar line and squeezing and slapping my jowls into angular, lifted perfection, my facialist added just a drop of the Nighttime Oil into a lightweight hydrator and smoothed it over my face and neck. I floated back to my hotel room in a blissed-out daze and admired my smooth, glowy complexion in the moody bathroom lighting. I glanced out the wide windows to see a dim, denim-hued sky hanging over Zurich, and realized night was falling once more—and there were nothing but possibilities ahead.

RELATED STORY
Marie Claire email subscribers get intel on fashion and beauty trends, hot-off-the-press celebrity news, and more. Sign up here.
Taylore Glynn is the Beauty and Health Editor at Marie Claire, covering skincare, makeup, fragrance, wellness, and more. If you need her, she's probably roasting a chicken, flying solo at the movies, or drinking a bad Negroni at JFK.