New Subtle Manicure Shade: Essie Allure
Our beauty editor falls in love with this sheer, pale nail polish color.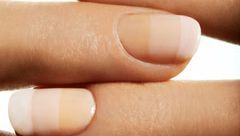 (Image credit: Greg Delves)
After months of fierce Calgel manicures from Sakura Nail spa in New York City (my usual: a clear to black gradation with diamond glitter just on the tips — sounds blingy, but it's surprisingly subtle, like a modern, rockstar French), I decided my nails needed a breather. I know everyone raves about Essie Mademoiselle or Ballet Slippers polish, but I always found Ballet Slippers to be too opaque (making my nails look weirdly thick) and sometimes Mademoiselle looks too rosy (even though I love the sheer glaze effect).
So when I was getting a delicious milk and honey manicure at Jin Soon spa in the East Village, I decided to go back to an old favorite: Essie Allure. Not many people know about this shade because the polish looks boring and dangerously like old White Out in the bottle, but the color goes on as sheer and shiny as Mademoiselle, just with a pale linen tint instead of pink. The result is a sheer eggshell (think glaze on a donut) that makes nails look clean and classy — like girly Mademoiselle's grown-up older sister.
I'm telling you, when I pick Allure, the manicurist always looks at the bottom of the bottle to see what the shade is. It's that good.
Now my only question is, where's the Marie Claire shade, Essie?