Your Guide to Sexy Summer Skin
Skin Care Shifts Gears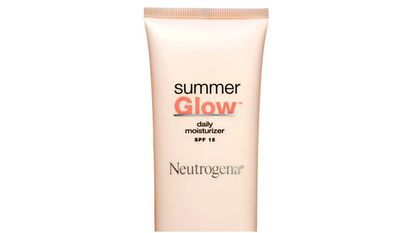 (Image credit: Jeff Harris)
ACCELERATE
Multitasking Products
When it's hot and sticky, the last thing your skin needs is product overload. Consider sunscreens with self-tanners — or moisturizers that also sop up oil.
MC Recommends: Neutrogena Summer Glow Moisturizer, Clarins Hydra-Matte Lotion
Toners
Since humidity boosts oil production, oilier skin will benefit from swiping on a toner twice a day.
MC Recommends: Clinique Clarifying Lotion 2
Serums
Lighter yet more deeply penetrating than creams, serums are the perfect hot-climate hydrators.
MC Recommends: Kate Somerville Quench
Deep Cleansers
Because you exfoliate less in the summer, it's essential that your cleanser is highly effective. "Ideally, wash twice," advises Annet King, director of training and development for Dermalogica skin care, "first with an oil-based cleanser — the most effective way to remove oil — then with a gel cleanser. Creamy formulas are too rich for summer." Also advisable: a weekly clay mask to draw out impurities.
MC Recommends: T'Zerah facial soap, Dermalogica PreCleanse
High-Powered Sunscreen
"Lawrence of Arabia knew to dress like the locals," says anthropologist Nina Jablonski, author of Skin: A Natural History. "Loose white robes and flowing head coverings are still unbeatable solar protection." Prefer bikinis? Rely on full-spectrum sunscreens that shield you from both UVB (rays that burn) and UVA (those that speed aging).
MC Recommends: Clarins Sunscreen Spray, Neutrogena Ultra Sheer Sun-block with Helioplex, Dermalogica Super Sensitive Faceblock
PUT THE BRAKES ON
Exfoliation
The point of exfoliation, of course, is to slough off dead skin cells. The problem is, the less skin, the more sun sensitive you are. So ramp up your exfoliating regimen in early summer, says Noella Gabriel, director of treatment for Elemis skin care, "then shelve your enzymes or acids until fall."
MC Recommends: Bourjois Duo Scrub & Baume lip exfoliator, Elemis Tri-Enzyme exfoliating line
Heavy Creams
"Acne flares up in summer," says Doris J. Day, a Manhattan-based dermatologist, "and rich creams exacerbate the problem." Stick to a light, almost watery moisturizer or serum — except when you travel. Airplane air is a major dehydrator, so it's okay to use a light cream while traveling.
MC Recommends: Darphin Arovita C Line Response Cream
Laser Hair Removal
Lasers are ineffective if you're tan, since they can't target hair that's close in tone to your skin. Dig out that razor.
Skin-Lightening Treatments
Save bleaching treatments for pigment discolorations for fall, as even small doses of strong sun will counteract (pricey) lightening creams and laser sessions.
MAKEUP THAT TAKES THE HEAT
Antimelt, anticrease cosmetic strategies for hot days and steamy nights.
Fresh Base
Bright summer sun makes most foundations look heavy. "So touch up skin tone, don't cover up," suggests celebrity makeup artist Mally Roncal. Try tinted moisturizers, concealers, or stick foundations.
MC Recommends: Laura Mercier Stick Foundation, Neutrogena Healthy Skin Glow Sheers
Splash-Proof Lash
Water-resistant mascaras — which hold a curl longer — are a summer must, as oily skin and allergy-prone eyes spell smudges, says Napoleon Perdis, celeb makeup artist.
MC Recommends: L'Oréal FeatherLash Water-Resistant Mascara
Stick to Your Shadow
The heat is on, so opt for eyeshadow bases that control oil on lids. The best nonslip shadows are matte and mineral formulas. Sparkles welcome!
MC Recommends: Clinique Touch Base, LORAC Loose Metallic Shadows
Gel with Your Liners
Gel liners last longer than pencils or crayons, Perdis swears, but since they're opaque, limit to top lashlines, particularly during the day.
MC Recommends: Napoleon Perdis China Doll Eyeliner in Earth
Sheer Fest
Translucent lip and cheek colors let your fresh-air, flushed skin show through, says Roncal. Allover bronzers come in a variety of formulas (gels, powders, spray-ons) that lend a wondrous glow, not a masklike coat of color.
MC Recommends: Flirt Peek-a-Blush in Pink Tutu, Sonia Kashuk Flowerete Lipstick, Smashbox Lip Gloss in Melt, DiorKiss lip gloss in Hazelnut Lychee
Oil Embargo
Tempting as it is to press powder to a shiny face, it only encourages breakouts. Blotting papers and skin-freshening sprays are a far more sanitary way to sop up and freshen up.
MC Recommends: StarMaker Pearl Mist, Rodan + Fields Blot Papers with Zincidone