Scent of an Icon
Can you bottle a big-name star? Designers try to capture the essence of the most sensuous sirens, from Mae West to Madonna to Beyoncé.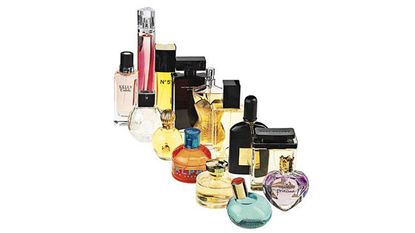 (Image credit: Gisele Florez)
When French designer Hubert de Givenchy suggested he might start selling the fragrance he'd commissioned for Audrey Hepburn, the modest gamine cried, "Mais, je vous l'interdit!" ("But I simply forbid it!") Knowing she could be teased out of her reluctance, Givenchy christened what would become one of the most popular perfumes of the '50s and '60s: L'Interdit.
A far cry from the way celebrity scents are launched these days. Take the latest Beyoncé/Emporio Armani act: At her sold-out May concert in Madrid, the bootylicious star saunters down the stage stairs, dripping in jewels, seductively singing, "My fur? House of Deréon. My perfume? Diiiiamonds!" Hardly reluctant muses, Beyoncé and a new breed of scent mascots function like business partners.
Perfume paired with a star sounds like a match made in branding heaven — but it's hardly a modern idea. The most memorable muses have run the gamut, from vaudeville siren Mae West (who inspired Elsa Schiaparelli and Marcel Rochas) to the beloved grandmother of Jean Paul Gaultier.
The grandest icons needn't even be alive to be marketable. In fact, Hermès's sophisticated Kelly Calèche — a satiny mix of mimosa, tuberose, and iris flowers — is 21st-century cross-promotion at its best: It celebrates the late Princess Grace with a bottle topped by the signature turn-lock clasp of the illustrious Kelly bag.
Over at casa Missoni, 24-year-old Margherita (granddaughter of the label's founders and daughter of designer Angela) was not only muse but co-"nose" on Missoni Acqua's infusion of bergamot, peony, and jasmine—reminiscent, she says, of family vacations by the sea in Sardinia.
"Of course you want to keep all the special things in life for yourself, but I'm proud we've created something others will enjoy," Missoni says. And that elusive "something"—the special, the private, or in Hepburn's case, the forbidden — is what we're all secretly after, isn't it?
Click here for a photo history of Designer Fragrance Muses
Check out our new Fragrance Finder tool for more perfumes and to find your signature scent.
Celebrity news, beauty, fashion advice, and fascinating features, delivered straight to your inbox!