Mad Men's Megan Draper Experiments with Extensions (Season 7, Ep. 6)
And we likey.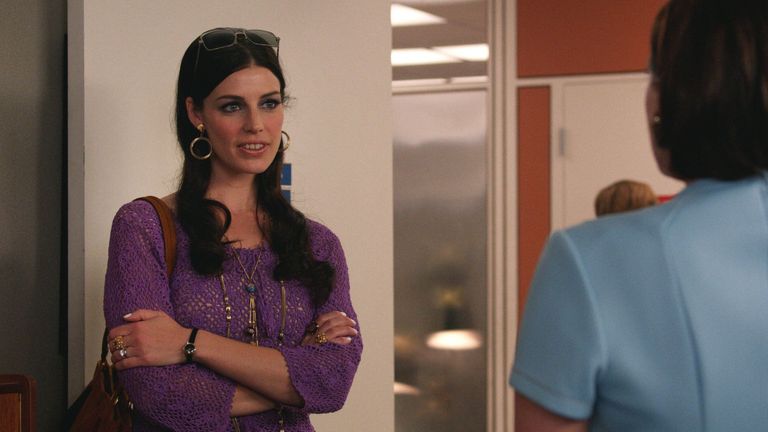 (Image credit: Archives)
Megan Draper traveled back to New York this week ready to surprise Don at the office, as well as surprise the audience with her much longer hair. Soon after a major faux pas moment—Peggy's secretary mentioned that she had no idea Don was married—our focus shifted to Megan's new 'do. Her usually short and straight bob was curled and flowy. "What's her secret," you ask? Easy: Clip-in extensions.
Clip-ins may perhaps be the easiest way to change up your look with maximum results, without a serious commitment. They come in a huge variety of colors and textures so that you can perfectly match your existing hair. You can clip them in, go out on the town (or to your husband's NYC office, as the case may be), and take them out before bed. Follow these steps:
Step 1: Section off your hair beginning with the back bottom half.
Step 2: To make sure the clips will stay secure throughout the day, tease the top part of the section at the roots with a comb.
Step 3: Once you've backcombed the hair, spray the root with hairspray and seal it for a few seconds with the blowdryer. This will help maintain the placement of the clips.
Step 4: Apply the first strand of hair and clip in at the roots.
Step 5: Section your hair off in the back a few inches higher than the last piece and repeat the process.
Step 6: Go in with a curling iron and twist together your real hair with the extensions for a uniform wave. For perfect beach waves, make sure to curl away from your face.
Check back in with us every week for our Mad Men beauty roundup and tips on how to get the look!
Catch Up On The Rest of Season 7:

Mad Men Beauty Recap: Peggy's Office-Friendly Look

Betty Returns to Mad Men and We Want Her Makeup

Mad Men Beauty Recap: Sally's Bold Brows


Mad (Wo)Men's Office Style Decoded

Mad Men's Margret Opts For a Free Love Lifestyle, We Want Her Tousled Locks
Photo Credit: AMC/Kathryn Wirsing