La Mer Does More Than Just Improve Your Skin
They're changing the world, too.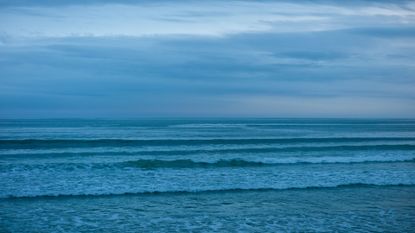 (Image credit: Marie Clare)
Prestige skincare brand and huge editor favorite, La Mer, is deeply connected to the sea (thanks to the properties in their time-reversing miracle broth). As such, the label is also dedicated to ocean protection. To honor this month's World Oceans Day for the third consecutive year in a partnership with National Geographic Society, La Mer worked with Nat Geo's Dr. Sylvia Earle and conservation biologist Dr. Andrea Marshall to help support the next generation of emerging ocean explorers and their important research.
We spoke with the two incredible women to find out why this cause is so important to them, and young women everywhere should take note.
Marie Claire: Why did you decide to get involved in this field?
Sylvia Earle: The ocean got my attention when, as a 3 year old, I was knocked over by a wave on the New Jersey shore. But what held my attention and kept me engaged ever since? The amazing creatures who live in the sea that occur nowhere on the land or in freshwater—horseshoe crabs, sea stars, jellyfish, seaweed! A rich cross section of past, present and future life on Earth. But now the importance of the ocean as the cornerstone of Earth's life support system inspires great respect and a sense of urgency about taking care of it as if our lives depend on it, because they do.
Andrea Marshall: I have been engaged in a love affair with the ocean for as long as I can remember. In fact, nearly all of my favorite memories involve being in, on or, around the sea. I learned to dive at the age of 12. Since that time, I have been fortunate to have traveled the world, experiencing so many incredible regions. The ocean is such a calming and peaceful place for me. Hundreds of thousands of organisms live in this dynamic liquid world, each highly refined to take advantage of their specific niche, each playing such a critical role in the ecosystem. Time spent underwater feels authentic because it represents nature at its finest.
MC: Most rewarding thing in your job?
SE: The best part of being an oceanographer is the joy of being around, on and especially under the ocean, of exploring, of doing whatever it takes to better understand the nature of the living world and securing an enduring place for humankind within the systems that keep us alive. Getting wet is exhilarating, but making a difference is the ultimate goal.
AM: My favorite part of being a conservation biologist is seeing the fruits of your labor. We all do this job for the love of animals and it is our passion for the natural world that constantly drives us forward. So when you can see that the work that you are doing is directly contributing to the survival of a species or the management of vulnerable populations, it is the most rewarding feeling in the world.
MC: Have you noticed gender inequalities in the field? If so, how have you handled them?
SE: It helps to have a healthy sense of humor. In a 1970 two week dive, the 50 men involved were always respectfully referred to as "Aquanauts." The five women in the program had other names: Aquabelles, aquachicks, aquababes, and even "aquanauties." I said it didn't matter what they called us as long as we were allowed to be part of the action.
AM: Being a woman in a largely male dominated field has had its challenges over the years, but it has also inspired me never to give up on my dreams. I have always felt like people expected me to quit whenever things got hard because I am a woman. As a result, through the difficult times I always remembered that I would not just be giving up on my dreams, but also on all of the girls that look up to me for inspiration. I have had some pretty incredible female role models in my life, not the least of which is Dr. Sylvia Earle, their indomitable spirit and their fearlessness in the face of adversity is what inspired me to keep going and I want to make sure that I offer that same level inspiration for the next generation of marine explorers!
MC: Why this day is important to you? Why Should it be important to all women?
SE: Having an internationally recognized ocean celebration provides an opportunity to reflect on the current issues—and realize that humans are as dependent on the sea as any dolphin, fish, or coral reef. The impact of this day will be whatever we make of it.
AM: If we want to change the fate of our oceans, the impetus is on us to share our passion and develop creative solutions for its protection. For me, World Oceans Day is about exactly that; celebrating the ocean that we love and thinking about ways we can give back. Perhaps it means participating in a beach clean up, or even better, making a continued commitment to clean your local beaches. If you don't live near the sea, perhaps you want to blog or post about what the ocean means to you and your hopes for its future. If you have children, use the day to enhance their understanding of the underwater world; engage them with marine related educational activities, watch a documentary together and have a question/answer session after it, or take them to a local aquarium or interpretation center. Be creative and have fun, but just don't let the day pass you by.
To raise awareness for WOD and the development of this database, Andrea has created short video for La Mer of her in the water in southern Mozambique, explaining to viewers how they can help to contribute to Manta Matcher, showing underwater footage of her interacting with these beautiful creatures.
Photo Credit: Getty Images
Celebrity news, beauty, fashion advice, and fascinating features, delivered straight to your inbox!
Hallie has worked in beauty editorial for ten years and has been editorial director at Byrdie since 2021. Previously, she was a senior editor at Byrdie since 2016. During her time at Byrdie, she's written hundreds of high-performing stories on skincare, wellness (including fitness, diet, mental health, body image, et al) makeup, and hair. She's a regular on set, helping to source inspiration for makeup and hair looks, as well as interviewing celebrities, models, and other notable women and men in the beauty space.
Before that, Hallie ran Marie Claire's social media and wrote beauty and culture stories for the site, and helped launch Time Inc.'s digital-only beauty brand, MIMI. After college, she contributed to Time Out New York's Shopping & Style section before landing her first beauty editor gig at Hearst's Real Beauty. Hallie's writing has also appeared in ELLE, Cosmopolitan, and InStyle. Hallie graduated with a BA in Communication Arts from the University of Wisconsin-Madison.