Is It an Acne Purge, or an Acne Breakout? Dermatologists Explain
Timing is everything.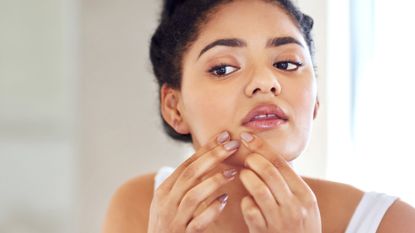 (Image credit: Getty)
Marie Claire Newsletter
Celebrity news, beauty, fashion advice, and fascinating features, delivered straight to your inbox!
Thank you for signing up to Marie Claire. You will receive a verification email shortly.
There was a problem. Please refresh the page and try again.
What caused the pimple? It's a fun little game we all like to play. Could it be that you forgot to wash your face after your workout? Is it the excess of chocolate you consumed this past weekend? Did you use a new skincare product that your skin hates? Or, and this one is the trickiest to figure out, are you simply purging? Acne purging, which is a series of short-term breakouts, isn't a bad thing—it's a necessary evil that's well worth it in the long run. "Purging occurs in patients who already have congestion in their pores who begin using a product to help relieve that congestion," explains board-certified dermatologist at Entieré Dermatology Dr. Robert Finney. "Products that increase cell turnover to unclog pores are the most likely culprits. Think: Retinoids, alpha-hydroxy acids, and other exfoliators."
If your acne falls in the purging category, then by all means go full steam ahead with your new routine. But if your onset of breakouts is being caused by one of your new products, it needs to be nixed. That begs the question: How do you discern the difference between a purge and a breakout? Timing is key (purges will only last for a few weeks), acne positioning plays a role, and scanning ingredient lists is of utmost importance. Here, top dermatologists are explaining everything you need to know about distinguishing an acne purge from a traditional breakout. (For more acne content, check out the best spot treatments, read up on the benefits of Spironolactone, or shop our specially-curated skincare routine for acne-prone skin.)
What Is a Purge?
A purge might look nearly identical to a traditional breakout, but the causation is the differentiating factor. When you use a product designed to treat acne, like retinoids, alpha-hydroxy acids (think: glycolic and lactic acid), scrubs, or peel pads, it can make your skin worse before it makes your skin better. "Purging occurs as the ingredients that are geared towards unclogging your pores start to work," explains Dr. Finney. "Unfortunately these products don't work to clean out the congestion overnight. They slowly break up the sludge formed by dead skin cells and oil that are sitting in those pores."
In the destruction process, though, these active ingredients bring *everything* to the surface faster than normal. The accumulation of gunk happens quicker than the pore can open up and then, boom, pimples form. Inflammation enters the chat, follicles develop micro-ruptures, and an overgrowth of bacteria that was previously sitting on the sidelines joins the party. The result? Acne of all shapes and sizes.
Alas, there's a silver lining. Purges are short-term. It gets rid of all those pimples that were lying in wait so you can have a clearer complexion in the long run. "You will clean out the pores, and with continued use of the products, you can keep these channels open so that future acne is less likely," adds Dr. Finney.
Can You Prevent a Purge?
The bad news: No, you can't stop a purge from happening. The good news: You can make a purge less overwhelming. "My best advice is to always start slow," says board-certified dermatologist at Schweiger Dermatology in New York City Dr. Rachel Nazarian. "Whenever starting a new product in your regimen that may be high-risk for skin purging, start by using it once or twice a week. Allow your skin time to adjust to the new ingredients. This can also minimize potential for irritation, which can also present as pimple-like lesions."
Another option is to team up with your dermatologist from the get-go. "You can opt for an in-office chemical peel done by your board-certified dermatologist to help more significantly unclog pores prior to starting retinoids or other exfoliants," explains Dr. Finney. Kicking off the process with a cleaner canvas will mean that there are less dead skin cells, oil, and debris for your skincare products to dispose of. Another option is to take a prescription for doxycycline, an oral antibiotic. Taking a short-course dose can help reduce the intensity and frequency of red, angry, and painful pimples that pop up during a purging period, says Dr. Finney.
Purge vs Breakout: How to Tell the Difference
Figuring out if your acne is simply part of the purging process or the result of a bad reaction to a new product is tricky to do—but extremely important. Establishing the cause will tell you to either stop using your current skincare or to power through. Here are the main criteria you need to evaluate the situation.
Timing
Let's start off with the most important factor: Timing. True acne is going to persist, whereas a purge will form and consequently subside in a fairly regimented timeline. "With purging, the traffic jam of skin cells is temporary, and only lasts for a small period as everything gets organized," explains Dr. Nazarian. You can expect breakouts to start approximately two weeks after you started using the product.
Then comes the rate of healing. Purging should be over and done with at the six week mark. Your skin should start to do a 180, looking clearer and less congested. "If breakouts persist, you should see your dermatologist to come up with a more comprehensive routine," says Dr. Finney.
Ingredient List
The second most telling indicator comes by way of your product's ingredient list. "Skin tends to purge with any product that accelerates the speed at which new cells regenerate and move to replace surface cells," says Dr. Nazarian. "This is mainly with retinoids and chemical exfoliation ingredients like glycolic or trichloroacetic acid." Contrastingly, if you've only introduced moisturizers with exclusively hydrating ingredients, it's more likely you're having a reaction (shea butter is a common acne culprit) and dealing with a traditional breakout.
Location
"The purging will only occur in the areas treated with the product," says Dr. Finney. So if you started treating your T-zone with a new exfoliating serum, but all of a sudden are dealing with cysts on your chin, it's safe to say that the new product isn't to blame.
Type of Pimple
By and large, purge pimples and regular breakouts look identical. "Sometimes purge breakouts can be very mild, little red bumps, but more inflamed red lesions can occur," explains Dr. Finney.
How to Treat a Purge vs a Breakout
Once you've established if you're dealing with a situational purge or run-of-the-mill breakout comes the treatment plan. Fall into the former category and the best solution is really just to bide your time. "Purging is very frustrating to patients when it happens, but I always tell them that it is a sign that their pores are really backed-up," says Dr. Finney. "If they can power through, then they will be much happier afterwards. It won't persist forever."
If you're dealing with traditional breakouts, it's worthwhile to adopt a skincare routine for acne-prone skin and consult with your board-certified dermatologist to establish the best regimen.
Meet the Dermatologists
Originally from Pittsburgh, PA, Dr. Finney completed his undergraduate and medical degrees at Pennsylvania State University. He completed his internship and dermatology residency at Thomas Jefferson University Hospital in Philadelphia, PA where he served as chief resident during his final year. He also performed a postdoctoral research fellowship in eczema and allergic contact dermatitis at Rockefeller University in addition to an advanced fellowship in aesthetics, hair restoration, and skin surgery with renowned hair surgeon Dr. Marc Avram in New York. Dr. Finney is a clinical assistant professor at New York University Langone and teaches future dermatologists at Bellevue Hospital. Dr. Finney is an expert in medical, surgical, and cosmetic dermatology and is regularly asked to contribute to various media outlets, including Men's Health, Men's Journal, Esquire, and Women's Health. He does not approach aesthetics from a cookie-cutter approach, rather he works closely with each patient to design a customized treatment regimen to achieve his or her desired aesthetic outcomes that appear natural and refreshed, never over-done.
Dr. Rachel Nazarian joins Schweiger Dermatology after years of practicing various aspects of dermatology, including cosmetic treatments, skin cancer, general dermatology and dermatologic surgery. Dr. Nazarian has written many published articles in medical journals as well as widely respected dermatology textbooks, such as Treatment of Skin Disease. Dr. Nazarian serves as a faculty member at Mount Sinai Medical Center's Department of Dermatology, where she completed her dermatology residency. While completing her medical degree at Tulane University School of Medicine, Dr. Nazarian was awarded a grant from the Women's Dermatology Society. Dr. Nazarian is a board certified dermatologist and Fellow of the American Academy of Dermatology.
Celebrity news, beauty, fashion advice, and fascinating features, delivered straight to your inbox!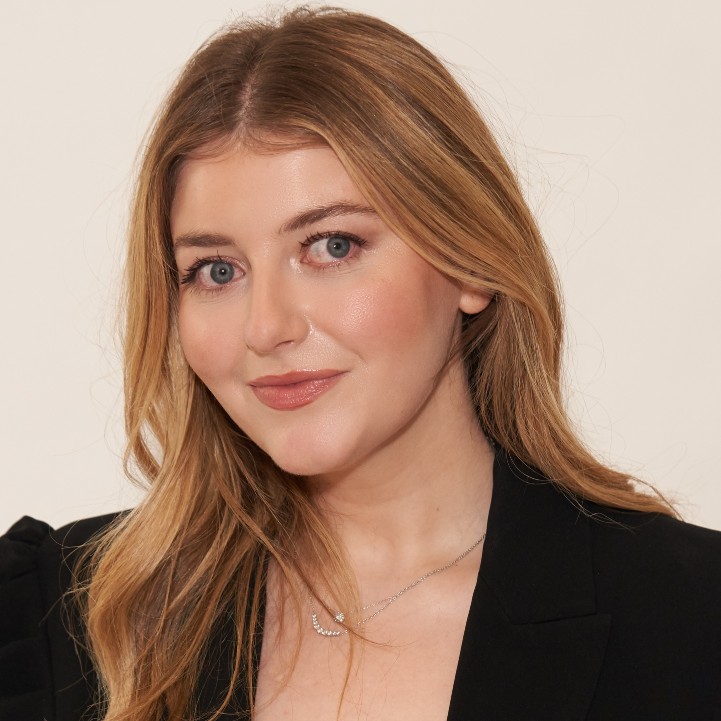 Samantha Holender is the Beauty Editor at Marie Claire, where she reports on the best new launches, dives into the science behind skincare, and keeps up with the latest trends in the beauty space. She has previously written for Us Weekly, Popsugar, Makeup.com, Skincare.com, and Philadelphia Wedding. Follow her on Instagram @samholender.