Ana de Armas' Transformation Into Marilyn Monroe for "Blonde" Was a "Massive Undertaking"
The movie's beauty team reveals how they mimicked Marilyn's Vaseline-covered skin, the secret behind her platinum wig, and the reason the iconic mole moves around throughout the film.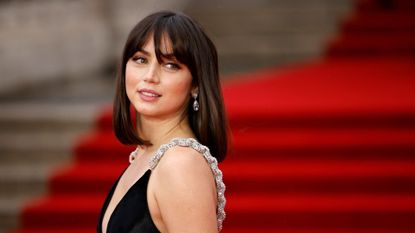 (Image credit: Tolga Akmen/Getty )
The overall consensus on Blonde? It's a hit. Ana de Armas not only received an 11-minute standing ovation when the film debuted at the Venice film festival, but in just under a month, it's been streamed for more than 17 million hours on Netflix. While the acting, directing, and execution are a large part of the allure, let's not underscore the significance, time, and effort put into the aesthetics. Transforming a very brunette Ana de Armas into a platinum blonde with skin mimics the Vaseline-slicked appearance of Marilyn Monroe was no easy feat. It was a transformation that required dozens of foundation swatches, a variety of wig caps, and a plethora of mood boards.
"As you can imagine, it was a massive undertaking," hairstylist Jaime Leigh McIntosh exclusively tells Marie Claire. "Not only were we creating so many looks for the story arch of the script, but we also had to match multiple, iconic images of Marilyn and Norma Jeane." The movie's lead makeup artist, Tina Roesler Kerwin, further explained that there was a tremendous weight attached to making sure every small detail was on the nose. "Not only was this an enormous amount of work, but it felt like an enormous responsibility," she said. "It's Marilyn. It's iconic Hollywood. You really want to get that right."
Given that the movie follows Marilyn's life from childhood to stardom, the team settled upon 30 different looks—all of which had to be created on a budget. Here, with the help of the all-star Blonde glam team, we're breaking down the products, challenges, and techniques that were responsible for Ana's unbelievable metamorphosis into Marilyn.
The Hair Color
To get the job done, McIntosh teamed up with Rob Pickens from Wig Master Associates. They ended up creating two wigs for Ana to wear as a young and teenage Norma Jeane (aka Marilyn Monroe's real name), and three wigs for Marilyn era. "We only had two creamy blondes at different lengths and one platinum. We all know how many different styles, shades of blonde, and lengths Marilyn had throughout her life, so that proved to be incredibly challenging," McIntosh shared. But with careful adjustments and fine mohair detailing around the hairline, the duo were able to make near-perfect matches across the board.
The Prosthetics
Prepped as the may, Ana's transformation into Marilyn was done on a time crunch—two hours to be exact. And given that Ana has naturally dark hair, it was a challenge to transform into a platinum blonde. The solution came by way of prosthetics. "Prosthetics have more of a transparency to them than a bald cap," explains Kerwin. "A bald cap wouldn't withstand multiple wig changes and all the glueing and un-glueing. Plus, it was the middle of summer and it was really hot. Having an open back was much cooler for her."
Once applied, McIntosh would swoop in to blend. "I added cut-out pieces of bald cap through the top to help blend and make sure you saw skin, not stocking cap or Ana's own hair, where the Marilyn wigs parted," she told us.
The Hairstyling
When it came to the actual hair styling products used on set, McIntosh took a less is more approach. "Whenever you use too much product in a wig, the life and movement stops and they become dull, so I avoid using too much of anything," she explained. She did however use the L'Oréal Techni Pli Setting Lotion to set the wigs in rollers, as well as the TRESemme Fragrance Free Hairspray and René Furterer Shine Mist for added glossiness. As for hair care? "I would alternate conditioning treatments Masque à l'Orchidée by Leonor Greyl and No.3 Olaplex Hair Perfector," says McIntosh.
Olaplex Hair Perfect No 3
L'Oréal Paris Tecni Art Pli Spray
TRESemmé Tres Two Spray Freeze Old Unscented
The Eyebrows
Lest we not forget the eyebrows. "The wigs created a blank slate, but Ana's eyebrows are dark just like her hair. I took her to a brow expert to have them minimized and bleached," says Kerwin. "Then I just maintained them in the trailer. We had to make them wider in the middle with product."
The Lipstick
"We probably tried 20 lip colors," reveals Kerwin. " We needed to shoot both black and white and in color and lipstick shades don't necessarily translate the same in both. For instance there is a Charlotte Tilbury color called Marilyn, which worked really well—but it didn't always work, which was interesting. It depended on the lighting. There were times where I mixed colors too, because the lighting would change ever-so-slightly."
The Foundation
Nailing the right foundation was a *tricky* process. "I needed to recreate the reflective quality that Marilyn's makeup had. But Marilyn put Vaseline on her face morning and night—that's how she had such a glow," Kerwin explains. But given Vaseline would A) need to be reapplied very frequently and B) has a sticky quality that wasn't film-friendly, finding a foundation dupe was key. The final pick? Charlotte Tilbury's Hollywood Flawless Filter Foundation. "It's very shiny, which is perfect for what we were trying to replicate. It gave us that Hollywood glow that Marilyn's so famous for."
The Mole
Given that there's a decent amount of waterworks in the film, all face makeup (mole included) had to be waterproof. Alas, it was Makeup Forever eyeliner to the rescue. "We would collectively find the space and put a tiny dot. We didn't want it to fold when she smiled," Kerwin explains. "It's interesting, in Marilyn's life, she would move the mole. I think she was experimenting a little bit and wore it down on her chin. In the film, we also moved it to the chin. Maybe I'm making this up, but I think it was a little bit of a security blanket for her. Maybe that was, for her, one of those things where it's, Ok, now I'm done."
Samantha Holender is the Beauty Editor at Marie Claire, where she reports on the best new launches, dives into the science behind skincare, and keeps up with the latest trends in the beauty space. She has previously written for Us Weekly, Popsugar, Makeup.com, Skincare.com, and Philadelphia Wedding. Follow her on Instagram @samholender.