Beauty Inside & Out: Annie Murphy
The 'Schitt's Creek' star on the BIC razor that saves her time shaving, joining Cody Rigsby's Peloton cult, and why she's used the same mascara for decades.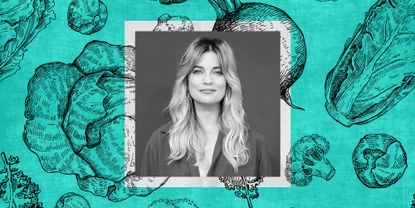 (Image credit: Future)
In the ultimate quest for inner beauty and outer glow, Marie Claire asks our favorite trailblazers to share intel on finding balance in their busy lives. Read it all here, in Beauty Inside & Out.
Want candid beauty advice? Annie Murphy has you covered—she'll give it to you straight when it comes to body hair, exercise her skepticism on skincare trends, and is the first to admit that over-lining your lips is a wild makeup practice. She'll admit to dreading working out (until Cody Rigsby infiltrated her life), embraces therapy, and has a firm grasp and understanding that Annie's Mac & Cheese is the best indulgent food to ever exist. The Canadian actress keeps it real, relatable, and is just as funny as her on-screen Schitt's Creek character Alexis Rose.
To get the scoop on all of her must-have products (including a splurge-worthy microcurrent tool and drugstore mascara), steal some quality book recommendations (reading is her new, nightly ritual), and get the down low on Murphy's day-to-day habits, keep reading. The Kevin Can F**K Himself star is breaking down every little detail of her self-care routine, below.
Inner Beauty
Coffee Walks
I live in a very wonderful neighborhood in Toronto and there's a coffee shop that my friends run. Even though I should make my coffee at home, I walk there and get a coffee every morning. I have a little visit with them just to get out of the house. Doing that first thing in the morning feels good to me. Then the next thing on my agenda is to procrastinate until I can convince myself to exercise.
Peloton Sessions
My 25-year-old self, or even my 30-year-old self, would be shocked to hear me saying this, but exercise is really important. I don't know what I was doing in my 20s. I guess I was just too lazy or didn't know what to do, but no exercise was ever on the schedule. Then a friend of mine got a Peloton and I was making so much fun of her. I would call her a member of a cult. But she was like, Just try it. Just shut up and try it. If you still think I'm a member of a cult and you hate it, you can continue being an asshole. Well, I tried it and my god, Cody Rigsby. Cody is my guy all the way.
I've also been doing Pilates. There's this very sweet, soft-spoken lady on YouTube called Just Move with Nicole and she kind of mellows me out and kicks my butt at the same time.
Open Conversations
I'm a big, big, big believer in therapy and if not therapy, because I know it can be expensive or difficult to access, at least talking to friends and family—especially if you're feeling really low. I think it's so, so, so crucial to just share yourself with the people you love and listen to them. To me, that is the greatest source of happiness and self care.
Nighttime Rituals
At the end of the day, I love a good bath. I love a good Sleepytime tea. And, I love a glass of wine. I used to be such a voracious reader—then like social media happened and the internet happened. My ability to focus for long periods of time just kind of ran away. But I've been trying to read for an hour before bed and that's really helped. I just finished a book called Less by Andrew Sean Greer, which was really great. I'm currently reading a book called Really Good, Actually by Monica Heisey, who actually worked briefly on Schitt's Creek. It is so funny and so sweet and heartbreaking. I was reading it on the train yesterday and was alarming people because I was laughing out loud.
Outer Glow
Shower & Shave
I am genetically blessed with extreme hair growth on my body. And to me, I don't like having it there. But all my razors were getting clogged and I would spend a shitload of time in the shower bashing my razor against the shower wall or rummaging around for a Q-tip to get the hair out of the razor. BIC's new razor has saved me an embarrassing amount of time in my life. It's like time has been given back to me. The thing is: I love a shower. I love a bath. Shaving in a bath is kind of meh—you can understand why that is not the most relaxing or ideal situation. But I love a good, luxurious one of the two. I splash essential oils on the wall of the shower—it's usually a eucalyptus or grapefruit.
Skincare Saviors
I was not a skincare girl at all until I turned 35. Then one day I woke up and I was like, Oh, that's not the face I'm used to looking at. There are so many products out there and it's so overwhelming to me, so I keep it as simple as possible. I've been loving, loving, loving Caudalie products. They are on the expensive side, but they last a really long time and they're such good quality. I've noticed such a difference in my skin. I also bought myself something called the Ziip a couple of years ago. It's great for a photo shoot or a press event when I want to look extra nice and give myself a little lift. Then there's this brand Sand and Sky. They have a pink clay mask and a cleanser that I really like. Oh, I also just started using sunscreen. So good luck to my future self. But the SkinCeuticals Physical Defense has been really great because it doesn't make my skin really greasy, it absorbs immediately, and you can put makeup over top.
Go-To Glam
I always flip around with foundation. I'll use whatever it is at the moment with NARS Orgasm blush and L'Oréal Voluminous Mascara in very black, which I've been using since I was 16 years old. I swear, no matter where you are in life, you always stick with the first mascara you ever used. I've gotten my makeup done by all these cool, fancy people and my lashes could look amazing from these products I've never heard of, but I'll always go back to L'Oréal.
When I'm feeling really bold, I'll also use lip liner. Lucky Bromhead, who did makeup on Schitt's Creek, would line my lips outside of my lip before filling them in with lipstick. I'd be like, Are we sure about this? Do I not look insane? But then she would fill it in and it would look like I had lip injections in the most amazing way possible. I'll do that trick sometimes and I'm so lucky because I can still call her up and be like, Help me.
L'Oréal Paris Voluminous Mascara in Very Black
Recipe for Success: Annie's Annie's Mac & Cheese
My kind of gross go-to is Annie's Mac and Cheese—but instead of butter you use Urban Garlic Cream Cheese. And then if you're feeling extra disgusting, you can chop up a little hotdog and slap it in there. Put some Frank's Hot Sauce on top and you are a disgusting mess.
The other day I was in full I'm-gonna-cook-a-nice-recipe mode though. I went to the international food store and bought all the things that I didn't have in my pantry. I made pork meatballs in a green curry sauce over rice. It looked beautiful, it tasted so good, and I took a picture of it because I was so proud of myself. I showed it to my friend the next day and without blinking her eyes, she was like, What's that? She zoomed in and there was just a thick, curly hair, as if I had put it as the pièce de résistance on top of the meal.
Samantha Holender is the Beauty Editor at Marie Claire, where she reports on the best new launches, dives into the science behind skincare, and keeps up with the latest trends in the beauty space. She has previously written for Us Weekly, Popsugar, Makeup.com, Skincare.com, and Philadelphia Wedding. Follow her on Instagram @samholender.