Beauty Around The Clock: Becky G
The Latin music sensation and beauty guru talks positivity, finding balance, and why mental health is so important for women of color.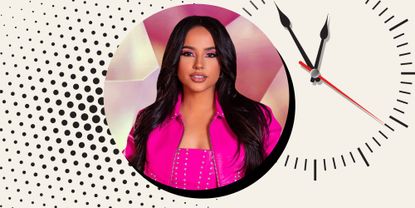 (Image credit: Future)
Welcome to Beauty Around the Clock, Marie Claire's weekly peek into the daily lives of some of the most game-changing women in their industries. Ever wonder how they get it all done in a day? Here's your answer.
Rebbeca Marie Gomez, better known as Becky G, is many things: An award-winning singer in both English and Spanish; founder of popular beauty brand Treslucé Beauty; and, most recently, a brand ambassador for Patrón Tequila. She has also used her platform to support social justice causes such as DREAMers' education and Black Lives Matter, and is devoted to her personal life, including her family and her new fiancé, MLS player Sebastian Lletget.
Being that there are only 24 hours in a day, it's natural to wonder how this one woman manages to do it all without feeling overextended.
"Work is a blessing, in my opinion," she explains to Marie Claire, smiling brightly—and in impeccably applied makeup—over Zoom. "Especially after the pandemic, when the whole world came to a stop, which was a little scary." Indeed, after describing her jam-packed mornings, which include work calls, full skincare and beauty routines, cooking homemade breakfast, working out, and spending time with her fiancé, she concludes, "That was fun."
I aspire to meet life's busiest days with Becky G's serenity and grace, so I sat down with the global pop star while she unpacked her daily routine, from going full glam, to prioritizing mental health, to indulging in the ideal evening out.
Rise & Shine
World traveler that I am, it's very hard to keep routines, but there are certain things that I like to do no matter where I am. I live in Dallas part-time—my fiancé and I have a home here (he plays for the FC Dallas soccer team in the MLS). So when I'm here, it's very nice, because I wake up next to the love of my life. Then, first thing: I make my way to the bathroom and I use skincare. That is a staple everywhere that I go, no matter what.
Morning Maintenance
My morning skincare is usually just a daytime, soft cleanser, like Morning Burst. Not anything fancy. Then I tone my face, put some moisturizers on, get a little Gua Sha situation going, and make my way to the kitchen.
Usually, I will start my morning off with a glass of water, and I get my Athletic Greens. I started it maybe two months ago—game changer for me, and also a staple. I travel with it, because I have to have my Athletic Greens everywhere I go. Then, once I get the good stuff in my gut, I like to have very strong black coffee. That is the one thing that I cannot give up. I know everyone's like, "Black coffee is just so harsh on your gut health." I'm like, "I know, but I just love it so much." I love me a good ol' cup of Joe. Nothing fancy. Every now and then, a little splash of almond milk.
Then I'll just spend the morning with Sebastian. We usually recap on what the plan of the day is going to be, what's going on in his world, what's going on in mine.
Power Start
After I send the fiancé off to work, I do my morning workout, and then I usually eat afterwards. And that usually just depends on what I'm in the mood for. I don't like to restrict myself when it comes to what I eat. If I'm craving something, I'm going to have it. So today, I was craving a skillet omelet with jalapeños, bacon, tomatoes, onion, and spinach. It wasn't anything super special, but it was delicious. And then there's this hot sauce from this local spot called Eggsquisite. It's literally called Eggsquisite. It's the cutest thing ever. Sebastian and I usually go to eat there in person, but their hot sauce is so good that I bought the bottle of it to bring it home. So I just put a bunch of the Eggsquisite hot sauce all over my omelet and I had that.
Signature Look
I'm a glam girl, period. So I am that person that will be in pajamas or sweatpants with a full beat—no ifs, ands, or buts about it. There are very soft glam versions of that, but I'll still have a lash, I'll still have my brows done, and I'll still have lip liner, lipstick, the whole thing.
The products that I run out of the most is for sure my Extremo lash glue, because I love wearing a strip lash on a daily basis, even if I do cut them into a half lash for a natural day. My Hello, Brows! pencils are dual ended. And you would think dual-ended means more product, which it does, but because I literally use it every single day, I also run out of those pretty often.
Our Ready to Bounce blush is just so beautifully pigmented and it's such a versatile formula, because I love that you can put it on with a base or after. Even after using setting powder, you can still apply it. So whatever phase you are in during your beauty process, this blush is applicable, which is pretty amazing.
I love tequila much that we infused blue agave into our eye shadow palettes, so that's also a go-to product for me. Our OG I Am palette is really beautiful, because it's an intention palette, so there are affirmations written into it. Every shadow name is either in English or Spanish and has an affirmation of some sort. So it's like, "I am divina," "I am light," "I am poderosa." So I think that that's really cool, because whether you know it or not, you're interacting with something that vibrates at a really positive frequency and is made with so much intention and so much love.
Self-Care Ritual
Wellness is, I think, more than anything, mind, body, and soul. There can't be one without the others. And that's just how I really try to lead in my life, especially after starting therapy. When I started therapy a couple of years ago, I was a baby learning to walk in those spaces, and there was a really cool graduation feeling when I was on a kind of a need-to-see basis with my therapist. She's like, "I trust in you. I need you to go out into the world and really try these things on now. Trust yourself; trust your gut. You got this." And so I'm living my life with the understanding that your three-legged table [of mind, body, and soul] is so important to take care of, because without one of those legs, the table cannot serve anything.
I think as women in our specific communities, of our specific generation, we need to understand what real self-care is, even though we were taught from very young ages that we were supposed to cater to everyone else around us. In reality, we are not able to help those around us if we're not doing well. So prioritizing doing things that make me happy in every category of my life—not just in my career, but also in my personal life—is important.
And I hope that a lot of our women are able to do this, because I think that it's not until someone like Rihanna is at the Super Bowl performing pregnant that we're like, 'Wow, we really can do it all.' It was so beautiful and so amazing, because as a young female artist, even if it isn't said to you directly and clearly, there is this impression that you have to choose one or the other: You have to choose between having a family or pursuing your dreams. You have to choose between having a relationship or having a career. But that's actually not true. All is possible, and we are so deserving of all of the happiness in the world.
Mindset Mastery
I think intentionality is everything. It's turning your "have to" into "want to," and assessing everything with that mentality.
So understanding the difference in how we are able to accomplish and put aside the time that these things deserve when you're one little person, it is challenging. I'd be lying if I said it wasn't. But it's the intentionality. You want to do things when they align with your purpose, when they align with the things that make you happy, when they align with the inspirations that you are speaking as a creative being, right?
So a good example is with my album, there's a lot of really amazing ideas that we're developing right now and visually, I wanted to capture that. And so we did a creative concept shoot 100 percent on film with a 100 percent Latin crew, photographer, stylist, hair, and makeup. I'm like, "I will fly to New York for less than 24 hours to accomplish that, because that aligns with my purpose, and that aligns with where my creativity and my inspiration lies." And then I flew back to Dallas to be there for my fiancé at the kickoff dinner and gala for the new season, because that also makes me happy. So like I said, turn "have to's" into "want to's," because I feel like when we're constantly living in "have to," it builds subconscious resentment towards everyone and anything around us, and that is exhausting and super draining.
Even my partnerships, and when I look at creating a beauty brand, and how I'm one person and there's only so much that I can do, I remember that these are genuine passion projects for me. Patrón, for instance, is literally me. I think, "This is something that I have loved to consume for a very, very long time, but also in a moral compass way, it really aligns with where my values are because it's very deeply rooted in Mexico. There's nothing there that doesn't feel right with this alliance. And I think that that's the beauty in finding those magical connections to things.
Signature Scent
I just started spraying before bed, too. I'm trying to find a good bedtime spray—there's a couple different ones. My sister just put me onto Billie Eilish's perfume. She made me buy it, because I kept stealing it from her because it's so good. There's a warmth to it, a little bit of a vanilla, which is really, really nice. So maybe that will become my bedtime spray.
In terms of my daytime spray, I would say there's a Louis Vuitton signature scent. I don't even know if I know how to pronounce it. My mom got it for me and I wear it all the time.
Daily Playlist
I'm such a 200-percenter—I listen to both English and Spanish. Someone who's really taking over my playlist these days is on the English side (which, funny enough, he also sings in Spanish sometimes) is Omar Apollo. Absolutely adore him. I think he's such an incredibly talented human being. I got to see him perform at The Spotify Grammy event, and that was sick. He's just super special.
Then on the Spanish side: I was in the studio with this artist named Ivan Cornejo. He is on the rise and killing it. He's a composer, and he writes music, plays, and sings. And he is super young, and he just gives me the best little brother vibes, and I just want to protect him from all terrible things that happen in this industry sometimes. But he's so talented, so I listen to his music a lot as well.
Conexión Divina is also badass. We were in the studio hanging out. We didn't make any music—I literally just called them to the studio. I was like, "Do you guys want to just come hang out? I want to meet you guys. I want to hang. I want to chat and shoot the shit." So that was cool.
Beauty Icon
My beauty inspo is always my mom in high school. There's something so beautiful about her look. My mom was a very, very young mom, and by the time she was 19, she was married and then she got pregnant. And by the time she was my age, 25, had all four kids already. And she is just such an amazing human being. She's literally my best friend.
My mom had curly, vibey hair. She is just giving, always. High school Alejandra is my beauty inspo all day. There's something very Chicana about her style, too. It was the era: Growing up in LA, being Mexican-American. That's especially been my beauty inspo lately, because of working on my regional Mexican album, which has been so beautiful and so emotional. I mean, so emotional.
P.M. Routine
My ideal night out just happened recently: We were in New York for fashion week, went to a very beautiful show by an amazing designer named Willy [Chavarria], and he's incredible, also Chicano, and just so sick and badass. Then I threw on some sweats and I went to this show called Sleep No More, which I am obsessed with. I always get really nervous for this immersive play experience, so some margaritas were had, for sure, before I went in—it was a paloma-margarita hybrid situation, and it was really cool, because they made it with pomegranate juice. But I usually just ask for it with Patrón Silver, soda water, lime juice, pomegranate, and then boom—call it. And I make it a double, because I get a little nervous. Then we went to dinner, and we just decided that we were going to go to a club. That is a fun night out for me. It's about experience—not about whose table are you at and what famous person was there. Who you're with says everything, and for me, I am all about the quality of people. And I have a pretty tight circle. There was maybe five of us. That's it. It wasn't like, "Oh, we're rolling deep. There's going to be 15 of us." It was literally just five of us, and it was great—usually heavy on the girl gang vibe.
Lights Out
I feel like my ideal night in is just cozy girl vibes. I love cleaning. I know that sounds really funny, but there's something very therapeutic that happens for me when I'm cleaning and organizing. I had a night in last night, and I organized my whole closet. It is color coordinated, and I got to do some spring-cleaning, taking out the things that no longer serve me, saying thank you to them, and putting them in a donation pile. And then I love finding a movie, cuddling in bed with Seba, and falling asleep and getting good sleep, because good sleep is rare these days.
Shop Becky G's Favorite Products
Marie Claire email subscribers get intel on fashion and beauty trends, hot-off-the-press celebrity news, and more. Sign up here.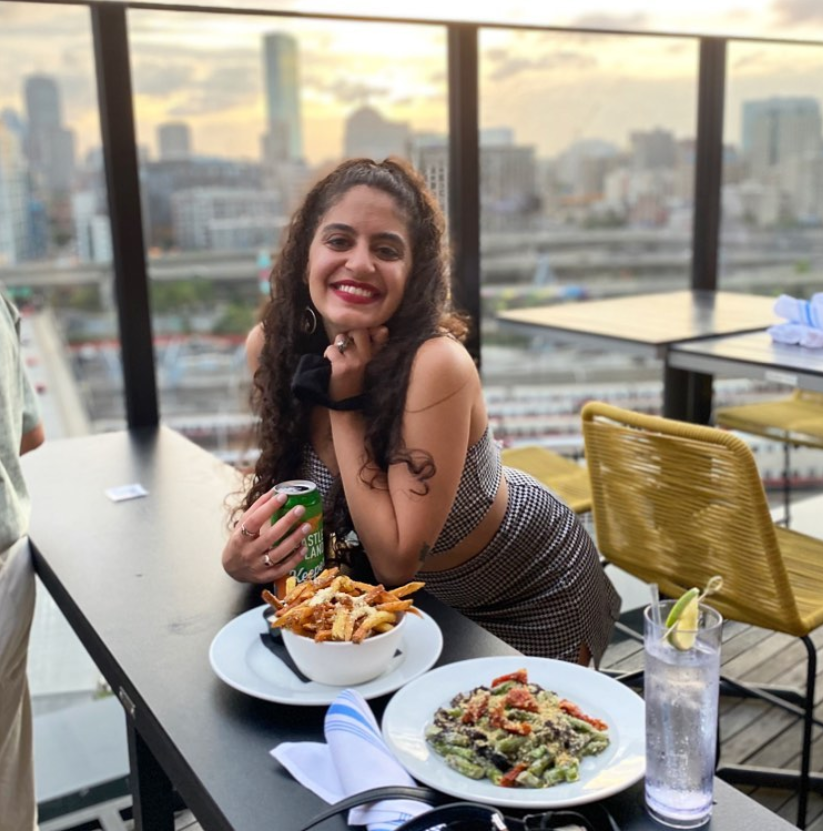 Gabrielle Ulubay is an E-Commerce Writer at Marie Claire and writes about all things beauty, sexual wellness, and fashion. She's also written about sex, gender, and politics for publications like The New York Times, Bustle, and HuffPost Personal since 2018. She has worked extensively in the e-commerce and sales spaces since 2020, including two years at Drizly, where she developed an expertise in finding the best, highest quality goods and experiences money can buy. As a film school graduate, she loves all things media and can be found making art when she's not busy writing.