The 29 Best Beauty Products of March 2023, According to Marie Claire Editors
Complete beauty overhaul incoming.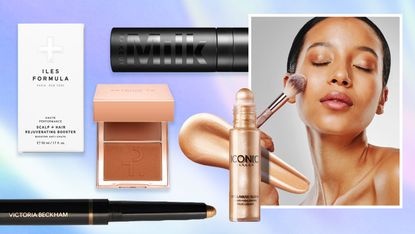 (Image credit: Future)
Well, here we are again. It's March, which among other things, means that dozens upon dozens of new beauty products have been released into the beauty-verse. I wouldn't say there was an overarching theme this go-round—the past few weeks have just been filled with a big, beautiful hodgepodge of innovative hair products, makeup, skincare, and fragrance. In a similar vein, team Marie Claire's favorites ran the gamut. Some of us fell head-over-heels in love with Rihanna-approved makeup remover and LED masks reminiscent of a high-tech Power Ranger. Personally, I became inseparable from a just-launched highlighter and developed a debatably unhealthy obsession with a body wash that smells like the beach.
To get the down low on every single product that's worth your money this month, read ahead. We've narrowed down allll the beauty products that hit shelves in March to 29 front runners. From bronzers, eyeshadows, and foundations to perfumes, body washes, and nail stickers, you'll find all the noteworthy newness, below.
Samantha Holender is the Beauty Editor at Marie Claire, where she reports on the best new launches, dives into the science behind skincare, and keeps up with the latest trends in the beauty space. She has previously written for Us Weekly, Popsugar, Makeup.com, Skincare.com, and Philadelphia Wedding. Follow her on Instagram @samholender.