Game On
Make room for our 2022 Beauty Game-Changers Award winners.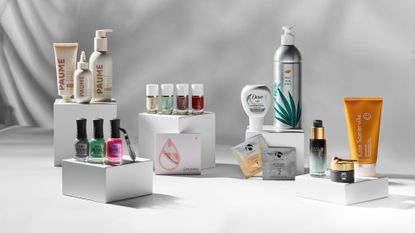 (Image credit: Future)
The future looks bright for the beauty industry. According to consulting firm Grand View Research, the market for beauty and personal-care products is anticipated to reach $716.6 billion globally by 2025. And thanks to social media's influence on consumer behavior, that number will only keep growing. But cosmetics are more than trendy ingredients in fancy packaging; they're the doorway to cultural insights, and the building blocks of personal enhancement. At the heart of the industry sit professionals who are hyper-aware of innovation. The experts who constantly test (and re-test) product efficacy. The trendsetters reinventing the beauty wheel. Here, the top connoisseurs in the field share their game-changing finds from the past year.
The expert: Linda Sivrican
Perfumer, formulator, and founder of Capsule Parfumerie
Linda Sivrican's heritage is fragrance. Her mother was a florist and Sivrican's Vietnamese name, Thuy Huong, translates to gentle fragrance. The award-winning perfumer crafts small-batch, premium scents that continuously garner attention from industry experts and top publications
The Experts:
Jenny Patinkin
Celebrity makeup artist and founder of Jenny Patinkin Eco-Luxe Beauty Tools
Patinkin is the author of Lazy Perfection: The Art of Looking Great Without Really Trying, and takes a streamlined, environmentally friendly approach to beauty. She regularly offers her beauty expertise on Good Morning America, The Today Show, and The Rachael Ray Show.
Porsche Cooper
Celebrity makeup artist
Cooper divides her time between New York, Los Angeles, and Paris, where she serves clients including Joan Smalls, Mary J. Blige, and Andra Day. Always taking an elevated approach to beauty, she also offers artistic vision to large beauty brands like Chanel, La Mer, and Estée Lauder.
More From the Beauty Issue
---
The expert : Jessie Cheung, M.D.
Board-certified dermatologist with practices in Chicago and New York City
Dr. Cheung is the founder of Cheung Aesthetics & Wellness. Her practice focuses on the future of regenerative medicine, and she specializes in cosmetic procedures like hormone replacement therapy and stem cell technology for hair, skin, and sexual rejuvenation.
Dove Body Wash Reusable Bottle + Concentrate Refills
"Dermatologists love this body wash, and now it's in packaging that is good for Mother Earth. It's so refreshing to see a big brand set the standard!"
Kate Somerville ExfoliKate Resurfacing Body Scrub,
"Many of us forget to treat the skin on our body, but ExfoliKate Body makes it easy to do in three minutes. Apply when you first get in the shower (with the water turned off) and rinse after three minutes. It instantly reveals soft, glowing skin and enhances the absorption of your body lotion."
iS Clinical Active Peel System
"This brand features active ingredients that are safe on the most sensitive skin, and this two-step peel system provides controlled exfoliation, while hydrating and rejuvenating with botanical acids and peptides. The pads are packaged individually, so you don't have to worry about them drying out—great for travel."