The 30 Best January 2023 Beauty Launches, According to Marie Claire Editors
New year, new products.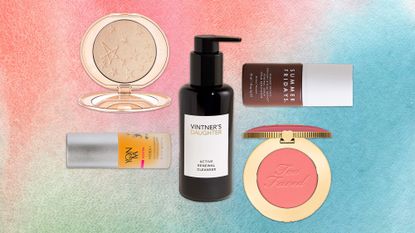 (Image credit: Future)
I've never really been one for resolutions and such, but let's switch things up this year, shall we? Let 2023 be the year the collective beauty community stops over exfoliating, removes every last lingering bit of foundation before bed, and decides to finally try something new and ~different~ in the makeup department. My hopes for us are high—and rightfully so. Skincare, haircare, and makeup brands far and wide have dropped some pretty revolutionary products to kick off the new year. The entire Marie Claire office has been thoroughly testing just-launched beauty goods, from innovative oil-meets-gel cleansers (shoutout EltaMD and Vintner's Daughter) to contours, lipsticks, and blow dryers. There's a lot, to be quite honest.
But I, along with the rest of the Marie Claire editors, have pretty high standards. So even though our vanities are overflowing (like, it's a problem), we've been able to whittle down all the new January beauty launches to the 30 front runners—and they're really the best of the best. To see which ones are worth incorporating into your new-year-new-me beauty routine, scroll ahead.