The 19 Best Beauty Launches in October, According to Marie Claire Editors
Fair warning: You're going to want it all.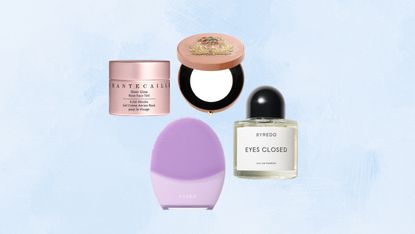 (Image credit: Future)
October is a big month for beauty. Not only do hair, makeup, fragrance, and skincare brands push out some of their biggest launches for the whole freaking year, but October also means that Halloween capsules are here, limited-edition kits supporting Breast Cancer Awareness are on sale, and, somehow someway, holiday gifts are making their grand entrance. We've swatched shadows, we've exfoliated, and we've spritzed eau de parfums ad nauseam over the past few weeks. The grand consensus? This month saw some pretty amazing new beauty launches.
Unlike months past (we've also shared our favorites from September, August, July—so on and so forth), this month our editors found that the beauty products were more focused on skin health, relaxation, and restoration. Personally, I developed a very strong affection for a handful of new, moody fragrances. The rest of the Marie Claire team? Their new beauty loves ran the gamut, from body exfoliators and red lipsticks to luxe foundations. Here, we've all taken the opportunity to write little love letters to the new launches that took over our routines.
The Best New October Beauty Launches
Samantha Holender is the Beauty Editor at Marie Claire, where she reports on the best new launches, dives into the science behind skincare, and keeps up with the latest trends in the beauty space. She has previously written for Us Weekly, Popsugar, Makeup.com, Skincare.com, and Philadelphia Wedding. Follow her on Instagram @samholender.