Cardi B Credits Boiled Onion Water for Her Healthy Hair
"It's been giving a shine to my hair."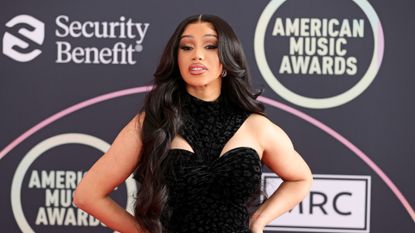 (Image credit: Rich Fury/Getty )
If you've been following Cardi B's "healthy hair journey" for the past few years, you're well aware that she's a big DIY-er. She'll whip up hair masks for daughter Kulture, use at-home conditioners to enhance her curl pattern, and, apparently, wash her hair with boiled onion water. Now before you start scratching your head about the boiled onion of it all, hear the "W.A.P." singer out.
"My last two washes I been boiling onions and using the water to wash my hair. I used to do this six years ago when I started my healthy hair growth journey," she captioned an Instagram post this past weekend. "I stopped cause I got really lazy. It's odorless and I notice that it's been giving a shine to my hair." Doubt the onion water technique as you may, but the proof is in the picture. Cardi's hair is seriously shiny—and super healthy.
And as it turns out, there's actually science to back up the at-home onion solution. "When used regularly, onion paste or juice will not only nourish the hair, it will also create a natural shine for the hair," explains trichologist and hairstylist Gregorio Ruggeri. "Onions are natural and powerful antioxidants that can also battle premature greying of hair." While the benefits are hard to deny, Ruggeri adds that this DIY concoction isn't for everyone–onion water can irritate a sensitive scalp.
With so many DIY hair solutions, Cardi's fans have been calling for her to launch her own haircare brand. "DROP A HAIR LINE SIS! The growth is crazy," one follower wrote, while another said, "Go ahead and drop a haircare line Cardi! Or a hair book or something! The results are thereeeee." While the singer has yet to make any formal announcement in regards to a haircare line, our fingers are crossed and our hair is hopeful.
Samantha Holender is the Beauty Editor at Marie Claire, where she reports on the best new launches, dives into the science behind skincare, and keeps up with the latest trends in the beauty space. She has previously written for Us Weekly, Popsugar, Makeup.com, Skincare.com, and Philadelphia Wedding. Follow her on Instagram @samholender.