Cardi B's Knee-Length Red Hair Is Perfect for Fall
The "Bongos" singer debuted her new look in SKIMS' latest campaign.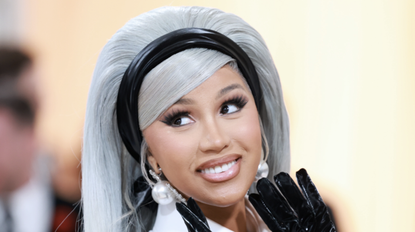 (Image credit: Getty)
I don't know how Kim Kardashian does it, but somehow every SKIMS campaign is more iconic than the last. When a 50 foot-tall Kim Cattrall outfitted in the lingerie brand appeared over 59th Street and 3rd Avenue in New York City last week, I assumed team SKIMS had done enough marketing for the season. But then came Cardi B—with red hair no less.
Released Monday, October 16, the brand's most recent campaign features the Grammy winner modeling SKIMS newest cotton collection, which is set to be released Thursday at noon eastern. In a clip posted to SKIMS and Cardi's Instagram accounts, the 31-year-old glances at the camera before declaring that "everybody's wearing Skims" in a very innocent voice. "Are you?" she sweetly asks. While the question is honest and the boxer and tank combo looks comfortable, there's a bigger question on my mind. When did Cardi's hair become red?
A photo posted by skims on
For the last few months, the "Bodak Yellow" rapper has been rocking knee-length locks, most often worn pin-straight. Just yesterday, she shared an Instagram video of her hair swaying back and forth as she strutted around. (The from-behind shot, where her hair hangs past the top of her knee-high boots, is particularly amazing.) Even so, her hair appears her natural, dark brown in the clip—a far cry from the rich, fire-engine red hue she's sporting for SKIMS.
A photo posted by skims on
In another photo from the campaign, Cardi leans to the side, supporting herself with a white pillar. Thanks to her pose, the full spectacle of her hair is on display. Parted in the middle and infused with a natural-looking wave, the New York native's red locks are over half her height. Obviously freshly colored, the hair is the same color as Disney's Ariel—the perfect complement to the princess-like length she has going on.
As for the rest of the look, Cardi let her clothes do the talking. Often favoring manicures as long as her hair, she chose to go with a simple, nude, almond-shaped design. In an Instagram Story shared earlier today, the "Bongos" singer mentioned she loved the piece for its ability to go over your head without messing up makeup…or 40-inch red locks, for that matter.
Marie Claire email subscribers get intel on fashion and beauty trends, hot-off-the-press celebrity news, and more. Sign up here.