Cardi B's Extra-Long Acrylics Have the Most Intricate Jewel Details
She's keeping it sharp.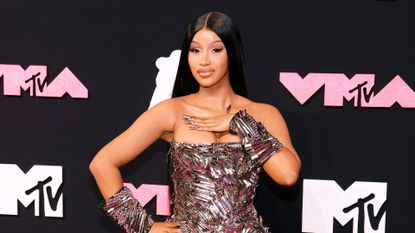 (Image credit: Getty)
We've said it before and we'll probably say it a million times more: Cardi B is the queen of the acrylic manicure, consistently breaking her own records when it comes to length, shine, and sparkle. Does it matter that many celebs are currently opting for shorter, simpler nails? Not according to the rapper.
On Tuesday, October 11, Cardi was spotted out to dinner at West Hollywood's Delilah to celebrate her 31st birthday. While her entire look was something to behold (we wouldn't expect anything less from the birthday girl) her mile-long, bedazzled manicure stole a bit of the show. I don't have a ruler on me, but I'd assume the acrylics rang in at at least two inches.
The silver manicure—though simply calling it "silver" does a disservice to how glittery these nails really are—was stiletto shaped, its points so narrow they can only be described as "claws." Completely covered in glittering rhinestones of all different sizes, the manicure reflected Cardi's diamond necklace and earrings as she playfully posed for the cameras.
As for her outfit? Cardi wore a plunging, candy apple-red satin and lace dress that hugged her curves perfectly. She paired the piece with matching red satin heels and a fresh, white pedicure peeking out.
In a video shared to her Instagram Story, the "Bongos" songstress used her talons to quip with her husband, Offset, talking with her hands in a way that's only possible when they glitter that much. She also used her nails to touch up her hair, which was styled in a massive pile of curly ringlets that were complimented by a slick side bang.
Short nails might be trending, but let Cardi be a reminder that you can rock whatever type of manicure your heart desires.
Celebrity news, beauty, fashion advice, and fascinating features, delivered straight to your inbox!