Beauty Around the Clock: Carlacia Grant
The Outer Banks star on DIY hair masks, her glitter eyeliner obsession, and why she believes in drinking charged moon water.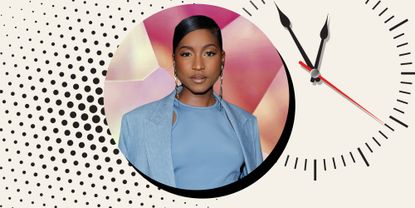 (Image credit: Future)
Marie Claire Newsletter
Celebrity news, beauty, fashion advice, and fascinating features, delivered straight to your inbox!
Thank you for signing up to Marie Claire. You will receive a verification email shortly.
There was a problem. Please refresh the page and try again.
Welcome to Beauty Around the Clock, Marie Claire's weekly peek into the daily lives of some of the most game-changing women in their industries. Ever wonder how they get it all done in a day? Here's your answer.
Carlacia Grant, who plays Cleo on Outer Banks, has elite taste in beauty products. Trust me, we talked *extensively* about her routine. She's a lover of Lancôme, sang praises for ReVive Skincare, and has made the fabulous decision to have blue glitter eyeliner be her signature beauty look. She's a high-low believer—splurging on night creams and saving on DIY hair masks, drugstore lip liners, and body care. Despite having a solid routine, she believes sound self-care is at the root of a beauty regimen. "I think the most important thing about beauty is just feeling good about yourself. And I feel like feeling good about yourself comes from the inside," she exclusively tells Marie Claire. "The meditations that I do on a daily basis and the tiny flute music I listen to for 10 minutes to start my day keep me really zen."
Of course, other habits make their way into the monthly mix. Grant charges her water with the energy of the full moon (you're going to want to find out why), is an avid consumer of self-help books, and creates mood boards on the regular. To find out exactly what products sit on her vanity, get the scoop on her workout routine, and steal her green juice recipe, read ahead. The Netflix star is sharing all, below.
Rise & Shine
My wakeup time definitely varies depending on what I have going on. Obviously if I have stuff going on, then I do have an alarm. My preference is to not use an alarm. My body is trained to naturally wake up around eight or nine. But if I go to bed at like, four am? Then I'm not waking up until 12. I'll have some tea sometimes, but I really just go for Essentia water or a green juice—that's my version of coffee. I have a juicer so I'll blend kale, ginger, celery, and lemon. It's my "get up" drink. I like to stay off of social media before 12. I light some sage, hold my crystals, and set my intentions for the day.
Morning Maintenance
Once I get to the bathroom, the first thing I do is grab my African Rock Soap, which is what I wash my face with. Then I'll do my toner and a Lancôme serum that's amazing—oh my God, it's my favorite. I also just got put onto the brand ReVive maybe a month ago, and I've been loving it ever since. I have a facial roller from them that I keep in the fridge for a cold wake up. After that, I'll use the Moisturizing Renewal Oil, just a drop, and mix that with the ReVive face cream.
Signature Look
Because I'm in the public eye, I definitely have been more focused on skincare. I wear so much heavy makeup for work that I have to take care of my skin on the days in between. Truthfully, my skin really likes to breathe. But I've always been a makeup girl, so I typically go in with the Tatcha Dewy Skin Cream just to make my face a little bit glowy. I can't live without my Giorgio Armani Luminous Silk Foundation. It just matches my skin so perfectly. Then I go for the Lancôme Brow Pencil to shape my brows. I'll use a little concealer on my under eyes, curl my lashes, and use a little mascara—Lancôme and Dior both have really great ones. I'm obsessed with my Fenty Beauty bronzer and highlighter. I love a good highlighter. I'll either use Trophy Wife or the Anastasia Beverly Hills palette that comes with four different shades. I also usually use a little NYX blue glitter eyeliner—that's my go-to.
Tatcha The Dewy Skin Cream
Giorgio Armani Luminous Silk Perfect Glow Flawless Foundation
Fenty Beauty Killawatt Freestyle Highlighter
Dior Diorshow 24h Buildable Volume Mascara
Fitness Fix
I'm not a fitness person. I dread going to the gym every day. Five minutes into it or once I'm on the elliptical, then I can be into it. But I'm one of those people who is like, Oh my God, I gotta go sit. I don't like it until I get there and I'm already moving. When I'm working or right before I'm filming I'm with my trainer five or six days a week doing cardio, weights—all that stuff. On a regular day, I'm more of a stretching kind of girl.
Self Care Ritual
Reading or listening to a good audiobook always resets me. I'm currently loving self-help books. Memoirs are some of my favorites. Right now I'm reading Viola Davis' book for the second time. Michelle Obama has a really great book, too.
I'm also a big believer in drinking moon water, which is when you take bottles of water and you put them outside when it's a full moon. It supposedly charges your water and helps with manifestation.
Signature Scent
It changes all the time, but probably Mademoiselle by Chanel.
Cheap-But-Chic
Hmm, I'm always going to go for the Neutrogena Extra Dry Gel Cream. I love clear lipstick and lip liner from the drugstore. I love Ben Nye. I love Wet n Wild. Oh, and lashes.
Body TLC
I keep my body care really simple. Believe it or not, I use regular coconut oil—my skin loves it. I also like Bio Oil because I have some scars.
Beauty Icon
It changes all the time, but at this moment I have to say Zendaya. What she's doing right now in the beauty space is iconic. I love how she's so vocal about her struggles and intentional in everything she does. She's a really great actor and whenever she's on the red carpet—it's inspiring. She's on a lot of my mood boards.
Backup Career
I honestly don't know what else I would do. I think if I wasn't acting, I'd probably be trying to pursue it.
Hair Help
I have to be very intentional with my hair. Especially because I live in LA, it has a tendency to get very dry. I do a hair mask at least once a week. If my hair is curly and it's in its natural state, I make a mask that is made of eggs, mayonnaise, olive oil, and honey. I mix that together, put on my hair, and wear a heating cap for 30 minutes. Once I wash it out, I go in with some Jamaican castor oil and mix it with Shea Moisture Strengthen and Restore Conditioner. Then I just let it rock.
If my hair is straightened and blow-dried, which is another go-to look of mine, then I'll do a hair mask by Oribe and use the Caviar Bond Restructuring Shampoo and Conditioner.
P.M. Routine
I use the same face wash and toner that I use in the morning. But I switch up my moisturizer for the Lancôme Génifique Concentrate. I also use their Heat Activating Concentrate.
Celebrity news, beauty, fashion advice, and fascinating features, delivered straight to your inbox!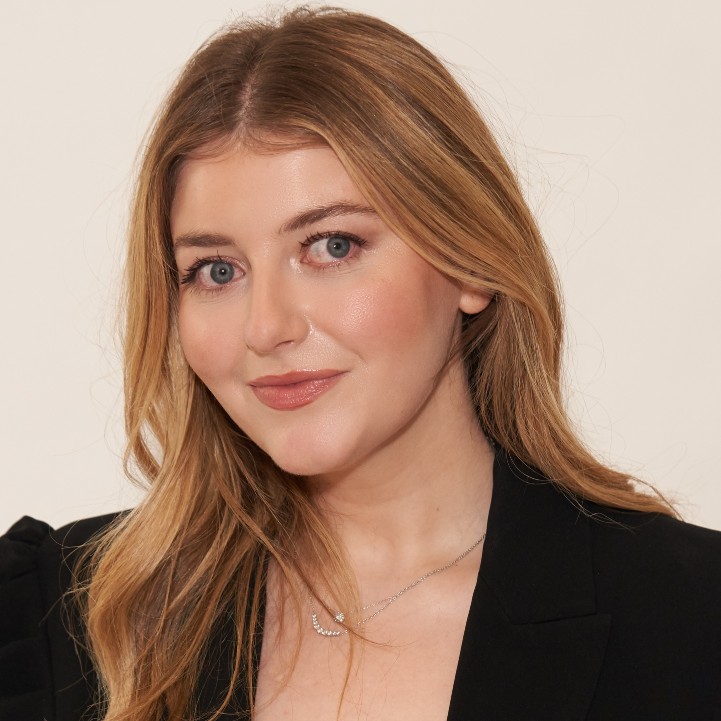 Samantha Holender is the Beauty Editor at Marie Claire, where she reports on the best new launches, dives into the science behind skincare, and keeps up with the latest trends in the beauty space. She has previously written for Us Weekly, Popsugar, Makeup.com, Skincare.com, and Philadelphia Wedding. Follow her on Instagram @samholender.