Beauty Around the Clock: Chris Appleton
The celebrity hairstylist and ColorWow Creative Director on being a coffee snob, workout sessions, and why he wants to be Brad Pitt when he's older.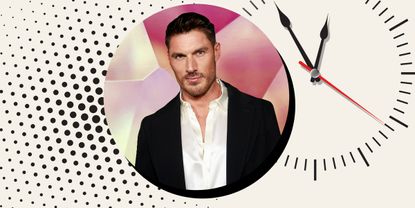 (Image credit: Future)
Welcome to Beauty Around the Clock, Marie Claire's weekly peek into the daily lives of some of the most game-changing men and women in their industries. Ever wonder how they get it all done in a day? Here's your answer.
Ariana Grande's signature ponytail, Jennifer Lopez's iconic curls, Dua Lipa's platinum blonde era, and Kim Kardashian's newly debuted bangs have one thing person in common: Chris Appleton. The celebrity hairstylist and ColorWow Global Creative Director has put more hair trends on the map than I can count. Be it summer's hot hair color or his TikTok viral messy bun, Appleton is one of the biggest tastemakers in the industry. So naturally, we wanted to know what beauty products, rituals, and habits he personally uses and practices on the regular.
A well-rounded hair routine—and intense workout regime—were obvious, but Appleton also has some five-star wellness recommendations in his back pocket. He's a big meditator, a SkinMedica die-hard, and a firm believer in the power of a good bath (and laugh) before bed. To get all the details on his daily schedule, scroll ahead.
Rise & Shine
Normally I am an alarm person, but I think I actually wake up around seven. Anything before seven needs an alarm. Then I need my coffee. I recently got a coffee machine, but for a long time I was a bit of a snob about it. I like going to the coffee shop. I like having my coffee made. But sometimes, I need a coffee just to do all of that. At first I wasn't sure if I loved making it myself, but now I'm like a little barista.
I really like to start my morning with meditation too. I read a lot of books and listen to a lot of audiobooks. I enjoy learning about myself and about the world. I like that distraction and that knowledge. Meditation was a difficult one for me to get my head around because I always thought it was about not thinking—it really isn't about that. It's not about "not" thinking; it's just about detaching yourself from the emotions and making yourself realize that you are not your emotion. It's important to be in touch with your emotions, but you don't have to be controlled by them.
Morning Maintenance
I'm a big fan of SkinMedica. Their products are scientifically proven to do their job. I'm very loyal to products when they're good at what they do. I'll start in the shower and I'll wash my face with an exfoliating scrub just to get all the crap off my face—especially if I've been to the gym. Then I'll use the TNS Advanced Repair Serum. It gets rid of fine lines and wrinkles and it has growth factors in it. I just feel like I'm tightening my skin with that. Everyone that tries it, loves it. Then I love a good moisturizer—I use the HA5, which has hyaluronic acid. It's really moisturizing and gives a nice healthy glow. Then I'll do a little bit of sunscreen. I used to live in England, but moving to LA, I've realized that the sun is pretty strong and really damages your skin. It can be quite harsh so it's important to look after your skin.
Fitness Fix
I have a trainer and that helps me get the most out of an hour. I don't have a lot of time and he keeps me accountable and off my phone. We try to keep training different body parts. I do weights and high intensity just to keep it tight and right. If you just do weights, you get too big and if you just do cardio, you get too flat. We just keep it popping. I like to look in the mirror and be like, What looks good? What needs some work? I always try to put abs in my routine. That's important to me because I feel like I stand taller and feel better. It's not just about how I look, it's about how it makes me feel.
Self Care Ritual
I really value family time and like to make sure I have time to speak to my family, whether it's kids or my mom and dad who live in England. Family is really important to me and my life is so crazy so it can be easy to lose contact. I really try to make an effort to stay in contact with everyone.
Hair Help
I wash my hair with the ColorWow Color Security Shampoo because it doesn't leave behind any ingredients. It keeps everything off my hair and scalp so it can grow through in the fullest, healthiest way. Obviously, I do a lot of color, so it's really important to me that this doesn't strip the color. I also love my Money Masque, which I collaborated on making. It's really hydrating, strengthening, and lightweight. It does the job without making my hair flat. Then to style, I'll usually blow dry it. I have this thing about wet hair. I don't know, I don't love going out with wet hair. It's really weird. I think when I was living in England, it was so cold outside that I just wouldn't go out with wet hair. Now, it feels like I'm not ready if I don't dry my hair.
I usually use a wax stick to spike it up and give it a little texture. They have a nice shine to them and make everything look a bit more lived in, piecey, and separated. Sometimes I'll also use the ColorWow Root Touch Up Powder in my hairline–especially if I'm going on camera. It gives it a little more density and just makes you look better. I'll even put it on the ends of my eyebrows. My eyebrows are kind of blonde on the end, so a tiny bit on the ends frames my face a little bit better.
Cheap-But-Chic
I love going into drugstores. I always buy something I don't need. I have an addiction to peanut M&Ms—that's my vice. I end up walking around and eating them. Then, I have to take the empty packet to checkout and explain to the cashier that I just got a little hungry.
Beauty Icon
Brad Pitt looks really good. He's looked good throughout all the years. He keeps it looking hot. I want to be Brad when I'm older.
Backup Career
I think I'd probably be an actor on TV. I took acting lessons as a kid and I do a lot of TV crossover in my current job. I like doing TV and I think I'm pretty good under pressure. I'm good at talking to wide audiences and capturing people's attention. I thrive on the buzz of it. I like getting into a character. Even when I go on and I do hair, it's kind of like a character.
P.M. Routine
I like to watch a fun show or something online to make myself laugh. I think laughing is really important. Sometimes we take ourselves way too seriously. I'll have a nice bath and relax a little bit, maybe listen to a meditation. I also like to read or listen to one of my audio books just to recenter myself after the day.
I fight the urge to pick up my phone and start doing emails and stuff. I've gotten better at that in the last year and it's good for my soul.
Shop Chris' Favorite Products
Samantha Holender is the Beauty Editor at Marie Claire, where she reports on the best new launches, dives into the science behind skincare, and keeps up with the latest trends in the beauty space. She has previously written for Us Weekly, Popsugar, Makeup.com, Skincare.com, and Philadelphia Wedding. Follow her on Instagram @samholender.