Cozy Gifts Are a No-Brainer During Holiday Season
Cashmere, candles, and fuzzy blankets are crowd pleasers.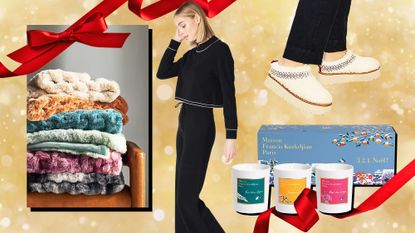 (Image credit: Future)
As a very proud homebody, I consider myself an expert in cozy items. I know the best slipper-sock combination to keep my feet nice and warm when temperatures drop below 30. I'm fluent in cashmere and luxury pajamas. And I know the candles, fuzzy blankets, slippers, and sheets that will comprise the perfect night in. My expertise is fueled by a deep obsession for all things cozy, so I like to think I'm the ideal person to guide you on your holiday season shopping journey.
Whether you're looking to fill your home with soft accessories in preparation of the chilly nights to come, or you're on a mission to give a gift that will be appreciated by absolutely anyone on your list, I, along with the rest of the Marie Claire team, have you covered. We've selected cozy finds at every price point and for every type of person on your gifting list—from the neighbor hosting you for a casual holiday party to the mother-in-law you never know what to get.
So without further ado, light your favorite candle, put on your softest knit sweater, and get ready to shop.