The 15 Best Pajamas for Women to Wear All Day and Night
From brands like Printfresh, Papinelle, Lunya, and more.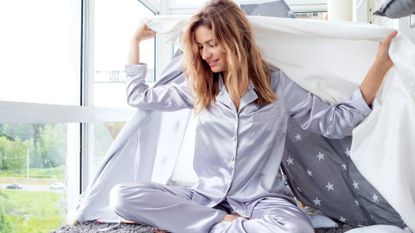 (Image credit: Getty Images )
As a kid, I thought pajama sets were the one true marker of being an adult. My mom (and aunts, and grandmas) all wore them, and I always saw myself graduating college and finding the perfect one for myself. And while I'm still a card-carrying member of the oversized-shirt-to-bed club at the tender age of 27, I have set out to find the best pajamas that at least feel like I have my life together. While Marie Claire has already written dedicated guides to the best pajamas on Amazon and the best silk pajamas, I was still having trouble finding a solid, simple pair of pajamas that I could invest in.
Because I'm starting from scratch here, I turned to Amy Voloshin (opens in new tab), the creative director and founder of sleepwear brand Printfresh (opens in new tab), for advice on how to find the best pajamas on the internet.
"I think pajamas are such a nice thing to wear when you come home from the day," says Voloshin about why she loves a set of PJs. "I love the chic look of a set—you instantly feel put together while transitioning out of your work or outside clothes and into something a little more fun. Once you become a pajama person, it's hard to imagine the days of wearing an old T-shirt around the house! It brings so much joy to your rest and relaxation time at home."
Ahead, Voloshin breaks down exactly what you should be looking for in a new set of pajamas (as well as divulging her favorite pairs from her very colorful, very beautiful, range).
What to Look For in Pajamas
As with the rest of your winter wardrobe, you should start your search by looking for "high-quality fabrics" when shopping for pajamas, says Voloshin.
"Woven pajamas tend to hold up much better over time versus knit pajamas that quickly lose their softness and pill," she says. "High-quality construction and seam finishing is also a personal thing, but I think speaks so much to how well-sewn the garment is—ours have French seams, which is one of the best ways to finish the style."
The Best Pajamas for Women
Meet The Expert