Dove, Nike, and Venus Williams are Teaming Up to Help Keep Girls in Sports
Low body confidence is the #1 reason why teenage girls quit sports. This coaching program hopes to change that.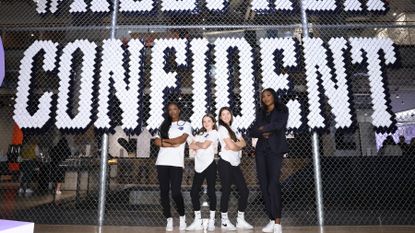 (Image credit: JP Yim for Getty)
Raise your hand if you participated in a sport growing up. Now, raise your hand if that sport made you critique your body in a new, entirely unhelpful way. According to new research, 41percent of teenage girls in the United States drop out of sports because of low body confidence, with more than half of them saying they were mocked, criticized, or bullied for their body size.
As you can imagine, sports can also be developmentally constructive thanks to the camaraderie, assertiveness, exercise that accompany team sports. Still, it's impossible to deny that girls are dropping out of sport activities at double the rate of boys the same age—with two in three girls saying they would be more confident if they would have stayed in sports longer. To combat this, Dove has teamed up with Nike (for the first time ever!) to launch the Body Confident Sport coaching program. Oh, and they got queen Venus Williams involved.
"In sports, girls often face a tremendous amount of pressure—not just around performance and abilities, but also because of unrealistic expectations around their appearances," the tennis champion shared. "I am excited to be working with Dove on this initiative to help nurture girls' self-belief and confidence, foster a positive environment, and shift the conversation from appearance to capability. Our shared goal is to make sports a more inclusive, welcoming space for girls everywhere."
The new online tools, which includes materials for coaches to help inspire body confidence, launched as part of this collaboration have been scientifically proven to improve self-esteem and body confidence in 11 to 17 year old girls. Studies show that 76 percent of girls would stay in sports longer if they had a coach they could identify with, while 61percent would be interested in learning about body confidence education from their coaches.
"Nike believes all kids should have an opportunity to play, and we're focused on expanding play and sports for girls who are moving the least," shared Vanessa Garcia-Brito, VP, Chief Social & Community Impact Officer at Nike. "Globally, girls face complex cultural and social barriers, and they also enter sports later and drop out of sports earlier. Our partnership with Dove, and unique focus on coaching through body confidence, aims to change that."
To get more information on this partnership (or introduce the tools to teams by you!) check out bodyconfidentsport.com.
Marie Claire email subscribers get intel on fashion and beauty trends, hot-off-the-press celebrity news, and more. Sign up here.